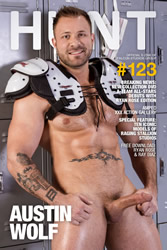 Amazing Content Now Live on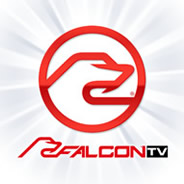 | | |
| --- | --- |
| | Check the listings in your Television Provider's Adult HD OnDemand Menu for: Texas Cowboy Buttsex – The OnDemand HD Release of Raging Stallion's Cowboys, Part 2 Starring: Tommy Defendi, Colby Keller, Jesse Santana and more. |










Ryan Rose & Ray Diaz from Alumni
Now Available on A-Team All Stars: Ryan Rose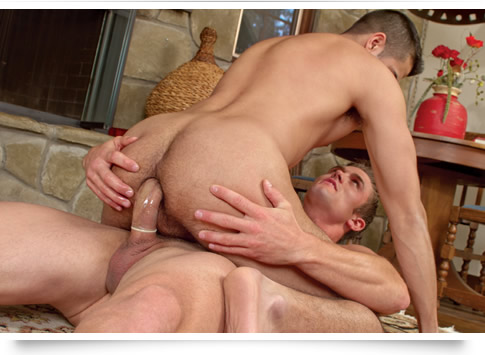 Ray Diaz regrets that he never made a move on his idol, hot jock Ryan Rose, back in school. But at the reunion, a mutual friend tells Ryan about Ray's crush. Ryan pays Ray a visit. Truth and dare come down to this: how fast can they strip? Not as fast as you'd think, given they can't keep their lips apart. Ray takes his time worshiping his fantasy man, finally fulfilling his desires. He gives Ryan sexy smiles, full-body contact, writhing hips, caressing hands and busy lips. The only part of Ryan that doesn't swoon is his cock. At last, these two stunning men get to release the pent-up lust of a decade. Time has served to kindle a hotter flame, to let the bodies achieve greater perfection, from Ryan's perfectly smooth, curved buttocks and hard, concave tummy to Ray's runner's build and hairy, thighs just made to hold you. Perfect evidence of their intense feelings is the connection they have when Ray sits on Ryan's cock, pumping and gyrating his hips while his own cock steadily drip-drip-drips precum on Ryan's abs. With added sucking, rimming and changes of position, volcanic cumshots and canoodling by the fireplace afterwards, it's a fuck to remember ... and maybe the beginning of a beautiful relationship!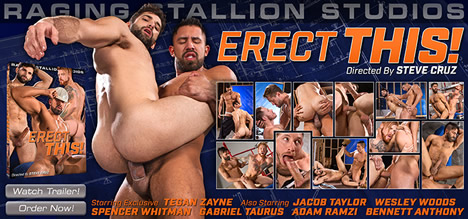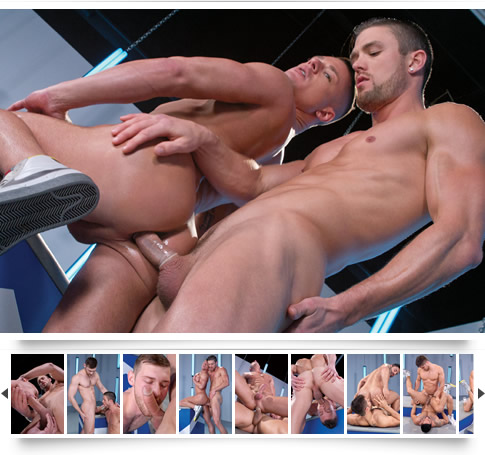 The sexual electricity and raw erotic energy in Amped jolts these six stunning studs into uninhibited and fiery action. These passionate exchanges directed by Nick Foxx send shockwaves of testosterone and take Falcon to the Edge. Tall, athletic studs Ryan Rose and Jacob Peterson power up and turn the amps on super high with a supercharged flip fuck that will have you shooting. Brazilian power-bottom Bruno Bernal slurps heavily on Fabio Acconi's endowment before taking an energized pounding from his meat stick. Hunks Ryan Rose and Rex Cameron engage in a throat busting 69 that leads to Rex getting drilled by Ryan's rock-hard cock. Fabio Acconi amps up the wattage on Johnny V's eager hole and then jolts his wad onto Johnny's face. Plug-in with the irresistible men of Amped and prepare you cock for multiple, super-charged loads.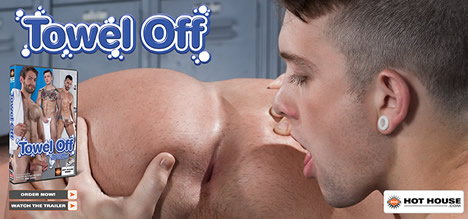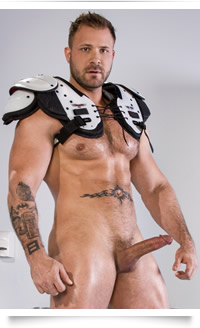 Massive, stunning A-Team Exclusive stud Austin Wolf is in a word: irresistible. He's a beefy, Hercules of a man measuring in at 6'5" and 250 lbs, and he is the unassuming lovable type that you'd like to take home to meet your mother. But don't let that sweetness fool you, because once you get this hefty-dicked, hot-assed mass of muscle in the bedroom, he's a take-charge sex machine that revs on all cylinders and performs like a beast. This powerful exclusive is one of the most amazing, assertive and dominate power tops in the business. So far, he's been featured in 15 anal-blasting and throat crushing features for the mega-studio with many more on the horizon. You can find Austin vigorously pounding a bottom in some of his latest features like Falcon Studios Sex Pad, Hard Friction's Hot As Fuck, Beef Squad from Raging Stallion and Towel Off from Hot House. Don't take your eyes off this Grabby Nominated superstud, because he keeps putting out one spectacular scenes after another.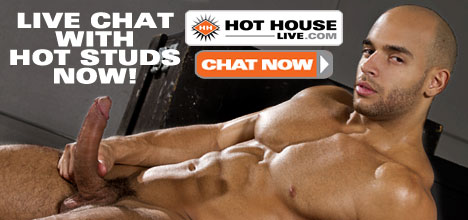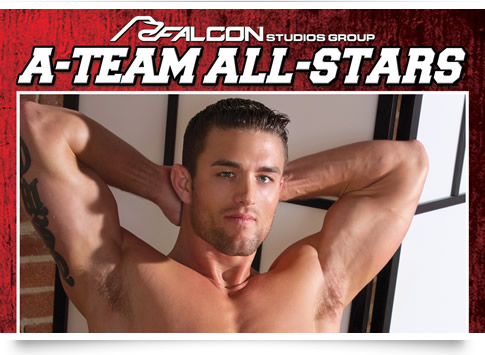 New Collection DVD –
'A-Team All-Stars' Debuts with Ryan Rose Edition
America's Gay Porn Company, Falcon Studios Group, announces the release of its latest line of collection DVDs, 'A-Team All-Stars.' Each release from the new compilation series focuses on a Falcon Studios Group A-Team member and features their hottest scenes.
The inaugural release, A-Team All-Stars Ryan Rose, celebrates the ultra-popular A-Team Captain and the finest sex he's delivered for Falcon Studios Group. The DVD clocks in with six scenes and over two-and-a-half hours of his most intense exchanges and connected pairings, including scenes with Liam Magnuson, Nick Sterling, Tyler Wolf, Connor Maguire, Ray Diaz and Billy Santoro.



Hot Membership Site Scenes Available Now!



Falcon Studios Group Models Appearing Live in a City Near You.
April 2: Johnny V & Austin Wolf at BS West, Scottsdale, AZ
April 15: Johnny V Birthday Bash at Seven Nightclub, Chicago, IL
April 30: Johnny V at Club Krave, Blue Island, IL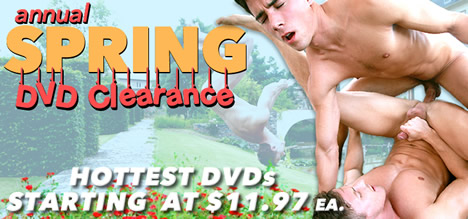 Hey HUNTers,
Happy April Fool's Day! Have we got a jam-packed issue for you…no fooling! As Spring is officially here, we want to launch it with another issue packed with tons of amazing content that's guaranteed to heat things up and thaw the freeze of Winter. We've got loads of complimentary content, steamy news and scorching promotions that will warm you up faster than you can say equinox.
Breaking News brings the beginning of a new collector's edition series of DVDs with the all-new A-Team All- Stars: Ryan Rose. Get up-close and personal with your favorite A-Team superstars with collections of their hottest and most popular scenes to date. The inaugural edition features A-Team Captain Ryan Rose and his finest Falcon Studios Group scenes.
We're serving up one of those spectacular scenes found on A-Team All-Stars: Ryan Rose for this issue's Free Scene Download. Featuring A-Team Captain Ryan Rose and Ray Diaz, this amazing fuck is originally from the Falcon movie, Alumni, and it will have you wishing for a reunion with the hottest hunk in high school.
Model Spotlight gets a heavy dose of pure, grade-A beef when Austin Wolf muscles onto the cover of this issue. From his dominating performances to his awe-inspiring physique and delicious assets, you'll understand why Austin Wolf is one of the most popular A-Team studs when you finish reading his profile and checking out his gallery.
The sexual electricity in the Free Action Gallery featuring Falcon Edge's Amped will send shockwaves of testosterone through your veins. Check out the hottest action images with passionate exchanges directed by Nick Foxx. Enjoy Ten Iconic Models of Raging Stallion Studios in the new Special Feature, where we highlight the rough and rugged studs who blazed a blue-collar trail in gay porn. These are the men who made the mega-brand to the success it is today.
Studio News delivers four hot stories that will keep you and your cock entertained. Lather up in the locker room with Hot House's Towel Off, directed by Tony Dimarco and now available on DVD and download. Get into the hottest butts and the cocks that can't get enough of them with the debut update from Ass Fiends, the newest scene on HotHouse.com directed by Nick Foxx and starring A-Team Exclusive Bravo Delta and stud Josh Conners. Get to work with Raging Stallion's construction site sex-fest, Erect This! now available on DVD and download. Finally, Tryp Bates visits Doctor Jimmy Durano for a physical in Hot House's premiere update from Doc's Orders.
Put a spring in your step and wood in your shorts with the latest offers on the Falcon Studios Group Store. The offer of the season is upon us: the Annual Spring DVD Clearance, featuring hundreds of DVDs and select discs for as low as $11.97. Choose from all major brands and save big for a limited time. Plus, get over 25% off the hottest downloads in the Raging Stallion Scene Savings Event with scenes for only $4.95 each.
Cheers,
The HUNT Staff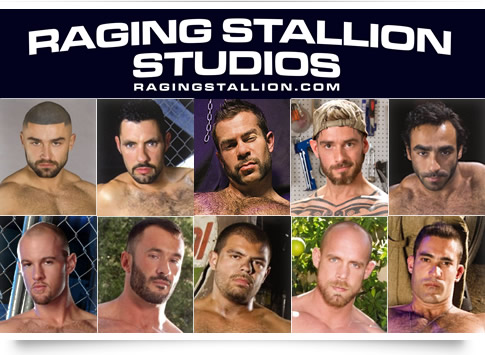 Ten Iconic Models of Raging Stallion Studios
Raging Stallion built an entire studio on the hottest rough and rugged men in the world of gay porn. The original stable of studs set the stage for a new niche of gay porn that featured hairy, beefy and hyper-masculine men engaged in intense, no-holds-barred action that was unique adult male erotica.
Raging Stallion's founders Chris Ward and JD Slater knew there was an audience that was longing for an alternative to the proliferation of content that featured clean-cut, manicured men, and they hit the jackpot by putting a new breed of "stallion" on the market. A Raging Stallion that was into darker, grittier sex with guys who read as blue-collar as opposed to their white-collar counterparts.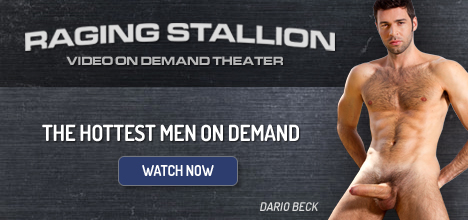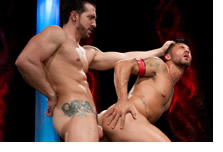 Doc's Orders Debuts on HotHouse.com - HotHouse.com, the top-quality gay porn membership site, announces the debut of the first scene from The Ass Authority's latest medical fantasy, Doc's Orders. The new update featuring A-Team Member Jimmy Durano and tatted-hunk Tryp Bates was directed by Nick Foxx. Read Full Story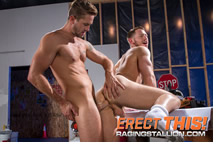 Raging Stallion Works It with Release of Erect This! DVD & Downloads - America's Gay Porn Company, Falcon Studios Group announces the release of Raging Stallion's construction site sex fest, Erect This! Director Steve Cruz is the architect behind this fast-paced project, full of powerful tools and all the nailing, drilling, and hammering you want to see. Read Full Story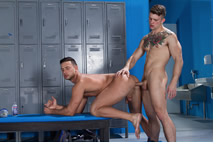 Hot House's Towel Off Ignites Locker Room Fantasies - Hot House – The Ass Authority announced the release of its locker room ass-fucking fest, Towel Off, on DVD and scene download. There's nothing hotter than a gym shower fuck, and award-winning director, Tony Dimarco takes these hot-assed men to another level before they 'Towel Off'. Read Full Story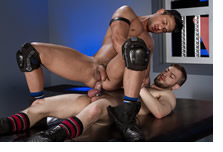 Hot House Debuts Ass Fiends Update - Hot House, The Ass Authority – announces the debut of the first scene from Ass Fiends. The new update featuring A-Team Exclusive Bravo Delta and smooth bottom Josh Conners was directed by Nick Foxx and is now live on HotHouse.com. Read Full Story