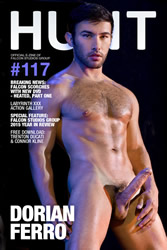 Amazing Content Now Live on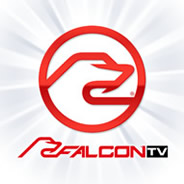 | | |
| --- | --- |
| | Check the listings in your Television Provider's Adult HD OnDemand Menu for: Hung, Scruffy and Hot – The OnDemand HD Release of Raging Stallion's Explosive Starring: Adam Champ, Marc Dylan, Jessie Colter and more. |










Trenton Ducati & Connor Kline from Heatstroke
Now Available on Amazing Ass 8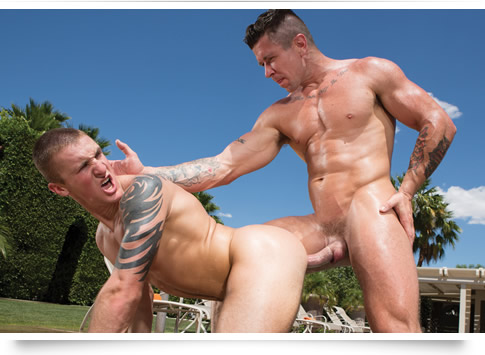 Isn't a swim supposed to cool you down? Don't tell Connor Kline and Trenton Ducati. When these two muscular hung studs dive into the pool things really get hot. Connor pulls himself up out of the water so Trenton can have full access to his huge round ass. Trenton probes and licks Connor's golden globes then turns him around and sucks the hell out of his huge cock. The expert head brings Connor to a boiling point; he needs to get some of Trenton's fat dick in his mouth. The young stud goes down on Trenton and swallows his cock. Connor loves sucking Trenton's dick but he really wants it up his ass. He pushes Trenton back and hops on the hunk's rock-hard monster for a wild ride. He bounces up and down on Trenton's dick until his tight hole draws a thick load out of Trenton. Like any good fuck-buddy Trenton gets down between Connor's legs to suck a creamy stream of cum out of his cock in return.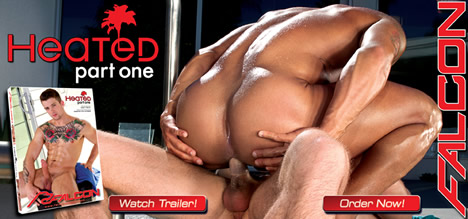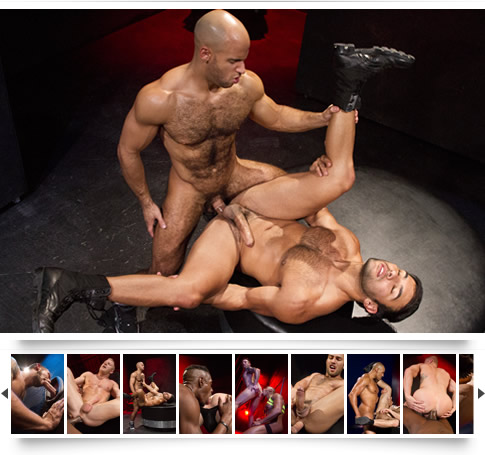 Visions of sexual beasts and carnal temptations fill the 'Labyrinth'. Men wearing little or nothing stalk these halls in search of fulfilling their hottest fantasies. A seemingly endless long tunnel only illuminated by a red glow is the 'Labyrinth' of desire that is reminiscent of a mythological sex club, where visions of a Minotaur compete with horned up flesh in need of release. Dorian Ferro knows if he displays his ass, men will want it … and he wants to be taken. Sean Zevran, in a Slick It Up mesh body suit that revels every cut of his awesome physique, is that guy. Chris Harder wanders the Labyrinth in sunglasses and black shorts with front and back zippers. His first stop is a glory hole where he services three cocks at once. He chooses one man, Johnny V, for an exhibitionistic display of flip-fucking with a double-headed dildo chaser. Then Chris Harder is chosen by Michael Thomas, a mountain of smooth, dark muscle. Michael knows how to work that rear zipper for the maximum benefit of his tongue and cock. Johnny V, terrified by a vision of the Minotaur, retreats to a room of cages, where his tormentor drops the horns and reveals his other horn: three handfuls of hard, black cock that needs release. Johnny submits his hole to an exhaustive fuck that paints the set white with jizz. The quest for a wetter, harder orgasm takes many forms. Enter the 'Labyrinth', to find your way to satisfaction.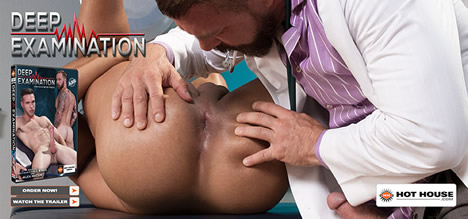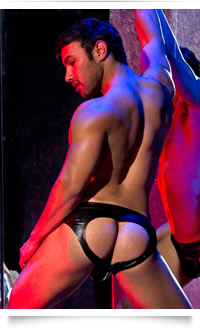 Stunning Falcon Studios Group Exclusive, Dorian Ferro, is a force to be reckoned with. He's gained a huge following as a well-known underwear model, and then he brokered that popularity into porn superstardom. Last July he signed on with Falcon and was added to its elite roster of A-Team Exclusives. Since then, Dorian has delivered hot scene after hot scene, amassing an amazing list of hit releases in the last six months! His movie-star eyes, defined physique, bronze complexion, mouth-watering uncut cock and willing bubble-butt, are just a few of the assets that keep this award-worthy model in high demand. This dynamic, versatile stud has pumped out a total of nine DVD's including his latest releases Raging Stallion Fall Blockbusters, Total Exposure 1 & 2, VIP- The Hustle from Falcon Studios, Fire and Ice from Hot House. And he appears in two scorching new releases out this week: Raging Stallion's Labyrinth and Falcon's Heated, Part One. Keep a close eye on Dorian, he satisfies with each mouth-watering performance.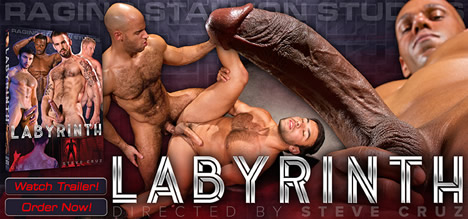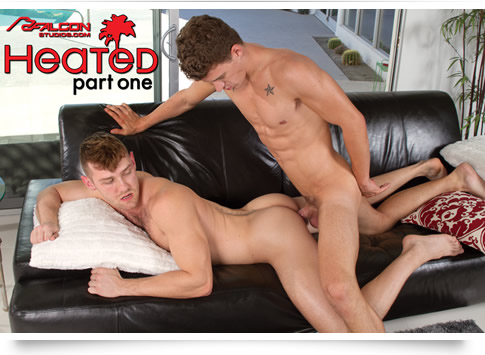 Falcon Scorches with new DVD - 'Heated, Part One'
Falcon Studios announces the release of its newest feature, Heated, Part One. In the latest signature Falcon pool movie, Director Nick Foxx delivers nine sexy hunks. They're 'Heated' and there's only one way for them to escape their burning desires: uninhibited steamy sex. DVD and downloads are now available on the Falcon Studios Group Store.
In 'Heated, Part One', beams of sunlight beat down and sweat pours off these hot, horned up studs. The cast of stunning men includes A-Team Exclusives Sebastian Kross, Jacob Peterson, Chris Bines and Dorian Ferro along with fan favorites Addison Graham, Gabriel Cross, JJ Knight, Bruno Bernal and Killian James.



Hot Membership Site Scenes Available Now!



Falcon Studios Group Models Appearing Live in a City Near You.
January 14: Boomer Banks at DC Eagle, Washington, DC
January 15: Sebastian Kross at Parliament House, Orlando, FL
January 15-17: Boomer Banks at Mid-Atlantic Leather, Washington, DC
January 17: Tegan Zayne at Skin Tampa, Tampa Bay, FL
January 22: Sebastian Kross at Chasers in Charlotte, NC
January 30: Boomer Banks at 340 Nightclub, Pomona, CA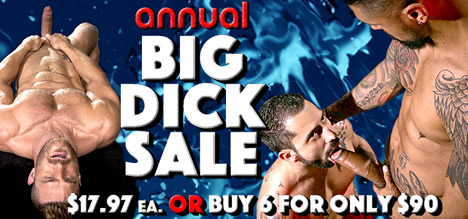 Hey HUNT Studs,
The staff of HUNT and Falcon Studios Group would like to wish you a very Happy New Year! We hope this year brings you all the things you wished for and more. We've got lots in store for you in 2016 so buckle up, and be prepared to enjoy yet another amazing year. Thanks to you and your support, 2015 was spectacular, and we've gathered up all the hottest galleries and news from the year in this week's Special Feature: Falcon Studios Group 2015 Year in Review. In case you missed the biggest announcements and hottest content, we've collected it in one place as a thank you for being a loyal fan.
Kicking off 2016 we have the first Breaking News item, announcing the release of Falcon Studios' latest poolside scorcher 'Heated, Part One' directed by the talented Nick Foxx.
There's more Studio News in this issue than ever before. First up…the release of Heated, Part One, as well as the premiere of its first scene on FalconStudios.com featuring A-Team Exclusive Sebastian Kross and Brazilian super-hunk Bruno Bernal. You'll also find items about new release 'Deep Examination' from Hot House and the debut scenes from Towel Off and Stiff Sentence, as well as Raging Stallion's new feature Labyrinth and its world premiere scene with A-Teamers Sean Zevran and Dorian Ferro.
Dorian hits the street in two new releases this week, and he's featured in this issue's Model Spotlight. Read about Dorian's quick climb to porn superstardom and his continuous, award-worthy performances including some upcoming projects.
Get lost in the dizzying and lustful maze of the 'Labyrinth' with this issues Free Action Gallery featuring only the hottest action images from Raging Stallion's newest feature. While we're handing out hot content, please direct your attention to the Free Scene Download, featuring power-studs Trenton Ducati and Connor Kline in a spectacular scene originally from the Hot House's Heatstroke. The scene can now also be found on the new Hot House collection, Amazing Ass 8.
Finally, we've got some great, limited-time deals on DVDs and Scenes. We've just launched the Annual Big Dick Sale featuring DVDs for $17.97 each or 6 or more for $15 each. The New Year Scene Sale offers hot downloads from all studios for only $3.95 each. The 2015 End of Year DVD Clearance with savings up to 70% of amazing DVDs is in its final days so take advantage of these offers now. We've extended the New Year 72 Hour Sale exclusively for HUNT readers…get DVDs starting at $7.97.
Many Thanks Always,
The HUNT Staff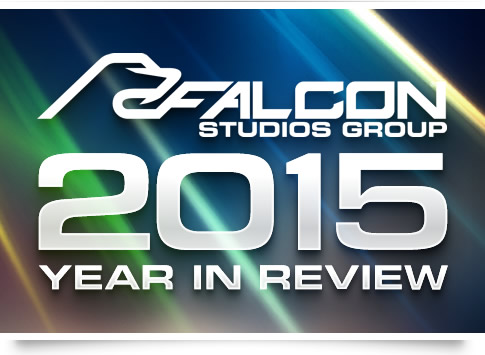 2015 Falcon Studios Group Year in Review
For Falcon Studios Group and HUNT, 2015 was a year of milestones, big wins, blockbuster movies, major announcements and the addition of more hot models to our elite group of the hottest men in the world – the A-Team. As a token of our gratitude for your continued support as a loyal fan, we've put together this Falcon Studios Group 2015 Year in Review collection of terrific free galleries, special features, most-popular content and the biggest news from the year.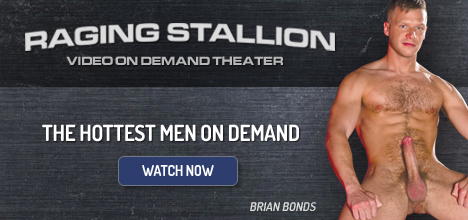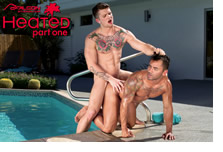 FalconStudios.com Premieres Scorching Update from Heated, Part One - FalconStudios.com announces the world premiere of the first scene from its latest poolside scorcher, 'Heated, Part One', featuring A-Team Exclusive Sebastian Kross and Brazilian stud Bruno Bernal. Read Full Story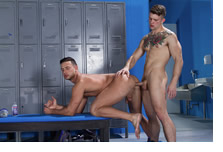 Debut Scene from Towel Off with Sebastian Kross and Josh Conners Goes Live - Hot House announces the debut of the first scene from Towel Off, the latest locker room erotica. A-Team Exclusive Sebastian Kross and stud Josh Conners appear in the update directed by Tony Dimarco that is now live on HotHouse.com. Read Full Story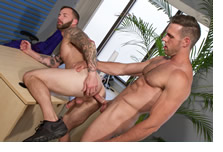 Hot House' Deep Examination Doctor Fantasy DVD & Scenes Now Available - Falcon Studios Group, today announced the availability of Hot House's newest movie, 'Deep Examination' on DVD and scene download. Nick Foxx directs seven horned-up men, three big-dicked doctor's office staffers and four smokin' bottoms who like to be thoroughly examined, inside and out. Read Full Story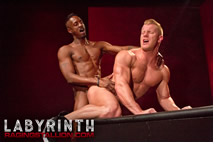 Raging Stallion Kicks Off 2016 with Labyrinth on DVD & Download - Raging Stallion announces its first release of 2016, mythical 'Labyrinth'. Award-winning director Steve Cruz guides six gorgeous models through a creative and erotic maze filled with one sexual conquest after another. Read Full Story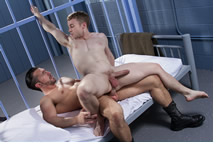 Stiff Sentence Debuts on HotHouse.com - Hot House, The Ass Authority – announces the debut of the first scene from 'Stiff Sentence', the latest production where bad boys and crooked cops get down and dirty as they're served a 'Stiff Sentence'. A-Team stud Jimmy Durano and UK star Gabriel Cross get it on in this jail cell sex fest... Read Full Story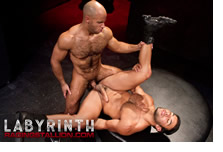 RagingStallion.com Debuts First Scene from Labyrinth - RagingStallion.com announces the release of the first scene from the mythical feature Labyrinth, starring A-Team Exclusives Sean Zevran and Dorian Ferro. The creative and erotic update, directed by award-winner Steve Cruz, marks the first update of 2016. Read Full Story