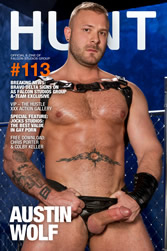 Amazing Content Now Live on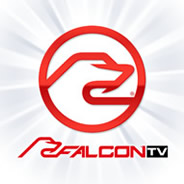 | | |
| --- | --- |
| | Check the listings in your Television Provider's Adult HD OnDemand Menu for: Open Up Your Butt! – The OnDemand HD Release of Falcon Edge's Ready to Fuck Starring: Jimmy Durano, Ryan Rose, Landon Conrad and more. |










Chris Porter & Colby Keller from Stud Fuckers
Now Available on Humongous Cocks 33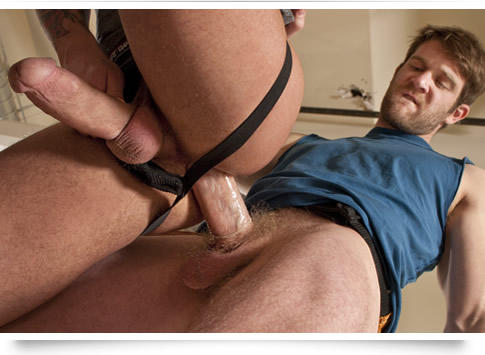 A sizzling debut performance at Raging Stallion by Colby Keller and the ever-popular Chris Porter. This is another excellent pairing. It should be noted that when Tony Dimarco casts his movies, he takes much care to make sure his guys are really into each other and have what it takes to give great performances. This scene is a fine example of some of the best casting possible. Colby has a huge, massive, thick cock. Chris can barely take it down his throat, but he tries. Ultimately he gets it in, even if his eyes bug out from the pressure of having his face stuffed like a turkey. Its another three positions for the fucking, again all set up for maximum viewing pleasure. For the forth scene in a row, the bottom blows his load while being fucked. And you gotta see Colby's cum shot!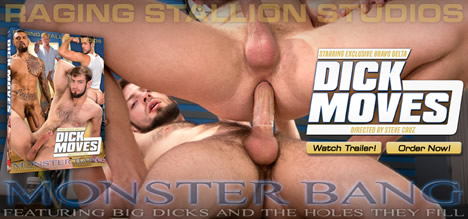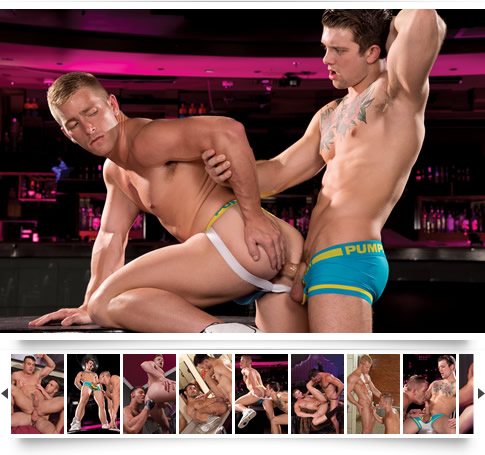 Money! Power! Sex! 'VIP - The Hustle', part one of the two part Falcon Fall Blockbuster, takes you behind the velvet ropes and into the world of a Las Vegas male strip club. Award-winning filmmaker Tony Dimarco directs an all-star cast, in a story filled with strippers' poles, hot assets and lap dances that will get anyone to rise to the occasion! VIP give you the full monty of the inner workings of this sultry and seductive home to Vegas's sexiest and horniest club staff and strippers. Alex Mecum plans to pump up the profit at his strip club with a no-holes-barred VIP lounge for his most elite customers. His hot and hunky dancers know how to work a pole, whether it's on the dance floor or in a client's jeans. Alex wakes from sweaty dreams of blow jobs, excited that his muscle-stud boyfriend, Killian James, is beside him to take care of his aching boner. At the club, the patrons aren't the only ones getting in on the action. When Scott Riley comes looking for work, gogo manager Sebastian Kross shows him the more private points of lap dancing, teaching him by example how to ride a customer's cock with his tight hole. Dancer Jason Maddox lusts for stripper Dorian Ferro, whose furry body and glorious bubble ass trigger erotic desires that need to be satisfied: pronto. Armando De Armas accepts an offer he can't refuse from admirer Brian Bonds, who waits outside the club. For a wad of cash, Armando will fuck Brian hard and deep until Brian's balls – and Armando's cock – are drained. Johnny V is a dancer who finds creative ways to break the newly imposed "hands off" rule: just don't use your hands. New hire Scott Riley is too physically tempting, and a mutual blow job provides a perfect introduction. With the hottest studs on the Vegas strip fucking each other In 'VIP–The Hustle', you're going to want to get your pass beyond the velvet rope and into this supercharged, sensual and seductive VIP area.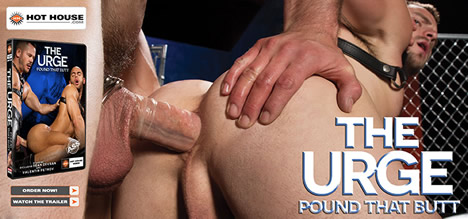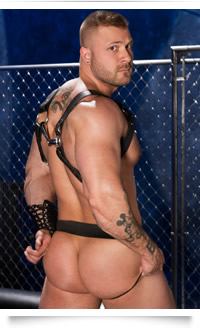 This exclusive member of the A-Team has the muscled frame of a linebacker and lovable qualities of a teddy-bear. Austin Wolf, is a gentle giant with a dominate persona on set. He's handsome, he's ripped with an impressive thick cock, and he has perfect legs and an ass that make him the total package. He's big in every way, and he delivers big, energized and engaged performances every time he's in front of the camera. Now, with a total of 8 films under his Falcon Studios Group jock and several more on the way, Austin has no intention of slowing down anytime soon. You can find him in the newest features from Hot House The URGE: Pound That Butt and The URGE: Huntin' for Ass, plus you can catch him in recent blockbusters like Total Exposure 1 & Total Exposure 2 from Raging Stallion and the mega-hit Magnums from Falcon Edge. Keep your eye on Austin Wolf and witness him deliver award worthy performances over and over again!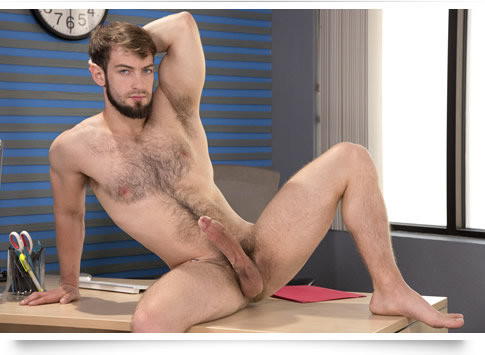 Bravo Delta Signs on as Falcon Studios Group A-Team Exclusive
Falcon Studios Group, America's Gay Porn Company and the world's largest producer of all-male adult erotica, has finalized an exclusive agreement with X-Tube sensation turned porn superstar, Bravo Delta. In addition to appearing exclusively in Falcon, Raging Stallion and Hot House releases, Delta has also been added to the roster of the Falcon Studios Group A-Team.
A stunning face, piercing eyes and sculpted body generously covered in hair are just the beginning of what makes Bravo Delta one of the most sought-after men in adult erotica. Add to that his huge, 8.5" endowment, sexually charged personality and intense performances, and you're presented with a gay porn powerhouse.



Hot Membership Site Scenes Available Now!



Falcon Studios Group Models Appearing Live in a City Near You.
November 6: A-Team Exclusive Johnny V at Seven Nightclub for WTFalcon Friday's, Chicago, IL
November 7: A-Team Exclusive Boomer Banks at 340 Nightclub, Pomona, CA
November 20: A-Team Exclusive Boomer Banks at The Heretic, Atlanta, GA
November 24: A-Team Captain Ryan Rose at Interbelt Nite Club, Akron, OH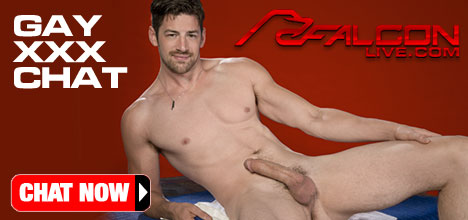 Hey HUNT Studs,
We hope that you enjoyed your Halloween weekend. If the Holiday didn't blow your mind, then maybe our Breaking News item will. Popular X-Tube sensation turned megastar Bravo Delta has joined the stacked roster of A-Team Exclusives. Read the full article to learn more, and see Bravo in his Falcon Studios Group debut, Monster Bang's Dick Moves, which is featured in Studio News.
That's not all you'll find in the hottest news around. Additionally, you can get the scoop scene world premieres from Dick Moves and Hot House's Fire & Ice, as well as the seedy sex club DVD The URGE: Pound That Butt from Hot House and Cazzo's Sex Tourists.
Want even more cum worthy content? Then, head down to the Special Feature and learn more about JOCKS Studios: The Best Value In Gay Porn. Hunky muscle stud, and A-Team Exclusive Austin Wolf is featured in this issue's Model Spotlight this issue. Find out what he's been up to, and check out a gallery filled with images from his latest movies as well as recent hot hits in which he's appeared.
Live life like a real V.I.P. with the Free Action Gallery showing off all the hottest action images from Falcon Studio's newest blockbuster, VIP – The Hustle. In case you haven't caught this hot action, we're giving you a Free Scene Download originally from the Monster Bang hit, Stud Fuckers, starring Chris Porter and Colby Keller, the scene can now also be found on the new release Humongous Cocks 33.
We've got another round of exclusive offers for you in this issue. First, head over to the store for the final days our Annual Fall Inventory Blowout, which includes over 130 DVDs for only $9.97 each. Plus, we've just launched the Best Of's & Collection DVD Savings promotion with 150 of the hottest compilations for only $14.97 each.
Scene download fans, save 50% on hundreds of Hot House scenes in the Hot House Download Deals promotion, and act now to get 50% savings in the Raging Stallion Scenes For Less offer, which ends soon.
Happy Hunting,
The HUNT Staff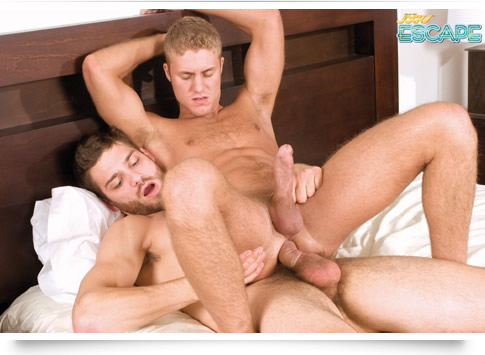 JocksStudios.com – The Best Value in Gay Porn
With Over 600 scenes filled with some of the hottest gay porn ever recorded and a lifetime monthly membership fee of only $9.95, JocksStudios.com is the best value in gay porn. And if this amount and variety of steamy man-on-man action isn't enough to get you going, over 120 of the scenes on JocksStudios.com star three or more sexy, athletic studs.
From its beginnings, JOCKS Studios served as a proving ground for some of the biggest stars in the industry. Falcon started the line in order to groom new talent and the brand took on a life of its own, becoming so popular that at one point it equaled the same level of success of its parent company. JocksStudios.com, is home to masculine, youthful, handsome, and sexy athletic types in hot guy next door and hardcore buddy action.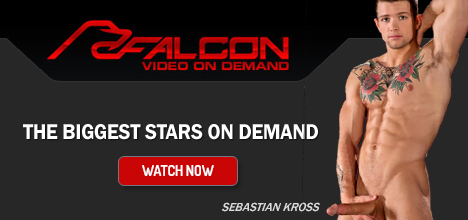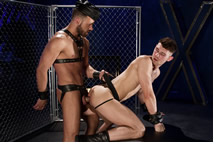 Hot House Streets 'The URGE: Pound That Butt' on DVD & Download - Falcon Studios Group today announced the availability of Hot House's 'The URGE: Pound That Butt' on DVD and for scene download. 'The URGE: Pound That Butt' reveals the unrestrained sexual yearnings of eight horned-up studs looking for steamy, anonymous fun in a seedy sex club. Read Full Story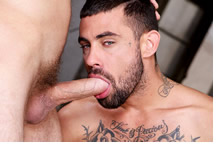 CAZZO Releases New DVD 'Sex Tourists' - Be a pig! Be a slut! Be Berlin! Horny studs don't only come to Berlin for the sightseeing! They want sex! There are so many men in the city, and they get right down to the action. Read Full Story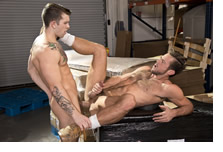 Raging Stallion's 'Dick Moves' Now Available on DVD & Download - The newest Raging Stallion, Monster Bang feature 'Dick Moves' is now available. Always featuring "big dicks and the holes they fill," Monster Bang's latest has Hall-of-Fame director Steve Cruz mixing business with pleasure when these sexy, "whoreable" bosses and their stunning subordinates hit it hard at work… Read Full Story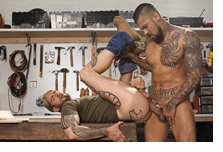 RagingStallion.com World Premieres 'Dick Moves' - RagingStallion.com, home of rough and rugged studs delivering intense, no-holds barred sex, world premiere's its latest update featuring A-Team Exclusive Boomer Banks and the return of favorite fully-inked superstar Logan McCree. Read Full Story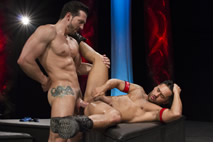 Debut Scene from 'Fire and Ice' Premieres on HotHouse.com - HotHouse.com, The Ass Authority, announces the debut of the first scene from 'Fire and Ice.' A-Team Member Jimmy Durano and sun-kissed Brazilian Bruno Bernal, appear in the update directed by Nick Foxx. Read Full Story