Paddy O'Brian & Marc Dylan from Summer Lust
Now Available on Amazing Ass 7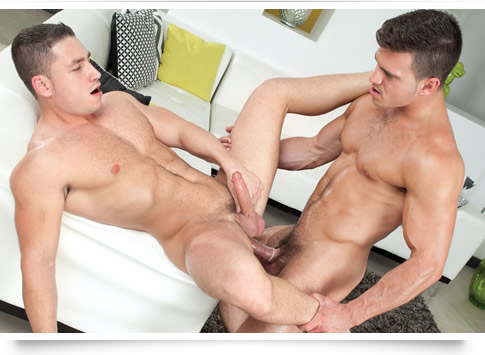 Paddy O'Brian is classic, a macho stud who's ruggedly handsome, fearsomely built and breathtakingly hung'a gigantic helmet head crowns a thick cock that's solid steel. No less than voluptuous, meaty muscle star Marc Dylan is Paddy's partner, offering up his incredible bubble butt. We see the "real," playful Paddy first, when the guys roughhouse in the poolhe's a sparkling bundle of fun. He turns serious about his lust, and Marc lavishes utter worship on the enormous slab of Prime Beef between his legs. Paddy goes for Marc's ass, throwing a mean, high-power slam fuck. Sweat runs down his face, drips off his nose. Marc sits on the colossal cock, banging the bounty of his butt down so hard that not an inch of Paddy's steel shaft shows outside the tight clench of ass lips. Paddy's relentless bone burying shocks a shuddering load of cum from Marc, and Paddy leaves his own big and heavy globs of snow white jizz on his trembling buddy.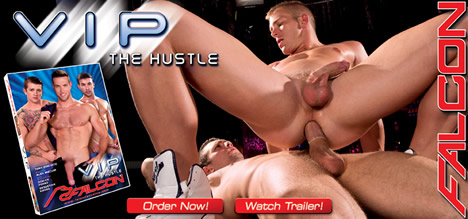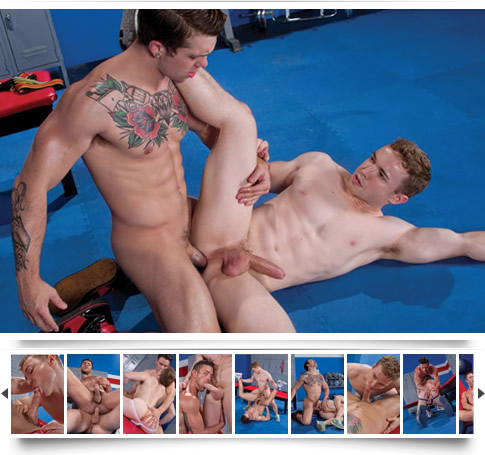 Getting Ripped isn't the only thing that happens in the gym! For these muscled studs, the gym's locker room is a sexual playground where they have blazing hot sex: the reward for all the hard time spent in the gym, sculpting their bodies for maximum attraction. Director Nick Foxx takes seven pumped up studs and pairs them to perfection in this Falcon Edge locker room fuck fest. Ryan Rose may be the most ripped of the bunch. His magnetic personality and hot body provoke hard-ons from across the room, and JP Dubois is the lucky stud Ryan targets for a flip-fuck. Another flip follows when handsome Addison Graham puts a locker room bench to intimate use with compact, muscle-packed Gabriel Cross. Gavin Waters scores the prized ass of Dorian Ferro, whose hot muscle complements his body hair and whose hole is at its best when being packed and stretched. Gabriel Cross comes back for more and catches the wandering eye of stunning Sebastian Kross, whose nuts are ready to bust for a hot stud. Get Ripped with seven iron pumping studs who get horned to the max in this locker room where the let it all hang out and hit it hard.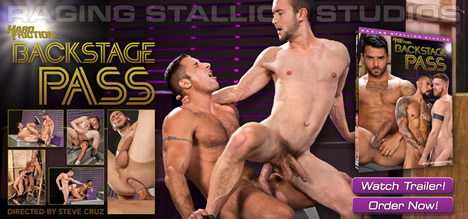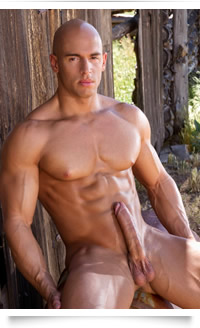 Hung hunk, Sean Zevran is one of the hottest studs in the world. He's handsome, he's versatile and he's an outstanding performer who always delivers. This A-Team Exclusive Superstar has taken the gay porn world by storm and he's not letting up anytime soon. If you're not familiar with his undeniably extraordinary assets, his cock and hole are so sought after that Fleshjack recently molded them so everyone can have a taste. Zevran's sculpted body, charming personality and desirable everything have catapulted him to the top levels of superstar status. Fans can find him regularly appearing in all three of the Falcon Studios Group's signature brands: Falcon Studios, Raging Stallion and Hot House. Since his very first appearance in the Falcon Edge release, Stunners, Sean has pumped out an impressive 26 movies with more on the way. Sean's latest releases are Sidewinder and Total Exposure 2 from Raging Stallion, Hard Medicine and The URGE: Pound That Butt from Hot House and the upcoming Fire and Ice also from Hot House coming early next year. Additionally, Sean is frequently appearing on FalconLive.com, where fans can watch him in live shows. Get on the Sean bandwagon and check all his goodies out for yourself.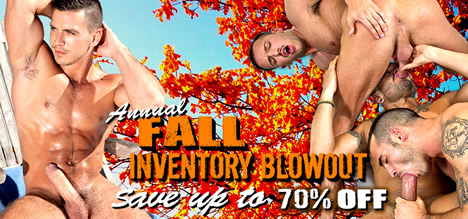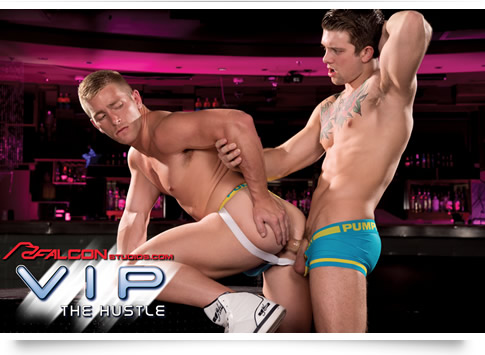 Falcon Studios Fall Blockbuster VIP – The Hustle Hits the Streets
Falcon Studios Group, America's Gay Porn Company, today announced the release of the first part of Falcon Studios' Fall Blockbuster, VIP – The Hustle. Award-winning filmmaker Tony Dimarco directs an all-star cast, in a story filled with strippers' poles, hot assets and lap dances that will get anyone to rise to the occasion! 'VIP' gives fans the full monty of the inner workings of this sultry and seductive home to Vegas's sexiest and horniest club staff and strippers. The first scene from the release starring rising stars Alex Mecum and NakedSword Exclusive Killian James went live on FalconStudios.com coinciding with the release of the DVD and downloads on the Falcon Studios Group Store.
VIP - The Hustle, part one of the two part Falcon Fall Blockbuster, takes you behind the velvet ropes and into the world of a Las Vegas male strip club. Alex Mecum plans to pump up the profit at his strip club with a no-holes-barred VIP lounge for his most elite customers. His hot and hunky dancers know how to work a pole, whether it's on the dance floor or in a client's jeans.



Hot Membership Site Scenes Available Now!



Falcon Studios Group Models Appearing Live in a City Near You.
October 23: A-Team Exclusive Boomer Banks at Diamond Horseshoe, New York City, NY
October 31: A-Team Exclusive Boomer Banks at Santos Party House, New York City, NY
November 5: A-Team Captain Ryan Rose at The Monster for SPUNK, New York City, NY November 24: A-Team Captain Ryan Rose at Interbelt Nite Club, Akron, OH
November 6: A-Team Exclusive Johnny V at Seven Nightclub for WTFalcon Friday's Chicago, IL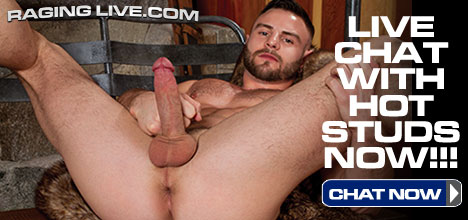 Hey HUNT Fans,
Even though Fall has official set in, we're keeping things heated up. Hot on the heels of the extremely successful Raging Stallion hits Total Exposure 1 and Total Exposure 2 comes the Falcon Studios Fall Blockbuster, VIP – The Hustle. Award-winning filmmaker Tony Dimarco directs an all-star cast, in a story filled with strippers' poles, hot assets and lap dances that will get anyone to rise to the occasion!
Take a step behind the velvet rope in this issue's Breaking News, where you'll learn more about VIP – The Hustle. And if that wasn't enough, hit Studio News and go backstage to witness Alex Mecum and Killian James in the world premiere scene from VIP – The Hustle.
Additionally, Studio News is offering up the release of Hard Friction's latest DVD, Backstage Pass and the newest hardcore fisting release from Club Inferno, Fist Pumpers.
Want more blockbuster heat? Then, head down to the Special Feature for a Bonus Free Action Gallery featuring Total Exposure 2, where you can uncover hot shots from the entire release! One of Total Exposure 2's leading men, Sean Zevran, is in the Model Spotlight this issue. Check out what he's been up to and find a gallery filled with images from this release as well as recent hot hits in which he's appeared.
Get Ripped with the Free Action Gallery showing off all the hottest action images from Falcon Edge's newest feature. And, if you haven't downloaded it already, we're giving you a bubble butt-busting scene originally from a Falcon Studios hit, Summer Lust, starring Paddy O'Brian and Marc Dylan, the scene can now also be found on the new release Amazing Ass 7.
HUNT readers, we've got another round of exclusive offers for you in this issue. First, head over to the store for our Annual Fall Inventory Blowout, which includes over 130 DVDs for only $9.97 each. This is your last chance to take advantage of the Hot House & Men of Massive DVD Sale with savings up to 60% - that's DVDs as low as $11.97 each.
Scene download fans, get half off nearly every JOCKS scene we have in the JOCKS Deep Download Discount promotion, and get 50% savings in the Raging Stallion Scenes For Less offer, which has nearly 400 hot Raging Stallion downloads on sale.
Happy Hunting,
The HUNT Staff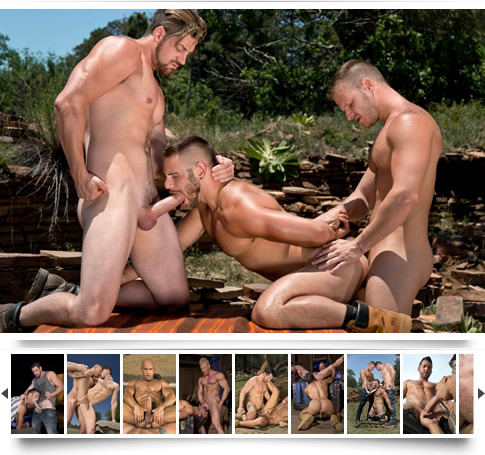 Bonus Free Action Gallery: Total Exposure 2
100% REAL, 100% EXPOSED, 100% EXCLUSIVE – Raging Stallion presents its Fall Blockbuster sex fest, Total Exposure 2: the second part of the revealing, honest and ultra-sexy look at the real sex and lives of A-Team Exclusives. In an unprecedented, reality, cockumentary, directors Hall-of-Famer Steve Cruz and Nick Foxx capture this elite group of the hottest men in the world on a remote cattle ranch in candid behind-the scenes moments and balls-out, intense and energized sucking and fucking that will leave you entertained, rock hard and cumming back for more and more. Five cum-slinging action scenes are complemented by additional interviews, impromptu footage of the models at rest and play, and a light-hearted examination of the consequences of fleeting fame and notoriety based on sex. Sean Zevran's body is so hard and hot, sweat streams and glistens down his washboard abs. Jimmy Durano bends Sean over an old dead tree and rails him with his thick uncut trunk. Giant muscle-stud Austin Wolf and boy next door Jacob Peterson heat things up lakeside. Dorian Ferro and Johnny V have the urge for some late night action and fulfill their desires with some cum spurting oral fun. Andrew Stark and Nick Sterling take a walk to join Brian Bonds for a scorching flip-fuck in the desert. Smooth, frisky and eager, Ryan Rose and Andrew Stark share a bottle of whiskey and sneak away to a desolate barn to end their sexual tension in an epic flip-fuck. Directors Steve Cruz and Nick Foxx outdo themselves in capturing seismic performances out of the A-Team while giving you a candid look at the men behind the cock and muscle. Total Exposure 2 is a gay porn experience like no other.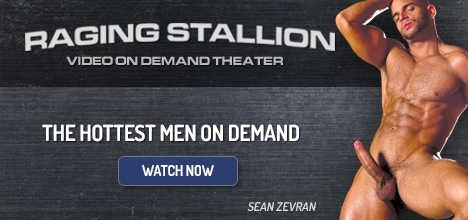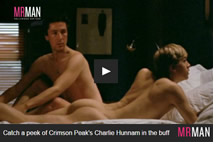 Mr. Man Minute Give You the Latest on Male Celebrity Nudity in TV & Film - The Mr. Man Minute is a weekly update featuring the Hollywood hunks in theaters now! Plus, it fills you in on their hottest nude and bare scenes that can be found on MrMan.com Read Full Story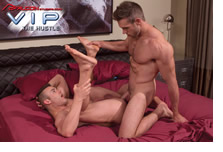 FalconStudios.com Premieres First Scene from Fall Blockbuster: 'VIP – The Hustle' - FalconStudios.com has delivered the world premiere of the first scene for the Falcon Studios Fall Blockbuster, VIP – The Hustle from Falcon Studios featuring newcomer Alex Mecum and NakedSword Exclusive Killian James, and directed by Tony Dimarco. Read Full Story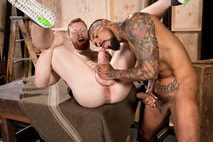 Get Your Exclusive Backstage Pass from Hard Friction - Get your Backstage Pass now, and be prepared for hand-cramping, throat stretching, butt pounding action that they don't sell tickets for. Get your 'Backstage Pass' now and join the full-bore sword swallowing, nut twisting, ass-stretching man on man sex. Read Full Story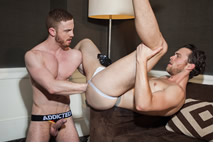 Fist Pumpers Debuts on ClubInfernoDungeon.com - The sexy, muscular men of Fist Pumpers find an abandoned garage and turn it into their own private hookup spot to wreak anal destruction. Director Christian Owen unleashes these 10 studs who know just how to stretch a hole to its full capacity. Read Full Story