Connor Kline & Leo Domenico from My Doctor Sucks
Now Available on My Big Fucking Dick: Connor Kline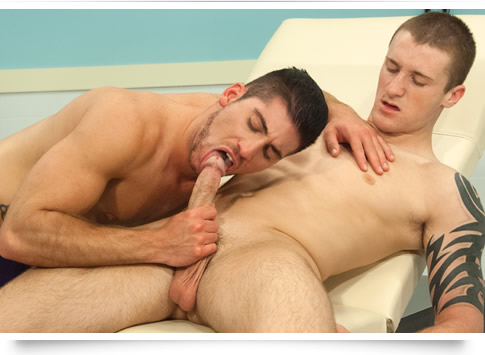 Connor Kline reports to the doctor's office complaining of lower back pain. When sexy Leo Domenico comes in to perform the exam Connor's pain suddenly moves a little lower down to his big bubble-butt. Leo lubes up his hands and probes Connor's tight hole to gauge his patient's comfort level. The deeper Leo goes the better it feels which makes Connor's cock rock hard. Leo finger-fucks Connor harder while sucking his giant balls and huge dick. While he's lying back on the exam table getting serviced Connor reaches into the nurse's scrubs and pulls out Leo's thick cock. Unable to resist the huge uncut monster, Connor hops down and swallows it whole. He wants to get the cock good and hard so he can take it up his ass. Connor bends over the exam table and opens his giant muscular ass to get pounded by some hot cock. Leo pulls out – but the appointment isn't over yet. It's time for Connor to pay his bill by kicking back so Head Nurse Domenico can hop on his big cock and ride him hard. Connor pulls out first to blow his load followed by the Leo, who stands up and shoots a huge stream of cum across the exam room.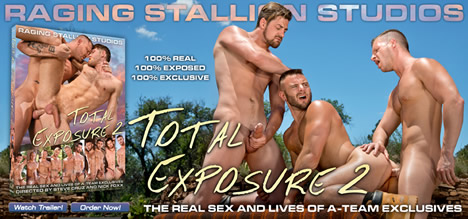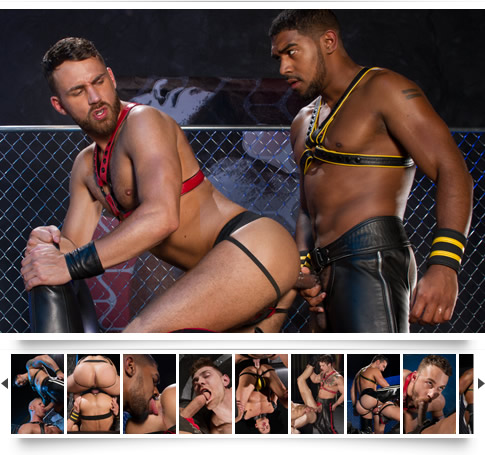 'The URGE: Huntin' for Ass' explores the unrestrained realm of a raunchy, testosterone-filled sex club where hot and horny men go when they're craving some sexy ass and quick NSA fucking. Their moans of satisfaction echo in the air as they find the hottest holes and drill each other with wild abandon. Award-Wining director Tony Dimarco leads eight sex-crazed men on a hot and anonymous expedition for ass in this den of deviance. Jimmy Durano plays voyeur as buff and rugged Austin Wolf stakes his claim on willing and eager Alexander Gustavo's hungry hole. Jacob Peterson has been waiting all night to have his tight hot hole pounded by the hottest stud. When inked-up Sebastian Kross sets his eyes on Jacob's butt, he takes aim with his hot cock and captures Jacob in an acrobatic fuck. Muscle studs Jimmy Durano and Johnny V feed off each other's sexual hunger in a power fuck that has Johnny shooting his load so hard it lands on his own face. XL lures in Logan Moore and his fine ass by stroking his humongous uncut cock. When Logan nears, XL's claims that hole and never lets go. Succumb to all of your burning sexual desires, and join the men of 'The URGE: Huntin' for Ass' who are guaranteed to make you blow your load with no strings attached!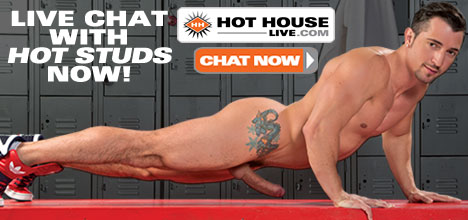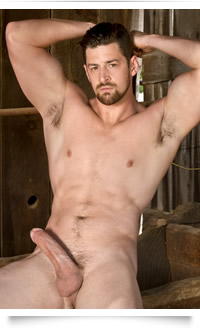 Andrew Stark is tall, lean and handsome. He boasts an 8.5" cut cock, an exceptional muscled ass and a stunning, handsome clean-cut face. His breathtaking physical appearance and exceptional on-screen performances are why he's a Falcon Studios Group A-Team Exclusive. Andrew has become one of the most popular stars in this roster of elite gay porn performers. The 6'2" Adonis has impressed audiences with his versatile sexual prowess in 16 Falcon Studios Group hits. Among his most jaw-dropping recent performances are Falcon Edge's Double Kross, Falcon Studios' Tahoe: Keep Me Warm and Tahoe: Cozy Up, and his just-released Raging Stallion Blockbuster, Total Exposure 2. Keep watching this amazing star, because he's all stud and he continues to pump out hit after hit for the mega studio.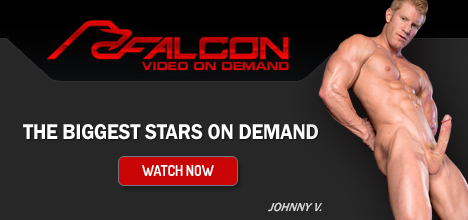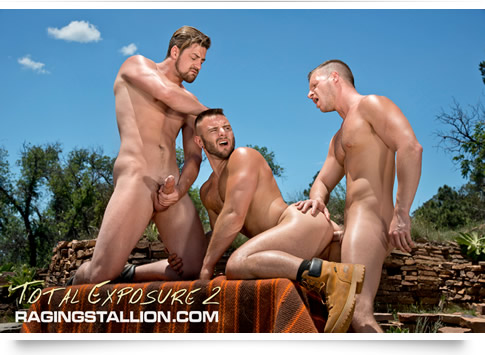 Now Available: 'Total Exposure 2'
- Conclusion of Raging Stallion's Fall Blockbuster
Falcon Studios Group announces the conclusion of Raging Stallion's Fall Blockbuster, 'Total Exposure 2,' becoming available on DVD and for scene download today. The second part of the unprecedented, reality, cockumentary, directed by Hall-of-Famer Steve Cruz and Nick Foxx captures this elite group of the hottest men in the world in candid behind-the scenes moments and balls-out, intense and energized sex.
The revealing, honest and ultra-sexy look at the real sex and lives of Falcon Studios Group's top Exclusives and stars, features outstanding sex and a peek into the real sex and lives of the 100% A-Team cast. 'Total Exposure 2' is a gay porn experience like no other. The first installment 'Total Exposure 1' has been available since September 11.



Hot Membership Site Scenes Available Now!



Falcon Studios Group Models Appearing Live in a City Near You.
October 10: Falcon Studio Exclusive Boomer Banks at The Atlanta Eagle, Atlanta, GA
November 14: A-Team Captain Ryan Rose at Interbelt Nite Club, Akron, OH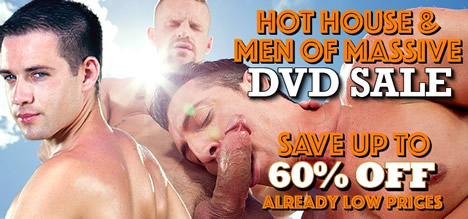 Hey HUNT Fans,
With tons of copies sold and scores of glowing reviews, Raging Stallion Fall Blockbuster Total Exposure 1 is by far the biggest hit of 2015 for Falcon Studios Group. But wait, there's more! More hot sex, more behind the scenes interviews, more 100% A-Team action, and you'll find it in Total Exposure 2, the conclusion of Steve Cruz and Nick Foxx's unprecedented 'cockumentary'. In honor of this event, we've updated www.totalexposurexxx.com to include all the probing and revealing model interviews, free action galleries, scene previews and more.
While it may feel a little like déjà vu, you'll learn all about the A-Team models featured in Total Exposure 2, get more insight into the making of both movies and what's new on the special site in this issue's Breaking News. Then, head down to the Special Feature to learn more about the A-Team stars in part 2. Watch their revealing Total Exposure interviews and catch any that you missed from part one.
In the Model Spotlight you'll find one of part 2's stars, the stunning and hung Andrew Stark who's stark naked and showing off all his goods in a smokin' gallery of his hottest shots. And, learn more about the world premiere update from Total Exposure 2 starring A-Teamers Jimmy Durano and Sean Zevran in Studio News.
Additionally, Studio News serves up Falcon Studios Group's impressive list of Grabby Nominations, the world premiere of the Alex Mecum and Chris Bines scene from Deep Examination on HotHouse.com, and the latest DVD from NakedSword Originals, Summer of Sweat.
Of course an issue of HUNT wouldn't be complete without a Free Action Gallery and a Free Scene Download. For the gallery, we've collected the hottest action images from Hot House's feature, The URGE: Huntin' For Ass. For the complimentary download, we're giving you a supercharged scene from another Hot House medical feature, My Doctor Sucks. Featuring Connor Kline and Leo Domenico, the scene can now also be found on the new release My Big Fucking Dick: Connor Kline, featuring five extraordinary scene starring the handsome, athletic stud and his massive meat.
For special offers exclusively for HUNT readers, we've extended the Humongous Cocks Super Pack special, offering you 12 DVDs for under $100 and the Raging Stallion & Mustang DVD Price Reductions with savings up to 70% have been held over. If you're a fan of downloading your porn and you love hot Europeans, don't miss out on the final days of the Stag Homme Download Deals. Plus, we've just launched the new Hot House & Men of Massive DVD Sale that features hot DVDs as low as $11.97 each.
Totally Exposed 2,
The HUNT Staff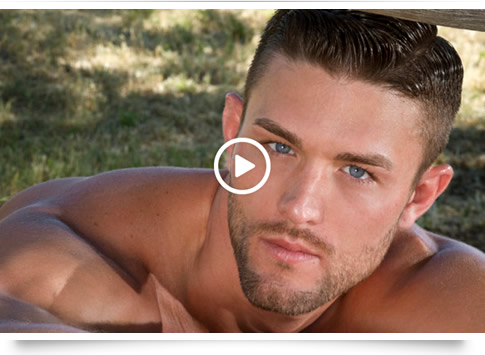 A-Team Revealed: Total Exposure Interviews
Total Exposure 2 models have been added to this popular Special Feature that gives you access to the in-depth interviews captured during the filming of the unprecedented, reality, cockumentary Total Exposure 1 & 2. Director's Steve Cruz and Nick Foxx delve deep into the fascinating lives of the men in front of the camera in this series of Q&As with the hottest men in the world. Watch as they sit down with all the A-Team stars who appear in the movies for revealing, full-length video interviews. Some interview questions appear the movie, but each stud's answers to probing questions are available on the release's dedicated web site, www.totalexposurexxx.com.
In the interviews you'll get a porn insider look into the real lives and more vulnerable sides of the A-Team studs. They're totally exposed, telling their true-life stories, their triumphs and downfalls, their sexual secrets and more. After that they physically expose themselves and get down to the erotic business they know best: having the hottest sex for all gay porn fans to enjoy…but you'll only find that in the movie.
Access all the Total Exposures interviews and see which models did their interviews naked and fully exposed.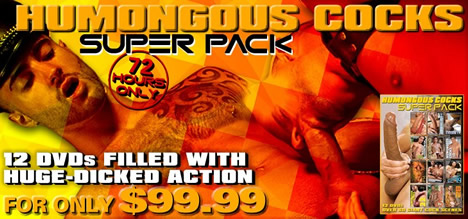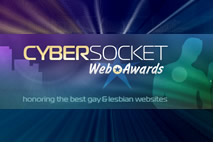 Falcon Studios Group Racks Up 33 Cybersocket Nominations - Falcon Studios Group, its A-Team Models and executives received an impressive total of 33 nominations in the 16th Annual Cybersocket Web Awards. The Group received an impressive 29 "Surfer's Choice" nominations… Read Full Story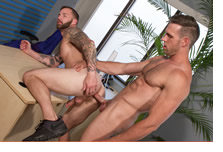 Doctor's Orders: Watch Deep Examination World Premiere Scene on HotHouse.com - Hot House, The Ass Authority – announced the debut of the first scene from 'Deep Examination,' starring A-Team Exclusive Chris Bines & hot newcomer Alex Mecum.  'Deep Examination' features muscle-hunk doctors and medical assistants delivering hot "treatments" to their patients and each other. Read Full Story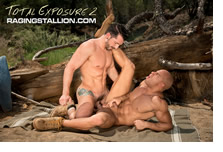 RagingStallion.com Makes Total Exposure 2 Debut Scene Live - RagingStallion.com announces the release of the first scene from 'Total Exposure 2' starring A-Team members Sean Zevran and Jimmy Durano. The update, directed by Hall of Famer Steve Cruz and Nick Foxx, marks the debut scene from the conclusion of the Raging Stallion Fall blockbuster 'Total Exposure'… Read Full Story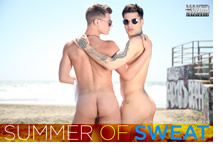 NakedSword Originals Heats it Up with New DVD Summer of Sweat - Is it getting steamy in here? San Francisco's Ocean Beach isn't the only thing hot and wet when these horny studs step out into the summer sun. These sexy hunks deliver the heat in the hole-pounding, ass-licking Summer of Sweat! Read Full Story