Connor Maguire & Connor Kline from Champs
Now Available on Amazing Ass 6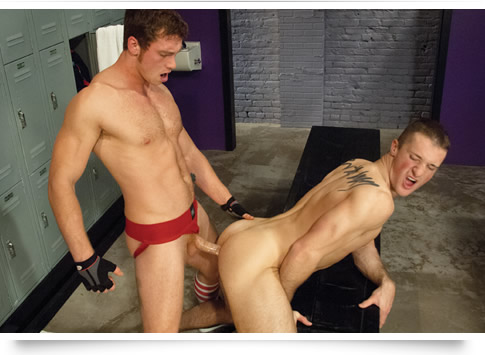 Connor Kline comes out of the shower to find his gym crush Connor Maguire stripping in the locker room. Kline's pretty sure that once the hunk sees his giant cock he won't be able to resist - and he's right. Maguire pushes Kline up against the lockers and worships every inch of his muscular body with his hot mouth. Maguire works his way down Kline's chest and washboard abs to the grand prize: Kline's rock hard dick. He sucks Kline's 8-incher then kicks back to show off his own hefty master-piece. Like a true dick-pig, Kline gets down and swallows Maguire's cock like a champ but it's just a warm up; he's always fantasized about getting that red-hot ginger cock up his ass and he's going to get it. Kline bends over with his huge bubble-butt in the air. Maguire steps up and shoves his cock deep in Kline's hole and fucks him hard all over the locker room until both studs shoot thick creamy loads.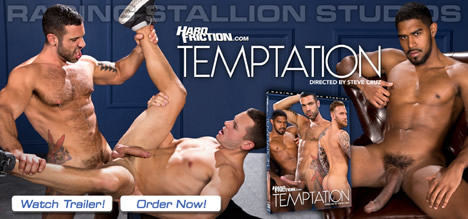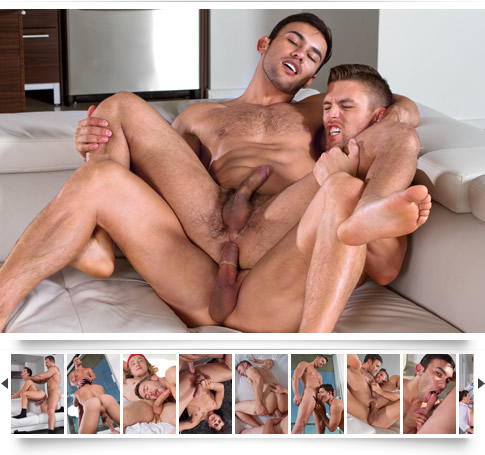 Welcome to the 'Sex Pad': an upscale high-rise apartment of discreet decadence, a sexual hideout where men go to hook up. They 'play it forward' by passing the key onto their latest trick, so he can enjoy his next steamy, anonymous conquest there. Award winning director Tony Dimarco takes you into the 'Sex Pad' and captures the uninhibited action filled with visions of hungry cocksuckers, power bottoms, and tops who know how to make guys beg for it. Key holder Austin Wolf sheds coat and tie to get nasty with co-worker Nicoli Cole. Austin's massive, muscled physique and thick dick inspire Nicoli to assume any position that lets Austin fuck him deeper. Inheriting the key, wavy-haired Nicoli invites Ryan Rose up to the pad. Nicoli's hot gymnast's body calls for full body contact, deep penetration and massive cum shots. Handsome and masterful Ryan uses the key to bed Dorian Ferro, a stud whose ass makes any sexual encounter a quantum leap hotter. Dorian lures Colt Rivers to the pad for a blowjob swap with a stiff cum chaser. Colt snags longhaired, blond slacker Tom Faulk for the final tryst. Tom's cock is completely consumed in every sense by supercharged bottom Colt. Get your key to the 'Sex Pad' and watch see these six ripped studs let it all hang out and go wild.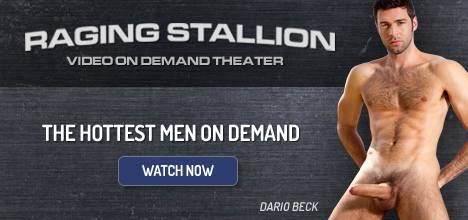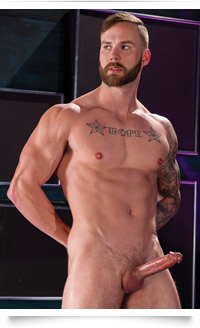 A nice fat cock, an insatiable, award-worthy bubble butt, a perfect furry body spattered in tattoos and a mountain man sex appeal are all possessed by A-Team Exclusive Chris Bines. This charming, dynamic super-versatile hunk ranks among the men you just can't get enough of. He's flashing his bedroom blue eyes and letting his hot ass loose as an Exclusive for over a year now, and creating an impressive gay porn-resume in the process. With eight inches and over a dozen feature DVDs under his belt, Bines has delivered exciting and dynamic performance after performance in recent hits like Falcon Edge's Krossfire, Hot House's newest releases Hard Medicine and Fine Tuned Ass and the upcoming Raging Stallion blockbuster, Total Exposure 1, slated for release on September 11. Stay tuned, because there are definitely more amazing things cumming from this world-class stud.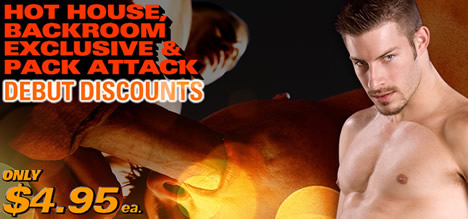 Hot Membership Site Scenes Available Now!



Falcon Studios Group Models Appearing Live in a City Near You
August 29: A-Team Star Jimmy Durano at Splash Bar for Starf*ckr, San Jose, CA
August 30: A-Team Star Jimmy Durano & Derek Atlas at Splash Video Dance Bar, San Jose, CA
September 4-5: A-Team Exclusive Brian Bonds at Nob Hill Theater, San Francisco, CA
September 4-5: A-Team Exclusive Brian Bonds at Nob Hill Theater, San Francisco, CA
September 5: A-Team Jimmy Durano at Badlands Sacramento, Sacramento, CA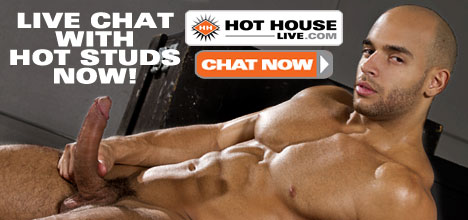 HUNT Readers,
It's Labor Day and Back to School Time, which means that summer's ending, but we're going to keep the hot times going with sexy stories, tons of complimentary content and new promotions that will save the hard-earned bucks you labor hard for.
Connors, anyone? Get a double dose of Connor as in the Maguire and Kline variety with this issue's Free Scene Download. Connor Maguire and Connor Kline deliver a super energized fuck from the Gym Dudes production Champs now available on the Hot House Collection Amazing Ass 6.
While we're doubling down on amazing gifts, let's serve up two sets of hot shots from recent releases. First, in the Free Action Gallery, check out Falcon's Sex Pad, and as a Special Feature Bonus Gallery, find Sidewinder the sexy desert fuck fest from Raging Stallion.
Just when you thought it couldn't get any better, we've put together a smokin' gallery of recent images of the always sexy and delicious A-Team Exclusive Chris Bines. Learn about him and check out all him impressive assets in the Model Spotlight.
To check out assets of our stars live and in person, don't forget to browse the Model Appearance Schedule to see if an A-Team Members is on a way to a club near you. Find a list of new content on HUNTFORMEN.com and the newest movie available in HD on FalconTV in the left column on this issue.
Another versatile A-Team Exclusive, Sean Zevran, is now 100%, completely available to you as a top and bottom with the creation of a dildo and Fleshjack. We've added the newest exclusives to the A-Team Roll Call. And, we're delivering a load of Temptation in the Studio News area. These are stories you won't want to miss and they're filled with great pics!
Keep your eyes peeled in the coming week for our Annual Labor Day DVD Mega Discounts and check out these other amazing offers currently available. First up, the Partner DVD Price Reduction promotion where you'll get 50% off the already low prices on hot studios like NakedSword Originals, Hard Friction, Stag Homme and more. Plus, we're offering you the NakedSword Originals Scene Discounts promotion with download discounts up to 37%. And, we've extended the Hot House, Backroom Exclusive & Pack Attack Download Debut Discounts sale with these scenes being available for the first time and offering them up at only $4.95 each.
Celebrate,
The HUNT Staff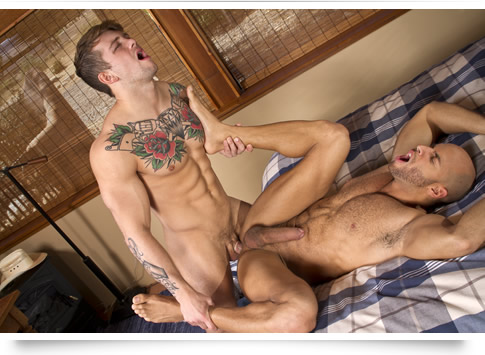 Free Action Gallery: Sidewinder
Like a Sidewinder - a rattlesnake hypnotically moving through the sands of the desert looking for prey - these "snakes" are waiting to strike and claim their prize: a fiery fuck under the hot sun. With his cinematic eye and expert sexual direction, Hall of Famer Steve Cruz leads these six hung cowboys through the desert to an oasis of climax in 'Sidewinder.' The blazing sand gets even hotter when Sean Zevran, who's looking for rattlers, gets ahold of the thick, uncut 10-inch 'Sidewinder' in Letterio Amadeo's pants. Nick Sterling's car breaks down in the middle of the scorching heat. Armando De Armas comes to Nick's rescue, and Nick is happy to pay him for his assistance by taking Armando's snake deep inside his sultry hole. Letterio Amadeo jacks his massive uncut serpent to tempt Johnny V into an outdoor shower, where Letterio seizes Johnny's ripped body and slides into his hot ass. To avoid the heat Sebastian Kross and Sean Zevran race back to their retreat, but the action inside sets the temperatures skyrocketing when Sebastian delivers his hefty snake deep into Sean. Head out to the desert and find a pack of big, meaty Sidewinder that satisfies.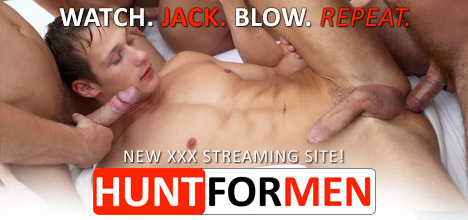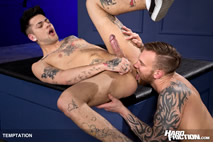 Hard Friction Gives Into 'Temptation' With New Release - Temptation is the lustful rush that causes your cock to twitch and your temperature to rise! Director Steve Cruz delivers the hot, connected sex Hard Friction is known for featuring eight horned-up dudes guaranteed to make you give in to your most sensual urges. Read Full Story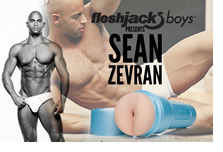 A-Team Exclusive Sean Zevran Now Has His Own Fleshjack - Our very own A-Team Exclusive Sean Zevran is the latest model to become a Fleshjack Man! Now you can get an exact replica of his hot cock and his tasty hole to have your way with. The dildo is set to blow your mind and when you slide into his Fleshjack hole, forget about it! Read Full Story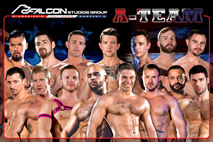 Updated A-Team Exclusive Roll Call - The Falcon Studios Group A-Team was created to showcase an elite roster of superstar exclusive and featured performers in America's Gay Porn Company's productions. Visit the updated Roll Call to learn more about this diverse group of dynamic superstar Exclusives and its new additions. Read Full Story