D.O. & Micah Brandt from Fahrenheit
Now Available on Men Noir 4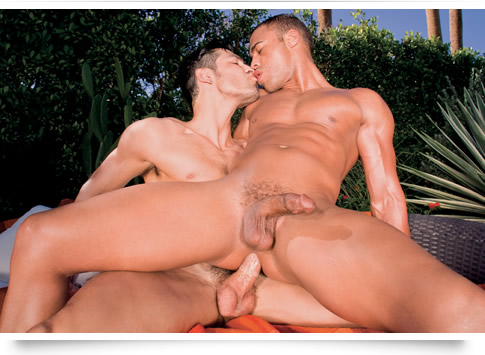 D.O. and Micah Brandt are locked in each other's embrace trading intense man kisses. Micah reaches to grab D.O.'s dick and begins sucking it down, stretching his lips wide and far apart, so he can consume the entire length. D.O. gets up and face fucks his willing partner, holding Micah's head so he can really slam his cock in. Turning around, Micah kneels with his butt cheeks spread, and D.O. begins rimming his asshole. After prepping the tight sphincter with tongue jabs and a couple of finger pokes, D.O. gets up and slides inside his buddy. Micah moans with every thrust; his eyes roll back in his head because it feels so good. D.O. delivers every blow fast and hard. They continue fucking with Micah riding atop his man and together they rock in a steady rhythm. They separate and D.O. shoots his load across Micah who then licks the emptied cock clean. Micah jacks himself off until he spurts cum.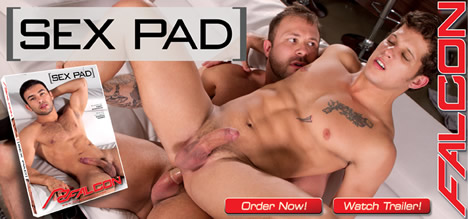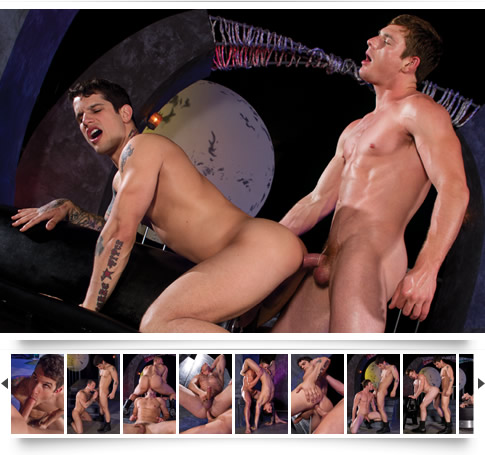 Superstar power is measured in 'Magnitude,' and scorching hot fucking of this intensity has never been witnessed until now. This unbelievably erotic, supernova fuck-fest from director Nick Foxx features some of the brightest stars to ever appear in gay porn and a meeting of mega-stars that's been a decade in the making. A-Team Exclusive Brent Corrigan & Pierre Fitch show their 'Magnitude' by pounding out the most anticipated pairing of the 21st century – a flip fuck for the ages! 'Magnitude' continues to burn bright with shining performances from A-Team Exclusives Ryan Rose, Sebastian Kross, Austin Wolf and Derek Atlas, as well as fan favorite Brenner Bolton. Derek Atlas and Ryan Rose deliver sizzling chemistry in a sweat-filled, gripping flip-fuck. The irresistible, rising star Sebastian Kross collides with Pierre Fitch to deliver an inked-up display of satisfying, muscled fucking. Massive, meaty Austin Wolf and athletic stud Brenner Bolton turn it on high with an explosive exchange. Super flexible, Pierre Fitch showcases his acrobatic skills in a scorching top and bottom performance with out-of-this-world Ryan Rose. With this amount of star power, a duo the world has longed to see and some of the most satisfying sex ever captured on film, the 'Magnitude' of your cum shots will be off the charts.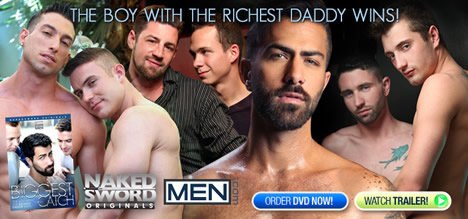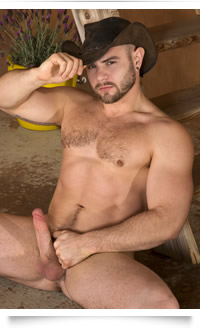 A-Team Exclusive Nick Sterling has a captivating on-screen presence and comes equipped with plenty of erotic assets. His very first performance for Falcon Studios Group was the Falcon Edge release Ready to Fuck, which went on to become one of the most popular scenes of the year. Nick packs a porn powerhouse punch with his appetizing 7.5-inch, cut cock and a jaw-dropping, award-worthy bubble butt, and he knows exactly how to use them as a versatile sexual virtuoso. Since his first debut as an Exclusive, this A-Teamer has amassed an impressive videography with ten additional movies shot for the group's main brands, and he's featured in the upcoming Hot House production, The URGE: Pound That Butt, which will debut on HotHouse.com in August. Nick's most recent scorching releases include Krossfire from Falcon Edge, Gutter Punks from Hot House, Tahoe: Cozy Up and Tahoe: Keep Me Warm from Falcon Studios and the recently released Sidewinder from Raging Stallion. Keep a close eye on this ever-rising star as he continues to deliver captivating, energized performances in every new release that he appears.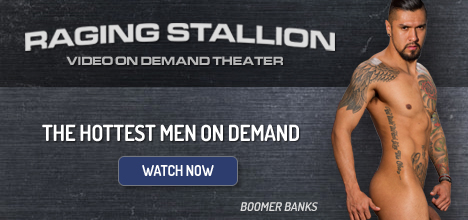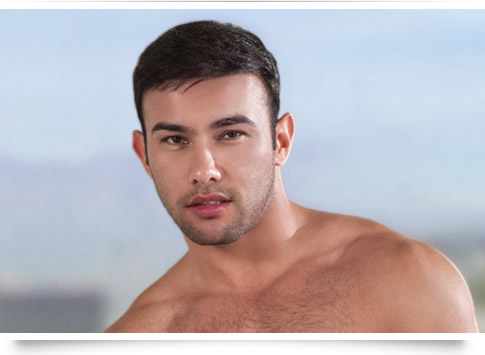 Falcon Studios Group Signs on Dorian Ferro as Newest A-Team Exclusive
America's Gay Porn Company, Falcon Studios Group, revealed today that it has added popular underwear model and rising adult star, Dorian Ferro, to its list of A-Team Exclusive models. Signing on to appear exclusively in Falcon, Hot House and Raging Stallion features, Ferro was added to the A-Team of the world's largest producer of gay male adult erotica. His upcoming scene for the group – from FalconStudios.com's 'Sex Pad' – went live on the membership site on July 24, where the scene and DVD is available for purchase on the Falcon Studios Group Store.
A model for the wildly popular Andrew Christian underwear line, Ferro is an extremely handsome man with exotic looks accented by bedroom eyes and full lips. His visually arresting physique complete with bronzed skin, super-defined pecs, powerful arms and legs and rock-hard abs will have fans drooling. With a compact, gymnast build that's accentuated by a spectacular bubble butt and a sizeable uncut dick, he's a dynamic versatile stud who can deliver a hot topping as well as receive an energized pounding.



Hot Membership Site Scenes Available Now!



Falcon Studios Group Models Appearing Live in a City Near You

July 31: Trenton Ducati at Splash for Starf*ckr, San Jose, CA
July 31: Johnny V at Grand Opening of Seven Nightclub, Chicago, IL
August 1: Johnny V, Dorian Ferro, Scott Riley, Jason Maddox, Alex Mecum & Jacob Peterson Take Over Share Nightclub, Las Vegas, NV
August 1: Trenton Ducati at Badlands, 5th Annual White Party, Sacramento, CA
August 8: A-Team Exclusive Ryan Rose at Steamworks Baths, Chicago, IL
August 14 – 16: James Ryder at Silverado, Celebrating 34 Years, Portland, OR
August 22: Johnny V at Vice Versa Nightclub for Glow Party, Morgantown, WV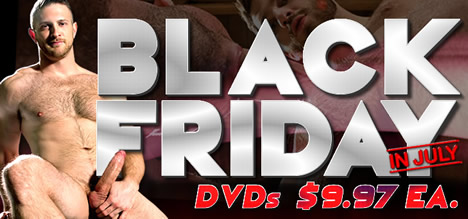 HUNT Readers,
It's the height of Summer and things are hotter than ever at Falcon Studios Group. We've been working hard to find the hottest men, release the sexiest movies and give you some of the hottest complimentary content and biggest deals of the year in this amazing issue of HUNT.
Hot off last week's new A-Team Exclusive announcement, we've added another stunning man to our list of elite male erotic models. Learn more about the newest member Dorian Ferro in this issue's Breaking News story. Dorian is built, bold and beautiful and he's got a new movie out, Sex Pad.
Find out more about this new Falcon release in Studio News, where you'll also learn about one of Dorian's Sex Pad scene partners, Ryan Rose, taking on the role of Falcon Studios Group A-Team Captain. A former platoon leader, Ryan brings his experience in porn and in the military and puts it to use in his new role. Finally, in Studio News, we've got the latest from NakedSword Originals, Biggest Catch.
We're leaving the popular Free Scene Download as the first item in this issue of HUNT and we're giving you super runway and porn model D.O. with exquisite Micah Brandt originally from Fahrenheit just because we love our fans. The scene now appears on the new Men Noir 4, focused on the hottest scenes featuring men of color. Additionally, you can feast your eyes on the Magnitude Free Action Gallery, which showcases images from the latest Falcon Edge movie starring Pierre Fitch with A-Team Exclusives Brent Corrigan, Sebastian Kross and Ryan Rose.
Even more hot, exclusive content can be found in this issue's Model Spotlight showing off A-Team Exclusive Nick Sterling and giving you a look at his smokin' recent projects. Race Cooper's back in the Special Feature this week, giving you some hot new exercises that will help you get Absolutely fABulous ABs.
What would the scorching days of summer be without the hottest deals in gay porn? Pretty lame, huh? Well, not to worry, because we're at it again with our annual Black Friday in July and Summer Cyberweek promotions that will save you tons on the absolute best DVDs, Scenes, Toys and Books in the industry. We've held over the Pre-Black Friday deals from last week just for HUNT Readers and Black Friday in July discounts went live earlier this week. Keep checking back next week for the daily Summer Cyberweek deals on nearly every product we have.
Happy Summer Savings,
The HUNT Staff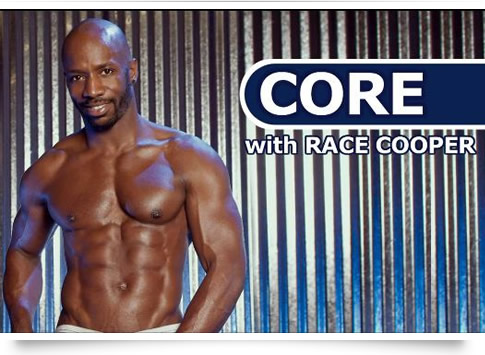 Core with Race Cooper: ABsolutely fABulous ABs
Core with Race Cooper is crunching down in this installment with a new, more advanced segment focused on building your abs. Race has one of the most amazing bodies in all of porn, and now, he's giving his killer physique secrets away exclusively to HUNT readers in a series of HUNT Special Features entitled Core with Race Cooper. In these ongoing segments, Race takes you through a series of Core exercises that focus on building specific body parts. "I love my fans, and I want to share these great tips with them to help them look better and feel better. These exercises are effective, and you can do them anywhere." states Cooper about this HUNT Special Feature Series.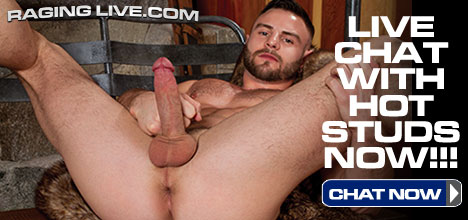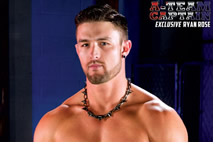 Ryan Rose Named Falcon Studios Group A-Team Captain - Falcon Studios Group, America's Gay Porn Company, announced today that current Grabby Performer of the Year, and A-Team Exclusive Ryan Rose has been named Falcon Studios Group A-Team Captain. The role was created to guide the A-Team and mentor new members of this elite group of the hottest male erotic models in the world. Read Full Story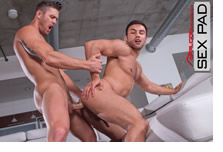 Upscale Studs Share Sexual Hideout in Falcon's Newest DVD, 'Sex Pad' - Falcon Studios Group, today announced the release of Falcon's new film, 'Sex Pad.' Award winning director Tony Dimarco takes viewers into the 'Sex Pad' and captures the uninhibited action filled with visions of hungry cocksuckers, power bottoms, and tops who know how to make guys beg for it. Read Full Story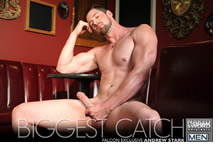 Studs Compete For The Hottest Daddy in NakedSword's 'Biggest Catch' - JD Phoenix, Killian James and Garrett Cooper leave their go-go dancing, hustling lifestyle in Vegas and head to the land of opportunity: San Francisco. Seduced by the city's booming economy and lucrative incomes the boys set out to strike it rich. The bet is made and the chase is on! Who's going to nail the Biggest Catch? Read Full Story