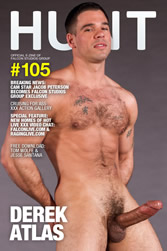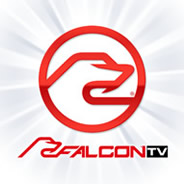 Check the listings in your Television Provider's Adult HD OnDemand Menu for:

6-Pack Hunks Hot Anal Sex! – The OnDemand HD Release of Raging Stallion's The Tourist Starring: Dario Beck, Abraham Al Malek, Rogan Richards, Donato Reyes and more!










Tom Wolfe & Jesse Santana from Cowboys, Part 1
Now Available on Hot Fucks, Vol. 10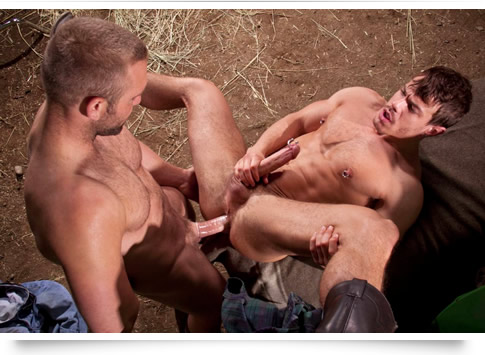 In a run-down barn with a few minutes alone, Tom Wolfe is whacking his tool next to a tractor, he tweaks his nipple and strokes his rock hard cock. He's fantasizing about the touch of another's hand on his furry chest and perfect dick. Enter Jesse Santana, who catches Tom in the act. Tom's embarrassed at first, but he gets over it quickly as Jesse's talented mouth gets to work. His fantasies answered, Tom now has the hot mouth of a sexy, fellow cowboy wrapped around his cock, swallowing it to the base, even choking on it. Soon, Jesse strips down and lifts one leg up on the tractor so he can take Tom's power tool in his fine ass. The harder Tom delivers his jabbing strokes the louder Jesse moans, and as the volume of the grunts increases so does Tom's aggression. Jesse lays back on a saddle blanket, props his cowboy boot on Tom's shoulder, and Tom punishes Jesse's hole relentlessly. With just the horses as witnesses, these two cowboys go at it for almost an hour until Tom fucks the cum out of Jesse and shoots a massive stream of cum! We would dare to say that Jesse Santana may be the best performer in porn today!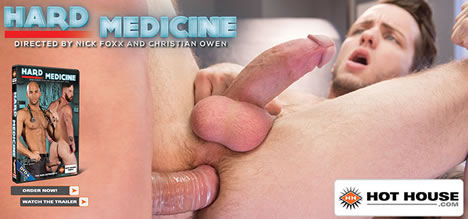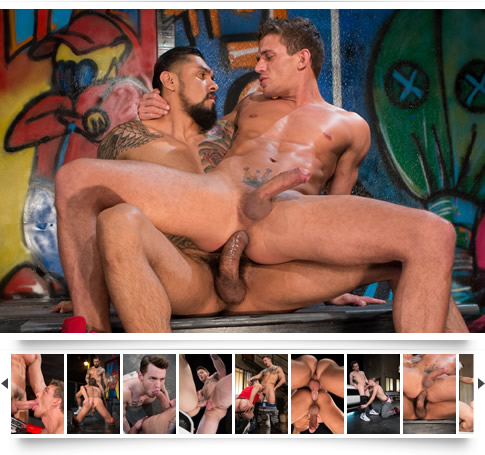 Horny, handsome men roam dark alleys Cruising for Ass, and these studs find just what they're looking for: the hottest butts around. Director Christian Owen celebrates the 100th Hot House production by sending his cast into the gritty low-lit backstreets where sexually charged men go to fulfill their need for release. With Boomer Banks' huge cock, Cruising for Ass comes easy, and Alexander Gustavo is willingly on his knees and bent over to take all 10 inches. Colton Grey finds Marko Carbo sitting on a park bench down town and goes down on him in no time. Jimmy Durano drives his muscle car to a well-known cruising spot and finds a hot mouth and fine piece of ass, Alexander Gustavo, ready to service his cock in every way. Sebastian Kross is so horned up he jerks off in the alley until Casey Moore cruises by and provides a hot ass to fuck. Colton Grey chills in his cruising spot knowing that a hot guy who wants his eager ass will come around eventually, and jock Dylan Knight sucks Colton's cock and lubes up his hole and plows Colton on the hood of a car. The erotic excitement of Cruising for Ass is in the air, and you can feel it in every look, lick and load of this milestone Hot House feature.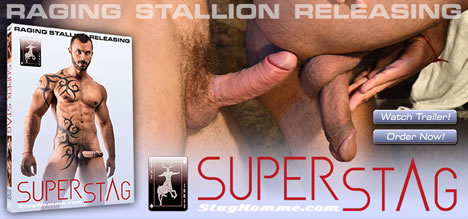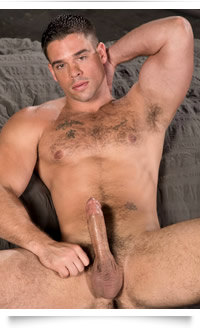 With massive legs, a beefed up 6-foot frame and all the hottest assets, A-Team super-stud Derek Atlas is a porn star powerhouse. He delivers revved up versatile performances and puts it all out there with an eight incher to drool over and a firm, ass of perfection that generates lust in any groin. Derek is an easy-going stud until you get him in the sack, then he's a wild, unrelenting force of nature that can't be tamed. You can see it for yourself in numerous Falcon Studios Group features including new releases Clusterfuck! 1 from Raging Stallion, Falcon Edge's Magnitude and the latest from Hot House, Hard Medicine, in which he plays a doctor who delivers an unorthodox treatment to his patient, a energized rim job and a hardcore fucking on the examination table. Derek Atlas is charged up and ready to go! Just see if you can keep up with the sexual stamina of this superstar.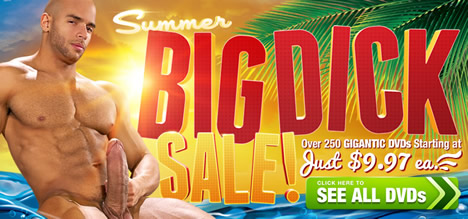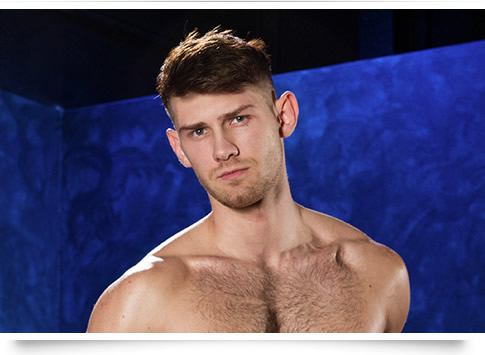 Cam Star Jacob Peterson Becomes Falcon Studios Group Exclusive
Falcon Studios Group, America's Gay Porn Company and the world's largest producer of all-male adult erotica, announced that it has forged an exclusive agreement with live cam star Jacob Peterson. In addition to appearing exclusively in Falcon, Raging Stallion and Hot House releases, Peterson has also been added to the roster of the Falcon Studios Group A-Team. His first scene for the group from HotHouse.com's 'The URGE: Huntin' For Ass,' is now live on the membership site, and it's also available on the Falcon Studios Group Store for download. Jacob is paired with super stud Sebastian Kross in the scene.
Peterson has a stunning, athletic, 6'3" frame. His super defined pecs, dusted with over-the-top sexy chest hair, sit above a six pack that will leave everyone in envy. His other impressive assets include a thick, uncut, 8-inch cock; a firm, round ass, and muscled arms and legs. While his body is a testament of physical excellence, he was blessed with extremely good looks and piercing eyes that draw in anyone. His amazing body and striking appearance are only the beginning. His powerful, versatile performances are what will have fans coming back for more, and he's just getting started.



Hot Membership Site Scenes Available Now!



Falcon Studios Group Models Appearing Live in a City Near You
July 17-18: Boomer Banks at The Nob Hill Theater, San Francisco, CA
July 18: Brian Bonds at Share Nightclub , Las Vegas, NV
August 20-22: David Benjamin at The Nob Hill Theater, San Francisco, CA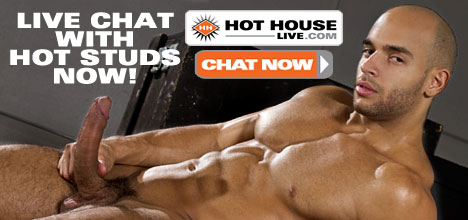 HUNT Readers,
If you're looking for some NEW A-Team eye candy, a NEW way to connect live with hot guys from around the world or some hot NEW DVDs, Scenes and Promotions, this issue of HUNT is for you. Our Breaking News item is all about some NEW A-Team eye candy, the just-announced brand-spanking-new Falcon Studios Group Exclusive, Jacob Peterson. He's tall, he's sexy and he's got all a ton of beautiful assets to keep you occupied, and you can watch him now in his debut on HotHouse.com or download his first scene on the Falcon Studios Group Store.
If you haven't noticed already, the Free Scene Download is in a NEW position in this issue of HUNT. Right at the top! And, this issue's giveaway is exceptional. It's the Jesse Santana and Tom Wolfe scene from the Raging Stallion Blockbuster Cowboys, Part 1. The scene is now available on Hot Fucks, Volume 10, but we're giving you the scene just for being a a valued reader of HUNT. Plus, you get a Free Action Gallery as well, and this issue it's from the amazing 100th Hot House release, Cruising For Ass. Please let your friends know about HUNTeZine.com and these giveaways that are in every issue.
You want a NEW way to connect live with hot guys from all over the planet, well have we got the sites for you FalconLive.com and RagingLive.com. We've recently changed the platform for these XXX chat sites, and you can learn more about them and how you can get 150 free credits in this issue's Special Feature. Plus, keep your eye out for our A-Team models appearing on these live sites soon.
One of those A-Team Exclusives graces the cover of this issue of HUNT, none other than Derek Atlas, and he's in our Model Spotlight. Check it out to see what this six-foot, sexual powerhouse has been up to, including his role as Dr. Derek in the lastest from Hot House.
Studios New is featuring NEW DVD releases including the steamy doctor office feature starring Dr. Derek from Hot House, Hard Medicine, and Stag Homme's Super Stag. Plus, learn more about Award-Winning, A-Team stud Jimmy Durano's other occupation and his NEW title, Art Director for Hot House Studios.
If it's NEW promotions and savings you're after, check out these great offers found on the Falcon Studios Group Store: the Summer Big Dick Sale has hugely-endowed DVDs starting at only $9.97 each and the High Octane Scene Deals promotion offers up 50% savings on nearly 200 steamy scenes from one of Europe's sexiest studios. And…keep your eye out for the Black Friday in July and Cyberweek Savings that launch next week.
Happy HUNTing,
The HUNT Staff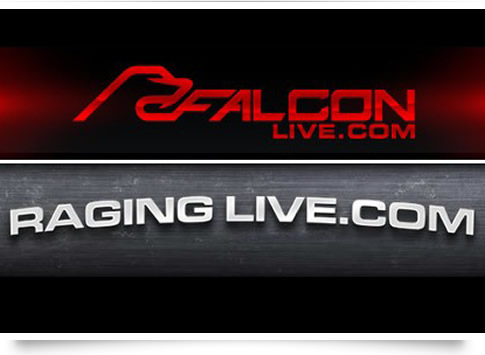 New Homes of Hot Live XXX Video Chat: FalconLive.com & RagingLive.com
FalconLive.com and RagingLive.com are both giving fans 150 credits just for creating an account and checking out the new featured live studs on their new, XXX chat platform. The new sites provide you with the ability to share live XXX chat 24/7 with the hottest men from around the world.
Soon the sites will feature the Falcon Studios Group A-Team stars, so fans are encouraged to sign up now so they get notified when A-Team stars will be available and online for chatting.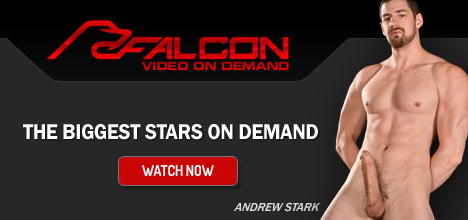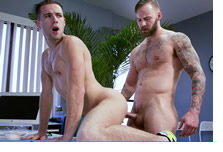 The Ass Authority, Hot House Gets A Physical in: Hard Medicine - Falcon Studios Group, today announced the release of Hot House's new film, 'Hard Medicine.' Nick Foxx & Christen Owen direct the latest medical fantasy with the precision of surgeons and the release features the intense ass action that Hot House is famous for. Read Full Story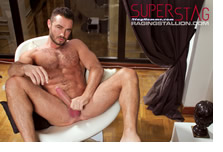 'Super Stag' from Stag Homme Now Available - It's super charged, super powerful and super erotic; it's Super Stag. Francesco D'Macho and Damien Crosse direct five super-hot European studs in real-life situations with their signature style, delivering super-explosive action. Read Full Story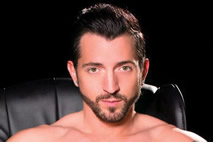 Award Winning Star Jimmy Durano Named Art Director of Hot House - Falcon Studios Group President Chris Ward officially announced today that award-winning adult performer, and Falcon Studios Group A-Team Member Jimmy Durano has been promoted to Art Director of Hot House. Read Full Story