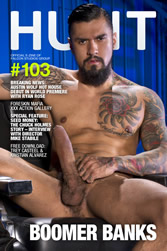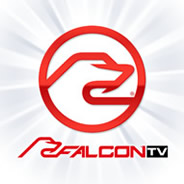 Check the listings in your Television Provider's Adult HD OnDemand Menu for:

Eager Giant C...Hungry For Sex – The OnDemand HD Release of Raging Stallion's Gaints, Part 1 Starring: D.O., Logan McCree, Wilfried Knight, Marcus Mojo, Francesco D'Macho and more!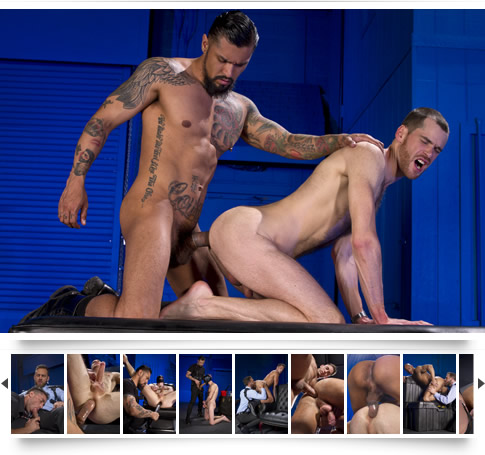 Steamy, uncut sex is a seedy business, and the most formidable gang in this sexual underground is the Foreskin Mafia. They dress in black and lurk in the shadows. They deal in the hottest goods, and every transaction requires "one more thing": unbridled, uncut, hardcore action. Steve Cruz directs this unseemly lot of sexual hooligans in an all-out fuck fest filled with foreskin. Night watchman Sean Zevran is a monument of physique perfection, but he needs a refresher course in how to use his nightstick; it ends up in his ass, wielded by sexy white-collar agent Logan Moore. Furry, athletic Christian Lesage wants a heated exchange before he seals the deal with inked up FX Rios, and he gets a hole-stretching. Gang-member Logan Moore accepts a package from Armando De Armas, but Logan really wants the package in Armando's pants. Armando plays bait-and-switch, offering his ass then topping Logan in a surprise turn-around. Boss Boomer Banks has incriminating photos of Christian Lesage, and Christian is going to pay the price for wronging the wrong man. Christian's punishment involves a baseball bat and the hugest uncut cock wielded by Boomer. If you can't get enough of thick, sexy, uncut cock, you should get in with the Foreskin Mafia, but beware: they're a brutal mob that will shoot you down with loads of cum if you cross them.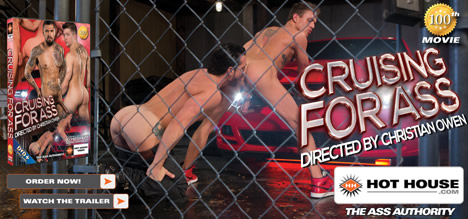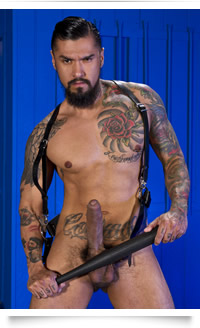 With a recent birthday and two amazing releases coming out in the last few weeks, plus record breaking sales of his extraordinary dildo, Falcon Studios Group A-Team Exclusive Boomer Banks has a lot to celebrate. He's at the top of his game, and he's here to stay. Don't let his tall sexy frame and attractive, gentle eyes fool you, he's a wild one. His inked up athletic body is equipped with a massive uncut 10+ inch cock that he wields with power and passion. Having been featured in over 20 spectacular DVDs, his impact on gay porn has been seismic and the aftershocks keep on coming! A-Team Exclusive Boomer, continues to prove that he is one of the most stunning tops ever, who has also recently showcased superb bottoming talents in Clusterfuck!2, Auto Erotic and America's Finest. In the new Monster Bang feature, Foreskin Mafia, he serves as boss to a mob of uncut studs, and he hits the back alleys looking for a hot butt to plow in Cruising for Ass, the newest from Hot House. Plus, he just returned from shooting the big Raging Stallion blockbuster on location in Arizona.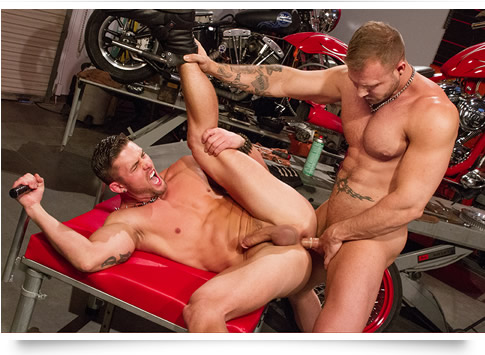 Austin Wolf Makes HotHouse.com Debut
with Ryan Rose in 'Fine Tuned Ass'
Austin Wolf's first scene as a Falcon Studios Group A-Team Exclusive is now available on HotHouse.com. The scene stars fellow A-Team stud Ryan Rose and is from the newest Hot House production, 'Fine Tuned Ass,' featuring hot, ass-filled action in a motorcycle chop shop. Nick Foxx directs eight hot mechanics and sexy customers of the shop who all get revved up and deliver on all cylinders. Additional updates from the production will appear on the membership site in coming weeks and the DVD and scene downloads will be made available on the Falcon Studios Group store on August 10, 2015.
The new update is set in a motorcycle shop, where handsome stud Austin Wolf is distracted by stunning Ryan Rose's tasty bubble butt. Ryan's tempts Austin while he's bent over working on a bike, and Austin wants it!



Hot Membership Site Scenes Available Now!



Falcon Studios Group Models Appearing Live in a City Near You
June 19: A-Team Exclusive Ryan Rose at Manimal, Beaux Nightclub, San Francisco, CA
June 19-21: Rocco Steele at Phoenix Bar Nola. New Orleans, LA
June 21: A-Team Exclusive Boomer Banks at Climax Sundays, Club Vinyl, Denver, CO
June 23: A-Team Exclusive Sebastian Kross at Cock Shot, Pride Tuesday, Beaux Nightclub, San Francisco, CA
June 27: A- Team Exclusive David Benjamin & Draven Torres at FLEX SPAS CLEVELAND, Cleveland, OH
June 26 & 27: A-Team Exclusive Johnny V at Prism Toronto Pride Events – Boot Camp, Aqua Pool Party &  Matinee Klubberdome
June 28: A-Team Model Jimmy Durano &  Christian Owen at SEXXXY MF, Stage 48, New York, NY
July 1-6: A-Team Exclusive Johnny V & Joey D at The Dunes Resort, at Porn At The Pool in Saugatuck, MI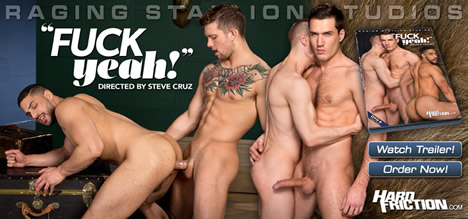 HUNT Readers,
As the days get hotter and longer, and attention turns to rainbow flags and pride festivals in many major cities, we want to wish you Happy Pride and celebrating diversity, freedom, love and sex with a super-packed issue of HUNT. Kicking off our Pride Issue is the hot Breaking News announcement of A-Team Exclusive Austin Wolf's world premiere on HotHouse.com in an exceptional scene with Ryan Rose from the movie Fine Tuned Ass.
We're also celebrating Pride with huge savings in our Annual Pride Discount Event where you can get over 250 DVDs at only $17.97 each. Plus, get hot for less with our Summer Scene Steals, offering you over 400 steamy downloads for only $3.95 each: more than 50% off.
With this being our Pride issue, our Grand Marshall is Boomer Banks, who's in the Model Spotlight, where you'll learn about his two new releases, his sales-record-setting dildo and what's coming up next. You'll also find out more about Boomer in two of the three Studio News items this issue, including the release of the Clusterfuck! 2 Orgy and Hot House's 100th release, Cruising for Ass. Also, don't miss the story about the newest from Hard Friction, Fuck Yeah!.
We've got a hot Free Action Gallery from Foreskin Mafia for your uncut pleasure, and you'll find out more about Seed Money: The Chuck Holmes Story in the in-depth interview with it's director, Mike Stabile, found in this issues Special Feature. While there, don't forget to visit the Seed Money web site and see where the movie will appear near you.
Finally, celebrate with this issue's Free Scene Download, starring Trey Casteel and Kristian Alvarez from the smokin' Mustang Studios release Limits. The scene now appears on the collection, My Big Fucking Dick: Kristian Alvarez, and it's well worth downloading and watching today.
Enjoy,
The HUNT Staff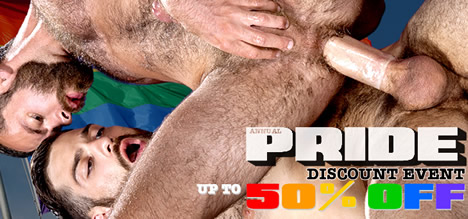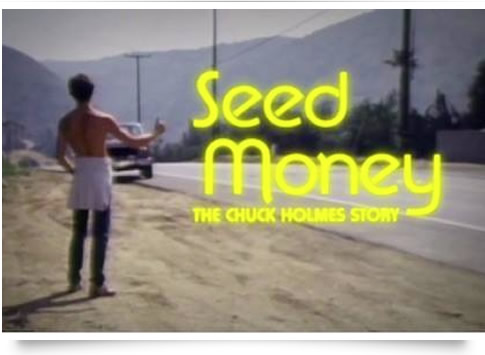 Seed Money: The Chuck Holmes Story
– Interview with Director Mike Stabile
Dcoumentary on Falcon Founder Hits the Film Festival Circuit
Several years ago, filmmaker Michael Stabile embarked on an ambitious project — a documentary on Chuck Holmes, the founder of Falcon Studios and a significant force in the gay rights movement in the 90s. While this wasn't a Falcon project, the team at Falcon Studios Group were thrilled to participate and assist with the final film. Many at Falcon still remember Chuck, now fifteen years after his death. We talked to Stabile about the project, which premieres in San Francisco on June 21, 2015, and in Los Angeles July 13, 2015.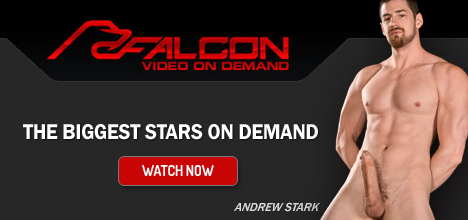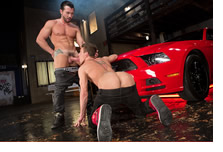 Hot House Releases 100th DVD: Cruising for Ass - Falcon Studios Group, today announced the release of Hot House's 100th DVD, Cruising For Ass. Director Christian Owen celebrates the 100th Hot House production by sending his cast into the gritty low-lit backstreets where sexually charged men go to fulfill their need for release. Read Full Story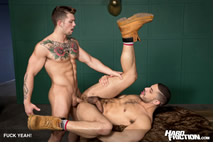 Hard Friction Exclaims Fuck Yeah! with New Release - When two hot studs are in the act of heated, passionate sex, nearly all they can say is Fuck Yeah!.The connection is real and the action is instinctual in the newest release from Hard Friction featuring six stunning men, who are fully in the moment and repeatedly exclaiming Fuck Yeah!. Read Full Story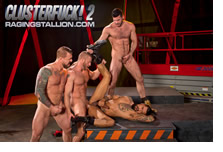 Clusterfuck! 2 Orgy Now Live on RagingStallion.com - RagingStallion.com announced the premiere of the Clusterfuck! 2 Orgy today featuring four of the hottest rough and rugged studs in the business. Falcon Studios Group A-Team Exclusive Boomer Banks is joined by Hunter Marx, Billy Santoro and huge-cocked Rocco Steele in this fast and furious four-way. Read Full Story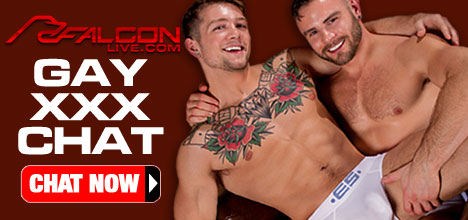 Trey Casteel & Kristian Alvarez from Limits
Now Available on My Big Fucking Dick: Kristian Alvarez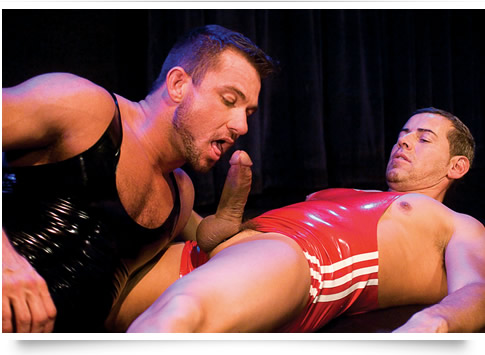 Kristian Alvarez returns and is paired up with Trey Casteel. The two, wearing latex wrestling singlets, wrestle each other's hulking bodies before Kristian fucks Trey.