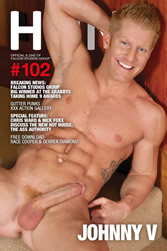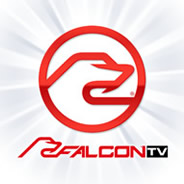 Check the listings in your Television Provider's Adult HD OnDemand Menu for:

Eager Giant C...Hungry For Sex – The OnDemand HD Release of Raging Stallion's Gaints, Part 1 Starring: D.O., Logan McCree, Wilfried Knight, Marcus Mojo, Francesco D'Macho and more!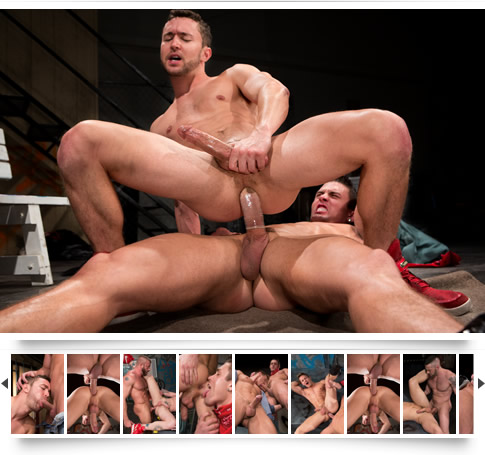 These punk ass studs never get their minds out of the gutter. They're 'Gutter Punks,' and they spread their mischief, their legs and hot asses in the darkest and seediest alleys. Director Nick Foxx puts the emphasis on ass and tags this feature with sexy and gritty trouble makers who love spraying their loads on whatever or whoever will take them. Darius Ferdynand takes watch while mischievous Ryan Rose tags an alley door, then he lets Ryan tag his hot ass. Horned up, sexy bad asses Nick Sterling and Tyler Wolf mark their territory with spray paint, but it's not long before they're claiming each other in a dark alley flip fuck. Hunky and furry Hunter Marx leaves his mark on tatted, punk Drake Shooter, who takes it from every angle and shoots a hot load. Hooligan Ryan Rose sprays his street art and then sprays his built up load on cock-hungry, power bottom Colt Rivers. When you encounter these 'Gutter Punks' be ready for rough, intense action in the darkest and dirtiest of places that will have you shooting your loads all over the walls.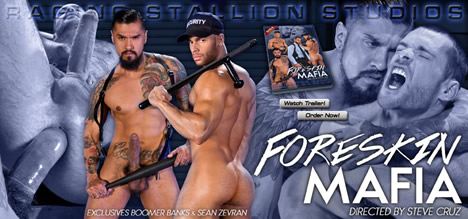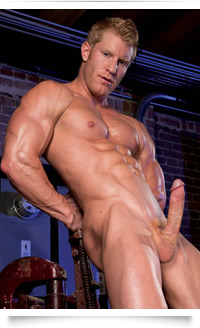 Falcon Studios Group A-Team Exclusive Johnny V has one of the greatest physiques ever filmed in porn, and now he's an award winning performer with two Grabbys for Hottest Bottom and Best Duo Scene to his name. His amazing body is complemented by his striking ginger complexion, and he's got a sizable endowment and an unstoppable, trophy-winning ass. His highly-anticipated debut in the Falcon Studios Blockbuster Naughty Pines established Johnny as one of 2014's hottest porn newcomers and he's delivered 10 more DVDs since. He and his boyfriend, Joey D, run a hot muscle worship site called American Muscle Hunks, and that same boyfriend fucked Johnny in the hot, recent Raging Stallion release Fuck Hole. His recent appearance in Tahoe: Cozy Up from Falcon - has him topping for the first time on film, and now, he's back to accolade worthy bottoming in the newest Falcon feature Tahoe: Keep Me Warm. Mr. V just wrapped an amazing performance in Raging Stallion's upcoming Sidewinder and is off to shoot Raging Stallion's Fall Blockbuster next week. Don't miss a scene starring this A-Teamer, because he always delivers the goods and he's on a path to gay porn greatness.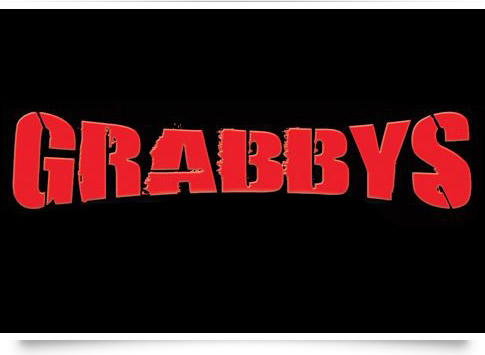 Falcon Studios Group Big Winner at the Grabbys Taking Home 9 Awards
One of the biggest nights in the gay adult entertainment industry, the Grabby Awards, concluded with big wins for Falcon Studios Group, America's Gay Porn Company, and its elite group of A-Team Exclusives. The group, consisting of Falcon Studios, Raging Stallion and Hot House scored a tally of 9 Grabby awards, including a win for Best All Sex Movie for Guard Patrol from Raging Stallion's Monster Bang, which also received Best Group Scene honors for the gang bang orgy starring Exclusives Brian Bonds and David Benjamin as well as Rocco Steele and Mitch Vaughn.
Falcon Studios Group A-Team Exclusive David Benjamin won for Best Newcomer, A-Team Exclusive Johnny V was bestowed the Hottest Bottom trophy and A-Team Exclusive Boomer Banks took home the Swiss Navy Model Award. Adding to his previous wins, superstar A-Team Exclusive Ryan Rose won the biggest model honor of the night, Grabby Performer of the Year.



Hot Membership Site Scenes Available Now!



Falcon Studios Group Models Appearing Live in a City Near You
June 5: A-TEAM Exclusive David Benjamin at Benjamin's Privates at Evopride, Edmonton, Alberta, Canada
June 6: A-TEAM Exclusive Ryan Rose & Jimmy Fanz, Billy Santoro & Seth Santoro at GAYDAYS at Parliament House, Orlando, FL
June 6: A-TEAM Exclusive Sebastian Kross at 28 Year Anniversary of Interbelt Nite Club, Akron, Ohio
June 28: A-Team Model Jimmy Durano & Christian Owen at SEXXXY MF, Stage 48, New York, NY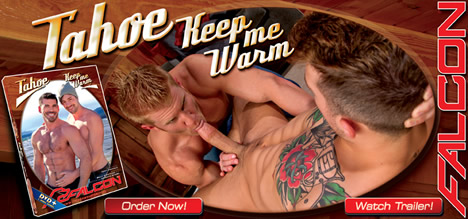 HUNT Readers,
The celebration continues this week, but now we're reveling over our nine Grabby wins at the recent awards show in Chicago, and the hugely successful A-Team Grabby Party that raised thousands of dollars for Chicago House. Check out Breaking News to learn about all the awards that Falcon Studios Group took home including Best All Sex Movie for the Bruno Bond directed Guard Patrol, which also won for Best Group Scene, plus Superstar A-Teamer Ryan Rose was crowned Grabby Performer of the Year!
Another one of the night's big winners was A-Team Exclusive Johnny V, who took home a Grabby for Hottest Bottom and Best Duo Scene, and this issue he appears in the Model Spotlight, where you can see all his talents, and that award-winning ass. While Johnny won the Grabby for his very first scene with Ryan Rose from Naughty, Pines Part 2, he also appears in a World Premiere scene today from Falcon's newest Tahoe: Keep Me Warm, and you can learn more about the scene that pairs Johnny with uber-stud Sebastian Kross in Studio News. Additional stories about the Tahoe: Keep Me Warm DVD and download release. Items about the scene debut and dvd and download release of the new Monster Bang flick, Foreskin Mafia are also in the news.
If you like hot, back alley action, the recent Hot House release directed by Nick Foxx, Gutter Punks can be found in the Free Action Gallery. Falcon Studios Group President, Chris Ward, recently named Foxx the lead direction for Hot House and put a renewed focus on ass for Hot House, calling it The Ass Authority. HUNT editors sat down with them both to learn more about the past, present and future of Hot House in this issues Special Feature.
We know you've been looking for this issue's Free Scene Download, and we're sure it won't disappoint. It's a smokin' Hot House scene starring Race Cooper and Derrek Diamon that's full of spectacular ass and originally appeared in the feature Skuff 4. Now, it's available on the newest installment of the new Men Noir collections, Men Noir 3.
You want DVD and Download sales? We've got some great deals for you. We've extended savings for HUNT readers on Award Nominated and Winning DVDs and Scene in the Grabby DVD Sale & the Grabby Scene Sale, where discounts of up to 40% are available. Plus, we've just launched the Falcon Studios Group Best of DVD Discounts with DVD prices starting at $14.97 and Raging Stallion Fisting & Fetish Download Deals with scenes from Fisting Central and Fetish Force brands on sale for only $4.95 each.
Enjoy,
The HUNT Staff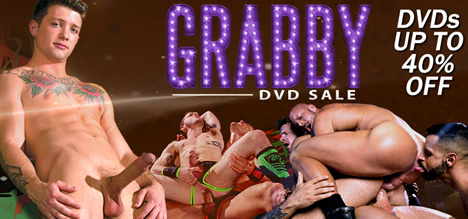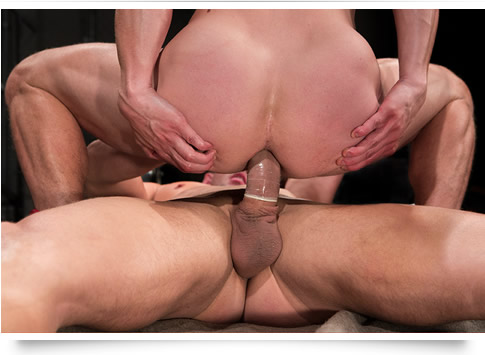 Chris Ward & Nick Foxx Discuss the New Hot House, The Ass Authority
Hot House joined the Falcon Studios Group nearly a year ago, and it has seen a lot of activity and changes in the last 12 months. With the recent re-launch of HotHouse.com and a renewed and reinvigorated brand focus on ass, the editors of HUNT sat down to have an in-depth conversation with Falcon Studios Group President, Chris Ward and recently named lead Hot House Director Nick Foxx to talk about the past, the present and the future of Hot House, The Ass Authority.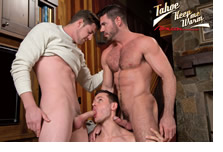 New Falcon Release 'Tahoe: Keep Me Warm' Hits the Slopes - Falcon Studios Group, announced today that Falcon Studios hits the slopes with the release of the second new Tahoe movie 'Tahoe: Keep Me Warm.' Ten Falcon studs in Tahoe take a break from the slopes and "hole" up in their cabin to avoid the cold and enjoy sex that's as hot as the fireplace… Read Full Story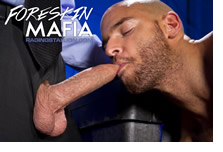 Foreskin Mafia from Raging Stallion Comes Out Shooting - Falcon Studios Group announced release of its newest movie featuring a gang of uncut studs – 'Foreskin Mafia' – on DVD and via download today. The newest full length feature from Raging Stallion…features an unseemly lot of sexual hooligans in an all-out fuck fest filled with foreskin directed by Hall-of-Famer Steve Cruz. Read Full Story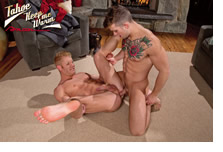 World Premiere of Tahoe: Keep Me Warm Johnny V & Sebastian Kross Scene - Falcon Studios announced the premiere scene from its newest feature 'Tahoe: Keep Me Warm' starring A-Team Exclusives Sebastian Kross & Johnny V… Tony Dimarco captures the high-energy, core muscle competition that leads to all-out sex fest with power bottom Johnny V and superstar top Sebastian Kross… Read Full Story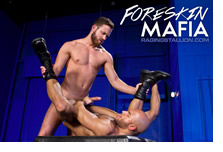 RagingStallion.com Debuts 'Foreskin Mafia' - RagingStallion.com, quality site of Falcon Studios Group: America's Gay Porn Company, announced the world premiere scene from 'Foreskin Mafia,' featuring a gang of uncut studs. The debut update on the brand's membership site features A-Team Exclusive Sean Zevran with emerging star Logan Moore. Read Full Story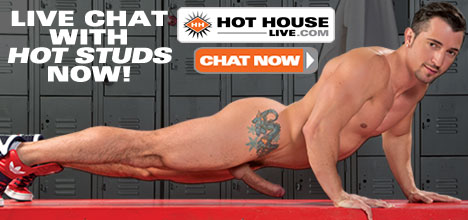 Race Cooper & Derrek Diamond from Hot House's Skuff 4
Now Available on Men Noir 3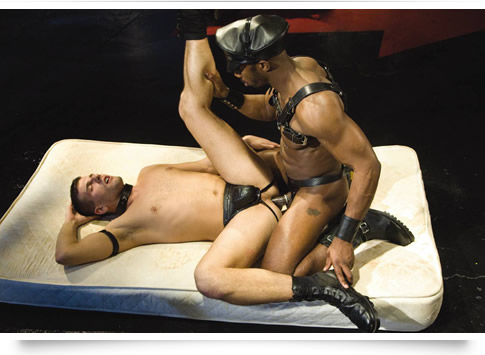 Race Cooper leans on his Harley down a deserted alley, his chiseled torso glowing in the moonlight. Innocent looking cruiser Derrek Diamond sees him and approaches with caution. Race removes his thick leather collar and secures it on Derrek, making him is willing submissive. After forcing his thick cock down Derrek's throat he leans him over and dives into his fat round ass. With his hole wet and ready, Derrek leans on a lamppost to receive Race's rod. Hungry for more fucking, Derrek retrieves a mattress from a pile of debris and lies down so Race can pound him harder. Race turns his attention to Derrek's huge cock, sucking it all the way to the base then climbs back on to fuck him until he cums.