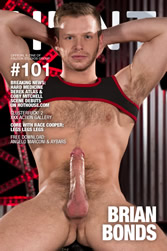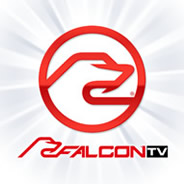 Check the listings in your Television Provider's Adult HD OnDemand Menu for:

Doin Ripped Studs – The OnDemand HD Release of Falcon Studios's Cockstar Starring: Ryan Rose, Johnny V, Sean Zevran, Brandon Jones, and Alexander Gustavo.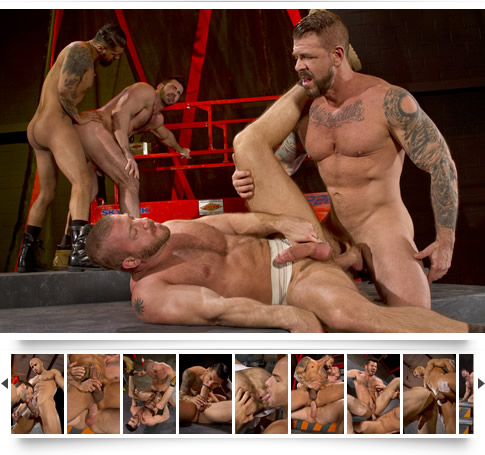 When steamy group sex is on the verge of spinning out of control and there's no telling what may happen next, you've got a Clusterfuck! Hall-of-Fame director Steve Cruz crafts this wild sex fest by assembling the right ingredients – a super-charged, ultra-sexual group of the sexiest men around – and mixing them together in the perfect combination to create some of the hottest man-on-man-on-man-on-man sex ever witnessed in Clusterfuck! 2. Sean Zevran's charisma and animal magnetism attracts Dario Beck into wanting every one of his holes filled. Boomer Banks, Billy Santoro, Rocco Steele, and Hunter Marx engage in an electric Clusterfuck! orgy. They're completely overcome with carnal desires and constantly changing positions to fulfill their hungers. Continuing the fiery exchange alone, muscled Billy gets plowed hard by furry Hunter. The huge-cocked and inked-up Boomer and Rocco also getting some one-on-one time with Rocco conquering Boomers hole with his massive tool. Get ready for kissing, cock jousting, sucking, fucking and rimming until there's nothing left to do but cum in all directions. Clusterfuck! 2 is start to finish testosterone-filled, unbridled man action, so let loose and get ready to be satisfied.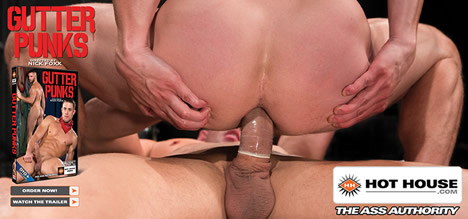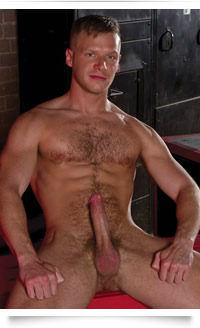 Exclusive Brian Bonds is a versatile, A-Team powerhouse with a mischievous, all-American smile, a broad chest covered in blond hair, and girthy, eight-inch dick. He fulfills fantasies from romantic passion to hardcore fetish, recently appearing in over 30 total Falcon Studios Group features to date. Bonds is the only A-Team exclusive who appears on every membership site run by Falcon Studios Group and has a huge list of diverse hit releases including the Falcon Studios Blockbuster Naughty Pines, the fisty namesake release Breaking the Bond from Fetish Force, Jacked from Falcon Edge, Hot House's Saddle Up, Raging Stallion's Auto Erotic, Part 1, Guard Patrol from Monster Bang and Club Inferno's new release Ass of Steel. On the horizon, Brian is set to film two new Club Inferno features and a Raging Stallion Blockbuster this summer.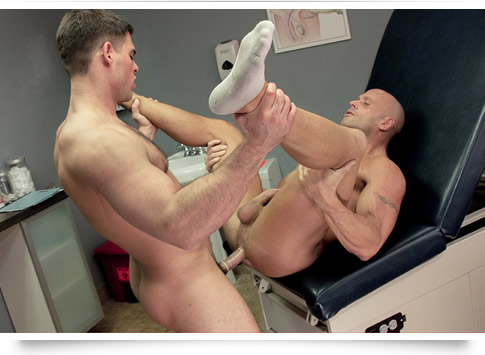 Hard Medicine Derek Atlas & Coby Mitchell Scene Debuts on HotHouse.com
Hot House, The Ass Authority – announced the debut of the first scene from 'Hard Medicine,' the latest production featuring the sexy medical office fantasies and amazing butts that Hot House is famous for. A-Team Exclusive Derek Atlas and Coby Mitchell appear in the update directed by Nick Foxx that will go live on HotHouse.com on Thursday, May 21. Additional updates from the production will appear on the membership in coming weeks and the DVD and scene downloads will be made available on the Falcon Studios Group store on July 20, 2015.



Hot Membership Site Scenes Available Now!



Falcon Studios Group Models Appearing Live in a City Near You
May 22: A-TEAM Grabby Party at Lucky Horseshoe in Chicago, IL with Brent Corrigan, Sean Zevran, Ryan Rose, Boomer Banks, Johnny V, Brian Bonds, David Benjamin, Austin Wolf & Nick Sterling, Sebastian Kross
May 23: A-Team Exclusives Brian Bonds, David Benjamin with Rocco Steele, Skin XXI at Steamworks Baths, Chicago, IL
May 24: A-Team Exclusives Ryan Rose & Sean Zevran, #SIN at Steamworks Baths, Chicago, IL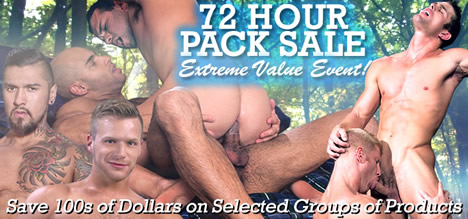 HUNT Readers,
With all the celebrating over the 100th issue, we needed to take a little break. Thanks for being patient while we rested a week before sending out this new issue with plenty of new items to get you going. Now we're gearing up for the Grabbys, the biggest gay porn awards show in Chicago this weekend. Wish us and our boys luck as they will be attending the Grabbys Award Show on Saturday where we're nominated for 81 awards. Hopefully we'll be celebrating some more.
In Breaking News, check out the newest debut scene on HotHouse.com, the hot doctor fantasy-filled Hard Medicine scene starring A-Team Exclusive Dr. Derek Atlas, who anally examines and stimulates his patient Coby Mitchell.
The Model Spotlight is on A-Team Exclusive Brian Bonds this issue. You can also find him and nine other A-Team Exclusives tonight at The Lucky Horseshoe for the Falcon Studios Group Grabby A-Team Party – more info in Studio News. While you're there, you will also find bits about the new Hot House DVD Gutter Punks, the recent NakedSword Originals release On The Lookout and a hot new man-on-man phone sex service PhoneDicks.com.
Looking for some action? Access this issue's Free Action Gallery for Raging Stallion's recent release Clusterfuck! 2. And if you're all about getting in porn star shape, our Special Feature serves up some hot workout tips from none other than Race Cooper in the latest installment of Core with Race Cooper: Legs Legs Legs. For this issue's Free Scene Download, please enjoy Angelo Marconi and Aybars from Giants, Part 2. The scene is now also available on the collection Hairy Boyz 41.
In addition to all the hot content in issue 101 of HUNT, we're brining you three opportunities for amazing savings: the Hot House All About Ass DVD Discounts promotion where you can score titles for $19.97 or 6 for $99. Then there's the Raging Stallion Scene Savings sale with great scenes from the rough and rugged studio for only $4.95. And, we've extended the 72 Hour Pack Sale just for HUNT readers…get huge value on every pack we've produced.
Celebrate!
The HUNT Staff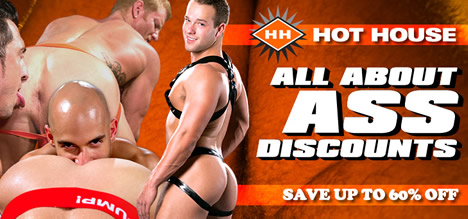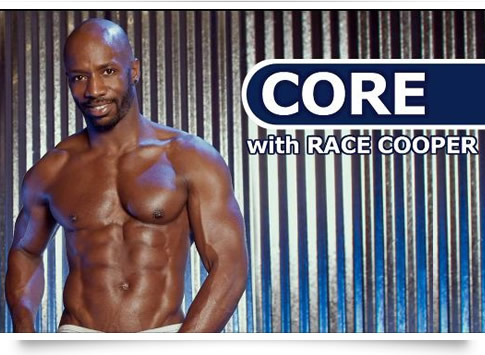 Core with Race Cooper: Legs Legs Legs
Core with Race Cooper is getting a leg up in this installment with a new, more advanced segment focused on building your lower extremity muscles. Race has one of the most amazing bodies in all of porn, and now, he's giving his killer physique secrets away exclusively to HUNT readers in a series of HUNT Special Features entitled Core with Race Cooper. In these ongoing segments, Race takes you through a series of Core exercises that focus on building specific body parts. "I love my fans, and I want to share these great tips with them to help them look better and feel better. These exercises are effective, and you can do them anywhere." states Cooper about this HUNT Special Feature Series.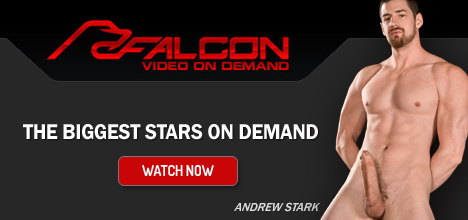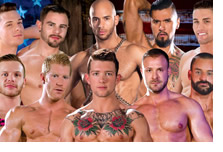 Falcon Studios Group A-Team Exclusives Host Friday Night Grabby Party - Falcon Studios Group, America's Gay Porn Company and the world's largest gay porn production company, announced today that its A-Team Exclusives will host the Friday Night Grabby Party at Lucky Horseshoe Lounge, Friday May 22 at 9pm. Read Full Story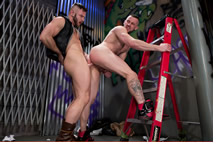 Hot House DVD Gutter Punks Hits the Streets & Dark Alleys - Falcon Studios Group announced the release of the 'Gutter Punks' DVD from The Ass Authority, Hot House. Director Nick Foxx puts the emphasis on ass and tags this feature with sexy and gritty trouble makers who love spraying their loads on whatever or whoever will take them. Read Full Story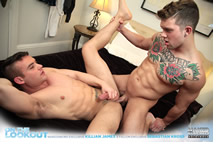 Naked Sword is On The Lookout with New DVD - America's Gay Porn Company, Falcon Studios Group, announced the availability of Clusterfuck! 2 on DVD and via download today. The newest full length feature from Raging Stallion Studios and Hall-of-Famer Steve Cruz crafts this wild sex fest by assembling the right ingredients… Read Full Story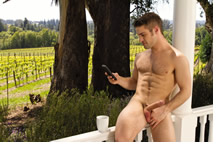 Talk Dirty on Popular Man-on-Man Phone Sex Service — PhoneDicks.com - PhoneDicks.com is the hottest stop on the internet for mind-blowing man-on-man action by phone. This phone sex service has been getting studs like you off for a decade, and they want to fulfill your fantasies. You can talk to a stud live and in real time to play out your wildest desires. Try it out 1-888-736-2866. Read Full Story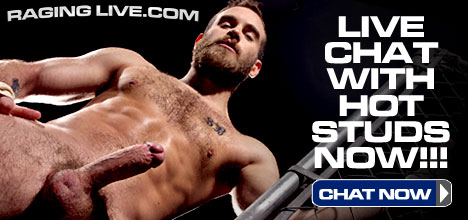 Angelo Marconi & Aybars from Giants, Part 2
Now Available on Hairy Boyz 41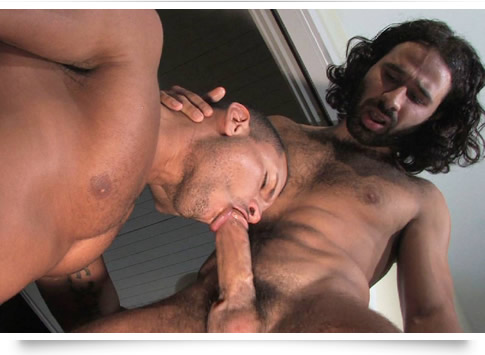 Angelo Marconi sits in his easy chair, relaxing with a glass of wine. He enjoys the peace of the vineyard as he relaxes his muscles. He is soon joined by his hairy buddy Aybars, who he welcomes into his arms. The men kiss and grab onto each other before Angelo sinks to the ground, pulls out Aybars' tasty turkish cock and guzzles it down. He deepthroats the thick prick as Aybars throws his head back with pleasure. Angelo kneels forward on a chair, exposing his asshole for his long-haired lover to rim. Aybars runs his tongue up and inside the crack, making it slick with his saliva. He soon has Angelo begging for more. Aybars is quick to make his partner happy and he jams his cock deep inside Angelo's tight hole to fuck him fast and furious. The action continues non-stop and Angelo's sighs and scrunched-up face reflect the pain and pleasure of the assault. Aybars finally pulls out and squeezes a load of juicy cum all over Angelo. Angelo returns the favor, covering Aybars in his own sperm.