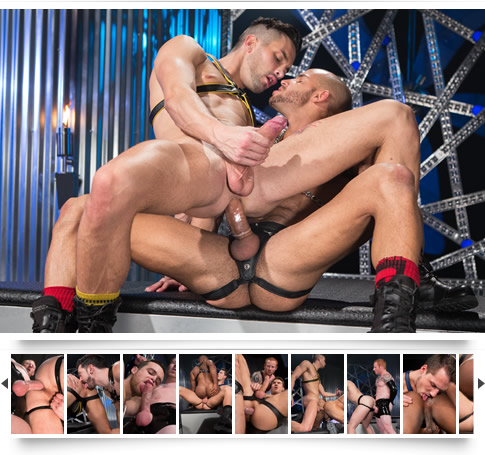 A raunchy, edgy and sizzling fuck frenzy awaits in Submissive! Directed by hardcore expert Christian Owen, this steamy display of unadulterated man-on-man action presents some of the hottest men in porn showing off their dominant and Submissive sexual tendencies. Sean Zevran and Andrea Suarez are so hot for each other that they submit to their deepest fantasies in a sweaty flip-flop scene where they take turns lustfully giving and receiving. Jordan plays the voyeur before joining Jimmy Durano in an epic tag-team fuck of sub Theo Ford's hungry wet hole. Jordan returns armed with a gigantic black dildo to stretch a restrained Brandon Moore's tight ass before delivering an intense pounding with his thick meat. Theo Ford demonstrates that he is just as sexy delivering cock as he is taking it. Ford plows Osiris Blade's mouth and bubble butt before spraying a mouth-watering load across Osiris' willing face. Surrender to your deepest desires as the sexy studs of Submissive unleash their unrestrained sex drives on each other!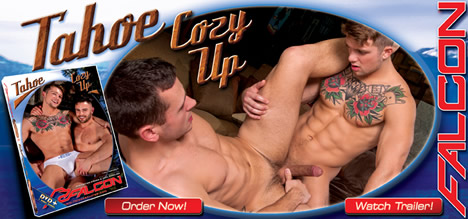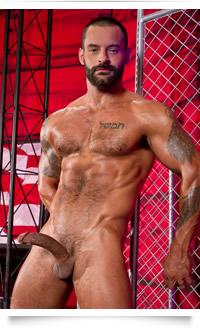 Always energetic and charming, A-Team Exclusive David Benjamin is a force to be reckoned with every time he shows up in a Falcon Studios Group movie. Not only is he charismatic, personable and genuine, he brings a laundry list of physical attributes to the table that are downright irresistible. Striking dark looks; a defined athletic body dusted with black hair; eight hot inches in the front; and a taut ass in the rear are what he offers up for his scene partners to feast on. Oh, and did we mention, he's generous? You can see just how generous he is in his most recent versatile performances from Falcon Studios Group. He appears in the orgy and a 1-on-1 scene in Raging Stallion's Clusterfuck! 1. He gets handsie in the Club Inferno release, Arm Candy and he was part of the super A-Team cast of America's Finest from Monster Bang. He's back on location and on set this summer as he's slated to appear in Raging Stallion's Fall Blockbuster and a Fetish Force production. Keep your eye on David; he's worth watching, and he aims to please!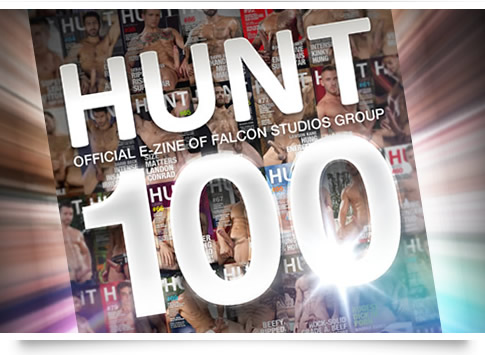 HUNT eZine Celebrates its 100th Issue & 4-Year Anniversary
Falcon Studios Group's Official E-Newsletter, HUNT eZine, celebrates 4 years of publication with its centennial issue today. Falcon Studios Group is using the 100th issue of the popular gay porn news source as an opportunity to thank the fans and readers of HUNT for the continued support and readership over the last four years by making it the eZine's biggest issue ever. As a gift to readers the issue includes a special recently released Free Scene Download and a Special Feature highlighting the group's A-Team of exclusive, elite models.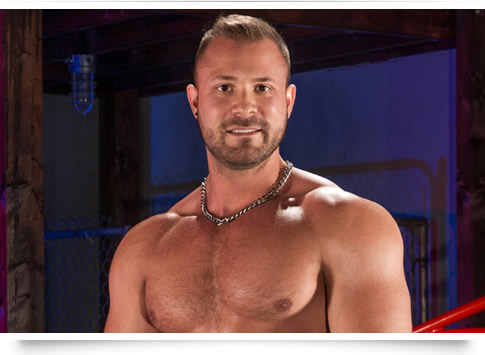 Giant Superstar Austin Wolf Becomes Falcon Studios Group Exclusive
Falcon Studios Group announced today that it has finalized an exclusive agreement with the well-knows superstar Austin Wolf. In addition to appearing exclusively in Falcon, Raging Stallion and Hot House releases, Wolf has also been added to the roster of the Falcon Studios Group A-Team.
With the muscled frame of a linebacker and lovable qualities of a teddy-bear, Wolf is a gentle giant with an insatiable appetite for sex. His handsome face, warm smile and "come cuddle with me" eyes draw fans in, and his pumped up 6'4 body, impressive cock and perfect legs and ass seal the deal. He's big in every way, and he delivers big energized and engaged performances every time he's in front of the camera.



Hot Membership Site Scenes Available Now!



Falcon Studios Group Models Appearing Live in a City Near You
May 1: David Benjamin at Edge Nightclub in Augusta, GA
May 1-3: David Benjamin at Parliament in Augusta, GA
May 22: A-TEAM Grabby Party at Lucky Horseshoe in Chicago, IL with Brent Corrigan, Sean Zevran, Ryan Rose, Boomer Banks, Johnny V, Brian Bonds, David Benjamin, Austin Wolf, Nick Sterling & Sebastian Kross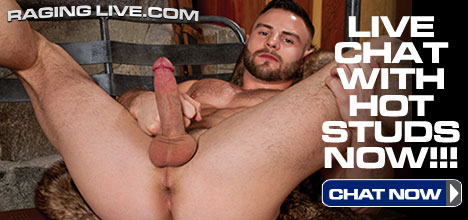 HUNT Readers,
It's time to CELEBRATE! HUNT is 4 years old and this is our 100th issue. Thank you for being a loyal reader and supporter of the eZine that has grown right along with Falcon Studios Group. Have we got an issue for you…It's our biggest ever! Learn more about what's ahead for HUNT and everything we've packed into it in the last four years in Breaking News. Plus, while you're there, you'll see another huge story about our Giant New Exclusive, Austin Wolf. He's a big man and he's a big deal, and we couldn't be happier that he's now on the A-Team.
While we're on the topic of the A-Team, you're in for an awesome Special Feature that we put together for our 100th issue. The Falcon Studios Group A-Team Roll Call puts all the A-Team studs at your fingertips by offering you profiles and special A-Team jpeg trading cards of each member of this elite group of the world's sexiest men.
One of those hot, Exclusive A-Team Studs is David Benjamin and you'll find him in the Model Spotlight this issue. And, since it's a very special anniversary issue of HUNT and we're focusing on the A-Team, we're giving away a recent scene featuring two of the hottest A-Team members as our Free Scene Download. That's right, you can download the Sean Zevran & Ryan Rose scene from the Monster Bang hit America's Finest. We're so excited about giving away this scene that we encourage you to tell your friends about HUNT and have them download it for free too.
Head over and get a peek at Hot House's newest Submissive in the Free Action Gallery. And then scroll down to Studio News for five hot items including The A-Team Grabby Party Announcement, the Boomer Banks and Rocco Steele scene debut on Raging Stallion, the release of Falcon's Tahoe: Cozy Up, the premiere of Andrew Stark and Ricky Decker's scene on FalconStudios.com and Raging Stallion's newest DVD Clusterfuck! 2.
On top of all the great conent we have in the 100th issue, we've also lined up some amazing deals and promotions for you as well. It's your final chance to access huge savings – DVDs for only $14.97 – from our Young Men DVD Markdowns promotion. With Hot House Leather Pack #2, you get another five of Hot House's hottest leather DVDs for the low price of $89. And, help a great cause and get some of the hottest downloads from the last 5 years for only $5.95 each with the AIDS Lifecycle 2015 Benefit Download Sale.
Celebrate!
The HUNT Staff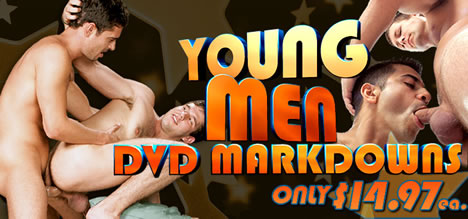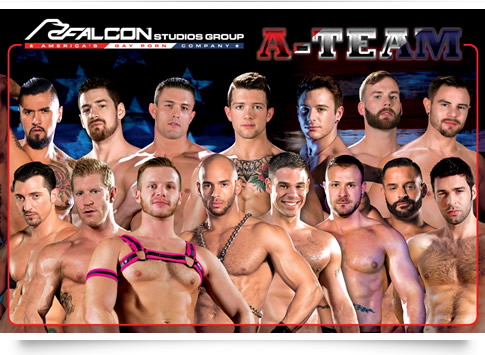 Falcon Studios Group A-Team Roll Call
The Falcon Studios Group A-Team was created to showcase an elite roster of superstar exclusive and featured performers in America's Gay Porn Company's productions. It started with a dozen models and has since grown 15 of the hottest men in the world…and counting. In the Falcon Studios Group A-Team Roll Call, you'll find model profiles, links to their hottest videos and a special A-Team jpeg trading card for each of these diverse studs who represent the most sought after men in all of gay porn. Visit the Roll Call to learn more about this diverse group of super handsome, dynamic Exclusives including Derek Atlas, Boomer Banks, Dario Beck, David Benjamin, Chris Bines, Brian Bonds, Brent Corrigan, Sebastian Kross, Ryan Rose, Andrew Stark, Nick Sterling, Johnny V, Austin Wolf and Sean Zevran, as well as studio favorite Jimmy Durano. Falcon Studios Group has hand-picked this team to give you, the fans, a wide array of top-notch men to watch in all of our quality gay adult content.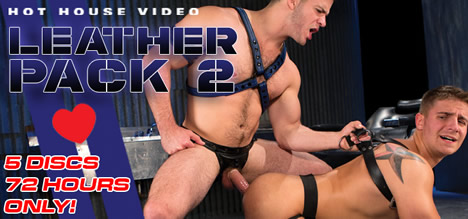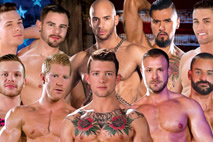 Falcon Studios Group A-Team Models Host Friday Night Grabby Party - Falcon Studios Group, America's Gay Porn Company and the world's largest gay porn production company, announced that its A-Team Exclusives will host the Friday Night Grabby Party at Lucky Horseshoe Lounge, Friday May 22. Read Full Story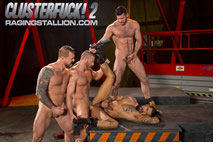 Raging Stallion Lets 'Clusterfuck! 2' Loose - America's Gay Porn Company, Falcon Studios Group, announced the availability of Clusterfuck! 2 on DVD and via download today. The newest full length feature from Raging Stallion Studios and Hall-of-Famer Steve Cruz crafts this wild sex fest by assembling the right ingredients… Read Full Story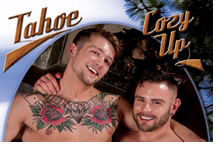 Falcon Studios Launches 'Tahoe: Cozy Up' on DVD & Download - Falcon Studios heads back up to the mountains with the release of 'Tahoe: Cozy Up.' In the studio's newest feature, Award-winning director Tony Dimarco pays homage to the original Falcon hit, 'The Other Side of Aspen' by featuring it in a scene and adding re-mastered bonus scenes from iconic movie… Read Full Story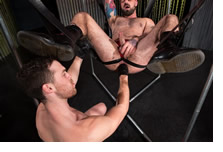 Club Inferno Delivers 'Ass of Steel' - Able to take a brutal pounding from a huge toy, able to receive severe punishment from a punching fist, it's Ass of Steel, and you'll find every eager hole here is worthy of the title. Director Christian Owen has found a lineup of super asses that are insatiable and welcoming to all worthy opponents… Read Full Story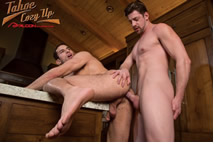 FalconStudios.com Debuts Andrew Stark & Ricky Decker Scene - The debut of Falcon's newest feature 'Tahoe: Cozy Up' and an update featuring A-Team Exclusive Andrew Stark and popular model Ricky Decker appear today on FalconStudios.com. The movie and scene are directed by award winner Tony Dimarco… Read Full Story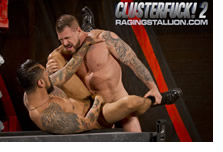 Boomer Banks & Rocco Steele Scene to Premiere on RagingStallion.com - RagingStallion.com, quality site of Falcon Studios Group: America's Gay Porn Company, announced the world premiere of the highly anticipated first scene from Clusterfuck! 2 featuring A-Team Exclusive Boomer Banks in an intense, all-out sex fest with wildly popular Rocco Steele… Read Full Story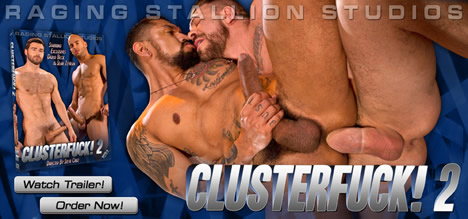 Ryan Rose & Sean Zevran Now Available on America's Finest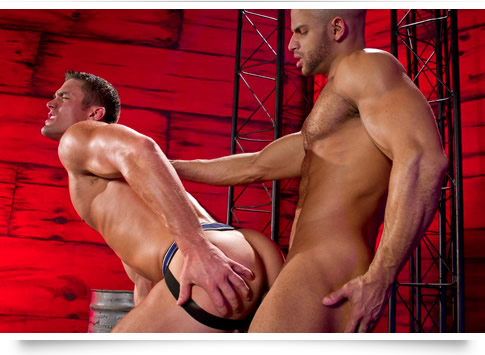 In jock straps that accent the curves of their muscled asses, Ryan Rose and Sean Zevran explore each other's bodies with their hands and tongues. Ryan devours every millimeter of Sean's endowment, and his face becomes smeared with saliva as Sean's thrusts become a full-on face fucking. Sean returns the oral worship with matching intensity, sucking Ryan's huge nuts as well as his cock. Ryan's bubble butt looks irresistible to Sean, and it looks even better with Sean's tongue in it. Their erotic chemistry is so well matched that a flip flop fuck is the only way to satisfy their sexual cravings. Their sex is intense and fluid, with each man playing equal roles as both top and bottom. The climax comes as Sean raises his ass into the air and Ryan straddles him from above for a pile-driving fuck. On the verge of collapse, their bodies slick with sweat, they pour out their loads onto their rippling bodies.