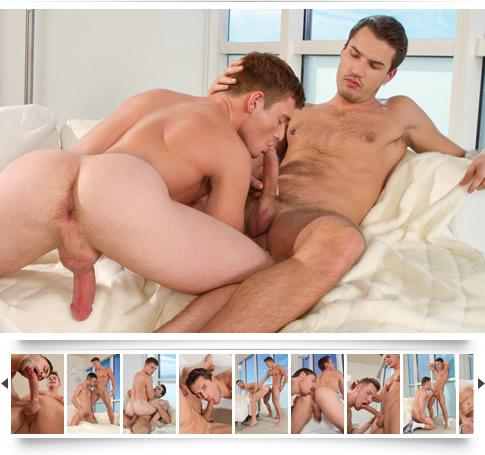 The sexy Falcon studs in Moving Up are making a move on the objects of their sexual desires in a penthouse condo overlooking the desert. The stunning men of Moving Up are going down and getting fucked by each other in director Bruno Bond's all-sex, Falcon Studios fuckathon. These guys have the bodies, they have the right moves, they have the desire, and they have the room with a view. All that's missing is a voyeur with high-powered binoculars looking in from afar, or you, for whom they are putting on the hottest sexual show. Theo Ford is a horned-up six-footer with sculpted muscles who first hits it with mega-star Brent Corrigan. Darius Ferdynand gets a piece of Andrea Suarez' slim hips and swimmer's bod. Theo comes back for more with handsome Brenner Bolton, who gets his hungry holes filled with Theo's huge cock. Darius returns with muscled Owen Michaels in a flip-fuck that ends in a mutual jerk off where they shoot their loads at each other. Theo brings his talented mouth and amazing dick one more time for a final scene where he chows down on Andrea for an all-oral tryst in which Andrea sucks Theo like he's never pleasured a man before. In Moving Up, the action is as hot as the desert sun streaming through the windows and it's all for you.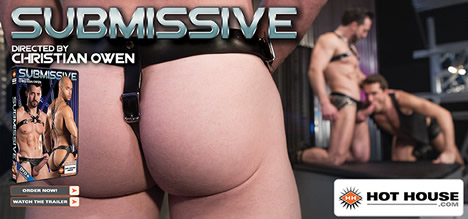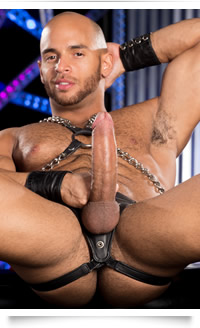 He's smart, he's sexy, he's versatile and he's one of the most sexually exciting Falcon Studios Group A-Team Exclusives. He's Sean Zevran and he's here to take the gay porn industry by storm. In fact, he's made a significant mark on it already and he continues to amaze and leave fans with their jaws wide open in awe, or in hopes that his amazing near nine inch cock might find its way there. With a sculpted body and undeniably extraordinary assets, Zevran has catapulted to the top levels of superstar status. Fans can find him regularly appearing in all three of the Falcon Studios Group's signature brands: Falcon Studios, Raging Stallion and Hot House. Since his first appearance in the Falcon Edge release, Stunners, Sean has appeared in 15 movies and has four more coming out soon. Currently you can find him in the recent Hot House releases Submissive and After Glow and Krossfire from Falcon Edge. Upcoming releases include Clusterfuck! 2 and Foreskin Mafia from Raging Stallion, Tahoe – Keep Me Warm  from Falcon and Hot House's newest Dr. movie, Hard Medicine,  plus he just wrapped a location shoot near Joshua Tree, Sidewinder directed by Steve Cruz.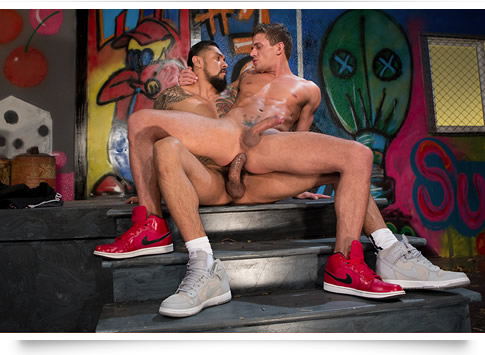 HotHouse.com Premieres Scene from 100th Production: Cruising for Ass
The first scene from Hot House Video's 100th production, 'Cruising for Ass' is now available on HotHouse.com. The update to the site stars A-Team Exclusive Boomer Banks paired in his HotHouse.com debut with fan favorite Alexander Gustavo. With 'Cruising for Ass,' Director Christian Owen celebrates the 100th Hot House production by sending his cast into the gritty low-lit backstreets where sexually charged men go to fulfill their need for release.



Hot Membership Site Scenes Available Now!



Falcon Studios Group Models Appearing Live in a City Near You
April 24 & 25: David Benjamin & Brian Bonds at Flexxx Spas in Cleveland, OH for CLAW Weekend
May 1: David Benjamin at Edge Nightclub in Augusta, GA
May 1-3: David Benjamin at Parliament in Augusta, GA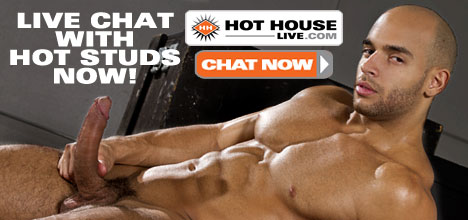 HUNT Readers,
Can you imagine that HUNT is one issue away from turning 100? On the eve of our centennial issue, we've got some other milestones to celebrate. First, in Breaking News you'll find another 100 mark, the debut of the first scene from the 100th Hot House Production, Cruising for Ass. Get a first glimpse into the HotHouse.com premiere starring A-Team Exclusive Boomer Banks and Alexander Gustavo.
You'll find the other milestone in Studio News, where we celebrate the 30th DVD release, XXXPOSURE, from Steve Cruz and Bruno Bond's video Line, Hard Friction. Other news includes the release of Submissive from Hot House, Vegas Hustle from NakedSword Originals and the world premiere of Seed Money: The Chuck Holmes Story, a documentary about the founder of Falcon Studios.
The smart, talented and sexy Sean Zevran is in the Model Spotlight this issue, and Falcon's newest, Moving Up, can be found in the Free Action Gallery. If you want to get to know more about one of our rising mega-stars, check out The Exclusive Sebastian Kross Military Interview Video, which is served up as this week's Special Feature.
Don't forget to take advantage of the Falcon Studios Group Storewide DVD Price Reductions, where nearly every DVD – including New Releases – is priced at $29.99 for the ENTIRE MONTH OF APRIL, and while you're at the store you can find more great values. Get five of Hot House's hottest leather DVDs for the low price of $89.99 with the 72 Hour Leather Pack Sale, acces $19.97 movies with the Raging Stallion DVD Savings promotion and get 25% off with Club Inferno Download Debut Discounts.
If you're a lover of big dicks, then this week's Free Scene Download is for you. It's Jason Adonis & Eddie Stone from Hustle & Cruise which can now be found on the collection My Big Fucking Dick – Jason Adonis.
Enjoy these hot goodies, and thanks for being a fan!
The HUNT Staff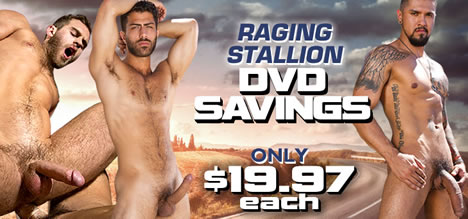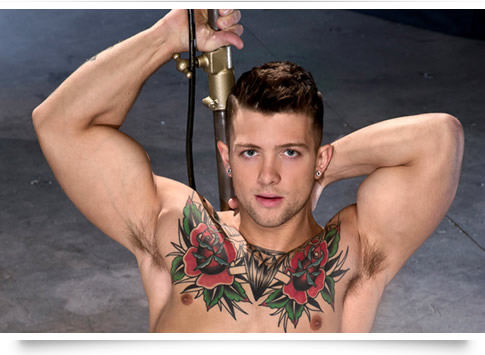 The Exclusive Sebastian Kross Military Interview
Sebastian Kross, former U.S. Navy Airman and Falcon Studios Group A-Team Exclusive, is one of the hotteset stars in all of gay porn. He sat down with Steve Cruz on the set of Hard Friction's 30th dvd release, XXXPosure, to talk a little about himself and his time in the military. Get to know Sebastian's rebel heart, his love for candy on set and whether he swallows or spits. Learn what about his high school experience motivated him to join the military, what his drill instructor did to 'intensely train' him…naked and in the shower and sexy bars in Thailand filled with sailors getting head. This sticky and sweet exchange will is funny and insightful and doesn't disappoint. "Come for the party and stay for the head!"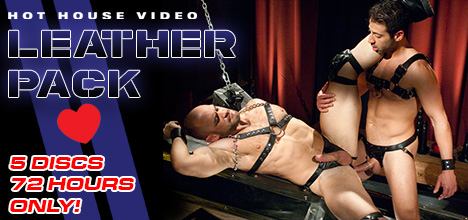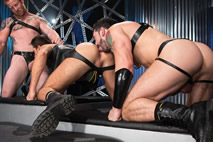 Hot House Dominates with New DVD 'Submissive' - The newest Hot House Video DVD, 'Submissive' is now available. A raunchy, edgy and sizzling sexual frenzy awaits in 'Submissive' directed by hardcore expert Christian Owen, who puts the emphasis on insatiable bottoms and their greedy, hot asses. Read Full Story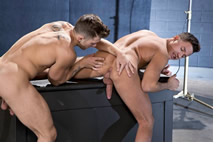 Hard Friction Releases Milestone 30th DVD: 'XXXPosure' - The creators of the Hard Friction gay adult video line, Steve Cruz and Bruno Bond, announced the release of their milestone 30th feature film 'XXXPOSURE' today. With this milestone Hard Friction release, porn stars turned directors Cruz and Bonds deliver on their steamy mission of capturing intense, one-on-one, connected sex like never before. Read Full Story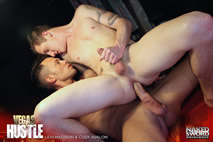 'Vegas Hustle' DVD Now Available from NakedSword Originals - What happens in Vegas… happens at the HustlaBall, the mosts decadent porn party on the planet! Some boys will do anything to get a ticket…anything. Will Cody find the go-go boy of his dreams? Will Chris find true love with superstar Brent Corrigan? Read Full Story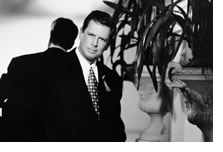 'Seed Money: The Chuck Holmes Story' to World Premiere at Boston LGBT Film Festival - Seed Money: The Chuck Holmes Story, a documentary film directed by Mike Stabile, chronicling the man who founded Falcon Studios, who almost singlehandedly took gay porn from the back alleys to the mainstream and who was one of the gay rights movement's most unlikely pioneers, world premiered at the Boston LGBT Film Festival. Read Full Story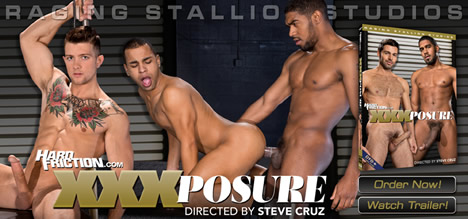 Jason Adonis & Eddie Stone from Hustle & Cruise
Now Available on My Big Fucking Dick: Jason Adonis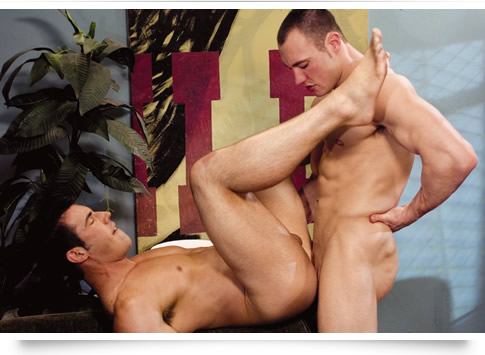 Jason Adonis finally gets a call from handsome Eddie Stone sending him over for a last minute job. Jason is given special treatment all over his best parts. Finally he jams his straight cock deep inside Eddie's nice muscular ass causing Jason to shoot in Eddie's eye. It's not until Jason says "I don't mix business with pleasure" that this pairing appears to be something special.