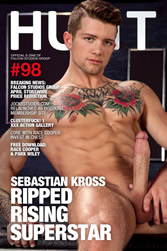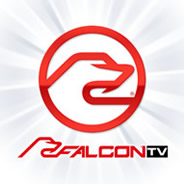 Check the listings in your Television Provider's Adult HD OnDemand Menu for:

CA Poolside Sex HD – The OnDemand HD Release of Raging Stallion's Gran VistaStarring: Dario Beck, Abraham Al Malek, Donato Reyes, Toby Dutch, Lucas Fox, Goran and Lucio Saints.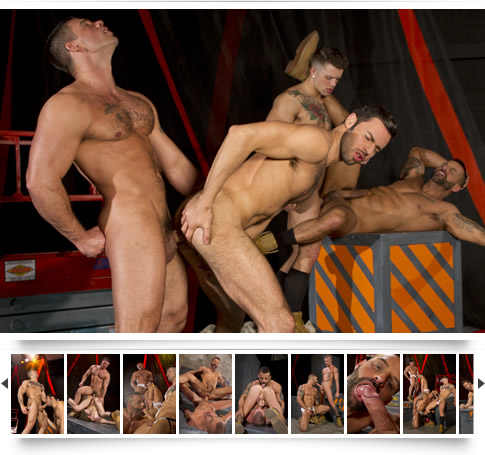 When steamy group sex is on the verge of spinning out of control and there's no telling what may happen next, you've got a Clusterfuck! It happens spontaneously when Hall-of-Fame director Steve Cruz, blends the right combination of testosterone, pheromones, sexual chemistry, muscle and sweat to generate some of the most intense action you've ever seen in Clusterfuck! 1. In the first of two parts, the action starts with a Clusterfuck! orgy for the ages – an explosion of sexual energy that ignites Dario Beck, David Benjamin, Derek Atlas and Sebastian Kross into a frenzy of sucking, ass-eating and fucking. Derek Atlas is unstoppable in his quest to taste and penetrate every one of Duncan Black's warm and wet holes. Sebastian and Dario reconnect away from the group for a romp with Dario becoming a cock-pig, covered with drool and cock juices from deep-throating Sebastian, who invades Dario's ass expertly. David Benjamin still has the hunger and goes one-on-one with Jessy Karson, the hung dude whose job it is to satisfy him. How do you fill a bottomless hole? That is the questions as these two wrangle and tangle to extract every ounce of sweat, pleasure and cum. Clusterfuck! 1 lets loose a series of unstoppable and uninhibited exchanges that will leave you wondering what hit you and have you cumming back for more.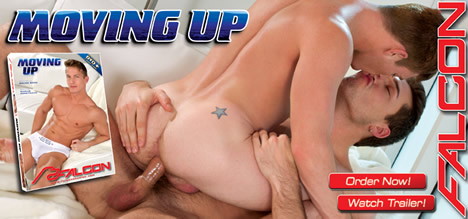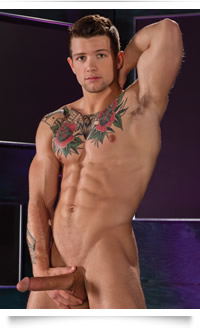 From the moment ripped rising star Sebastian Kross was signed as an A-Team Exlcusive with Falcon Studios Group, he's cranked out hot scene after hot scene that have had fans asking for more. His delicious cock attached to a exquisitely sculpted and beautifully tattooed gymnast body, ass of perfection and movie star face have created a considerable number of admirers. The former Navy seaman and three-category Grabby Nominee has a one-way ticket to megastar status and he's not getting off the train. Keep your eye out for him appearing in a club near you, and watch for new scenes and DVDs coming soon. He's fresh off the release of Double Kross from Falcon Edge and Clusterfuck! 1 from Raging Stallion, and he has four more movies coming out in the coming months including XXXPOSURE from Hard Friction, Tahoe – Cozy Up and Tahoe – Keep Me Warm from Falcon and Cruising for Ass from Hot House. Make no mistake, Sebastian Kross is destined for amazing things, so stay tuned and enjoy the spectacular ride.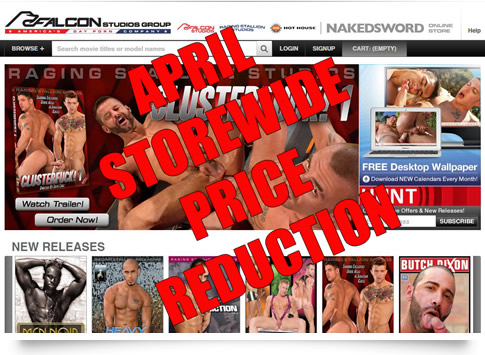 Falcon Studios Group April Storewide Price Reduction
In order to reward its loyal fans and DVD customers, Falcon Studios Group announced that it will reduce prices on nearly every DVD in the Falcon Studios Group Store. Prices are being slashed up to 50% site wide. While the news comes on April Fool's Day, the Group ensures fans that this is no joke. All favorite Falcon, Raging Stallion, Hot House, Naked Sword, Monster Bang, Hard Friction, Stage Homme, JOCKS, Fetish Force, Club Inferno, High Octane and other top brand name videos are now only 29.99 each.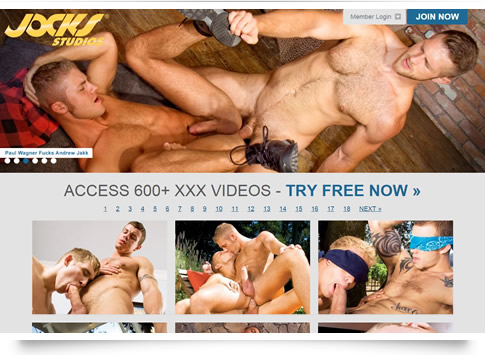 Falcon Studios Group Offers JocksStudios.com as a Discount Site
Falcon Studios Group, America's Gay Porn Company announced that they have converted JocksStudios.com into a discount membership site. JocksStudios.com will now be offered at a lifetime discounted price of $9.95 per month. The site offers a new and modern tour designed to highlight the high-quality content that is now available at a value price.



Hot Membership Site Scenes Available Now!



Falcon Studios Group Models Appearing Live in a City Near You
April 10: Ryan Rose at Faces in Sacramento, CA
April 24 & 25: David Benjamin at Flexxx Spas in Cleveland, OH for CLAW Weekend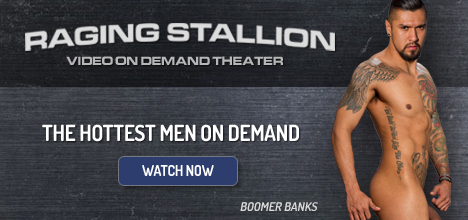 HUNT Readers,
We wish you all a Happy Easter Weekend, and we've got plenty of goodies in our basket to make it a memorable one. We've got two Breaking News items that will have you hopping, and then some. First, as a thank you to all our fans we've slashed Falcon Studios Group Store regular prices by up to half for the ENTIRE MONTH OF APRIL.
New releases, popular recent DVDs and select Collector's Editions are only $29.99 for the month of April, and we've slashed Collections, Best Ofs and Compliations down to $24.99. In other discount Breaking News, we have turned the popular JocksStudios.com into a permanent discount site, now available for $9.95 a month for the lifetime of your membership.
More hot porn information can be found in the Studio News area where you'll find items about the Falcon DVD and FalconStudios.com scene debut of the latest release, Moving Up; the new Hot House DVD, After Glow; and, the recent Stag Homme offering, Heavy Breathing.
Coverboy, ripped rising star Sebastian Kross is in this issue's Model Spotlight, and the new Raging Stallion movie in which Kross appears, Clusterfuck! 1 can be found in the Free Action Gallery. Another installment of Core with Race Cooper: Invest in Chest teaches you how to bank on hot pecs and chest muscles in this week's Special Feature.
In addition to slashing prices storewide, the store has some amazing promotions for you this week. Get all five of Hot House's doctor and medical-themed DVDs for the low price of $89.99 with the 72 Hour Doctor Pack Sale. Also available are the Spring Brand DVD Blowout offering over 200 titles for $19.97 each or 6 for $99 and this week's scene promotion Falcon Hot Scenes of the 90s Discounts with scenes only $3.95 each.
And last, but not least, your Free Scene Download is a dynamic, energized scene from the Raging Stallion Award Winning Feature, Brutal, Part 1 and it stars Race Cooper and Park Wiley. It's now also available on the new Falcon Studios Group Collection Series Men Noir 2.
Happy HUNTing!
The HUNT Staff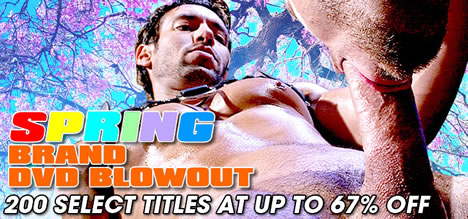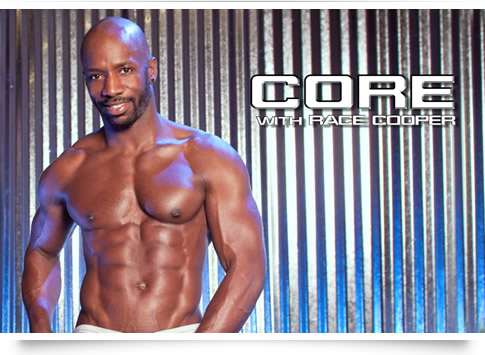 Core with Race Cooper: Invest in Chest
Core with Race Cooper give you new ways to spend your exercise time in Invest in Chest. The second of a new five part this installment with a new, more advanced segment focused on the pecs and exercise that you can bank on. Race has one of the most amazing bodies in all of porn, and now, he's giving his killer physique secrets away exclusively to HUNT readers in a series of HUNT Special Features entitled Core with Race Cooper. In these ongoing segments, Race takes you through a series of Core exercises that focus on building specific body parts. "I love my fans, and I want to share these great tips with them to help them look better and feel better. These exercises are effective, and you can do them anywhere." states Cooper about this HUNT Special Feature Series.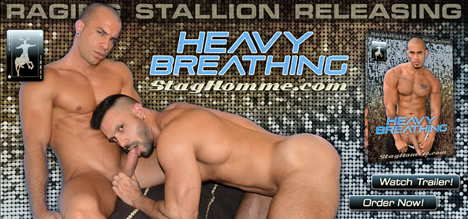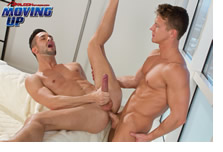 Falcon Studios Makes Moving Up Available - America's Gay Porn Company, Falcon Studios Group, releases the newest feature from Falcon Studios today, 'Moving Up.' Director Bruno Bond assembles an exceptional cast lead by superstar A-Team Exclusive Brent Corrigan. Read Full Story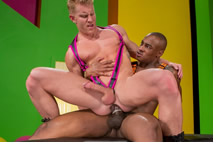 Hot House Radiates with New DVD After Glow - Hot House Video, your source for hardcore ass and featured brand of the San Francisco-based producer of high quality gay porn Falcon Studios Group, drops the new DVD, After Glow today and makes the movies scenes available for download-to-own-purchase. Read Full Story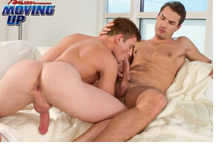 Brent Corrigan & Theo Ford Scene from Moving Up Debuts - Falcon Studios Group announced the premiere of the anticipated scene starring Brent Corrigan and Theo Ford on FalconStudios.com. The scene is from the new Falcon feature directed by Bruno Bond and entitled "Moving Up.' Read Full Story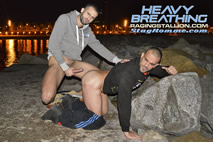 Stag Homme Presents Heavy Breathing - The intense, hardcore action in Heavy Breathing will get your heart racing and your lungs gasping for air from the non-stop, start-to-finish wild gay sex it has in store. From Barcelona to Buenos Aires, Stag Homme is finding the hottest studs and capturing them fucking in their signature style: no-holds-barred. Read Full Story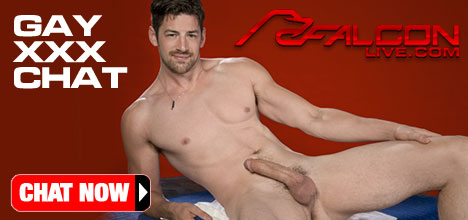 Race Cooper & Park Wiley from Brutal, Part 1
Now Available on Men Noir 2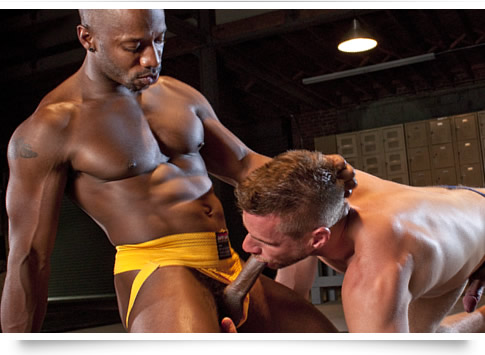 Race Cooper brings a "buddy" over to show him the gym after hours bumping into Angelo on the way out. Race and his buddy Park Wiley wrestle on the mat. Race pins Park but then Park pulls a reverse on Race and has him in a hold. It's not long before they are holding onto each other cocks. Park sucks on Race's fat dick as Race fucks his face. Race then puts Park on all fours and fuck his tight hole. The two flip flop fuck all over the wrestling mat before they shoot their hot loads all over each other. Being the training assistant has its benefits. All access to hot man sex.