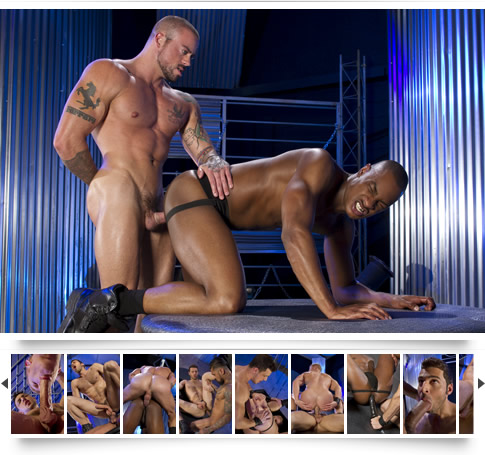 Fuck Hole delivers 100%, non-stop, dick-in-mouth and cock-in-ass action. Director Tony Dimarco focuses on capturing super-charged oral and anal penetration by enlisting seven studs to demonstrate exactly what a good Fuck Hole is. The smokin' hot cast engages in steamy man-on-man action using their lips, mouths, cocks, asses and even toys. Boomer Banks plows Dario Beck, and jacks his massive cock to orgasm while his tongue is buried in Dario's freshly-fucked Fuck Hole. Tyson Tyler gets his Fuck Hole eaten and pumped to orgasm by the broad-shouldered Sean Duran. Boyfriends Johnny V and Joey D grapple like sex-charged gladiators when they slam their hard-muscled bodies together to mutual gratifuckation. Tyson Tyler and Dario Beck come back for more in some kinked-out, double headed dildo ass play rear ending each other until they erupt with warm cum. Dario Beck's third erotic Fuck Hole exchange finds Beck's hairy ass filled with intensity by handsome Derek Atlas in a passionate and fiery encounter. Fuck Hole gives you five scenes featuring some of the deepest, wettest and sexiest holes in the world. Brace yourself to get fulfilled along with each one of them!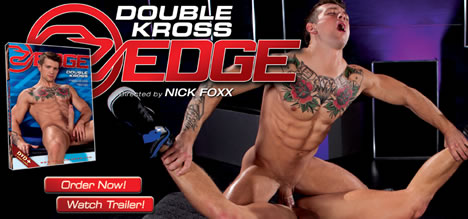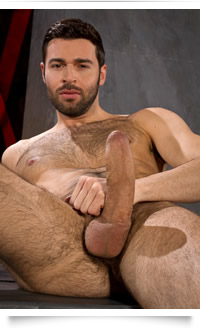 A huge uncut cock, an insatiable bubble butt, a perfect furry body and Mediterranean sex appeal are all possessed by A-Team Exclusive Dario Beck. This high-energy, dynamic sex master is one olive-skinned Spanish hunk we'd never kick out of bed, and we doubt that you would either. He's simply irresistible and his passion oozes from every pore from the second you lay eyes on him. He is one of the elite male erotic models of the world and that's why he was added to the Falcon Studios Group A-Team and continues to appear in ultra-hot Raging Stallion feature's like his newest release, Fuck Hole and the studio's upcoming Clusterfuck! 1 & 2, as well as Hard Friction's XXXPOSURE.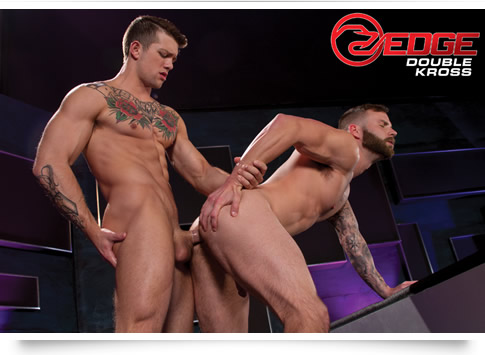 FalconStudios.com World Premieres Sebastian Kross & Chris Bines Scene Debut of Scene from 'Double Kross' DVD Features Two A-Team Exclusives
Falcon Studios Group, America's Gay Porn Company, announced the premiere of a new energized scene on FalconStudios.com from the Falcon Edge feature entitled, 'Double Kross,' directed by Nick Foxx. Starring two incredible, A-Team performers, rising superstar Exclusive Sebastian Kross and newly announced Exclusive Chris Bines, the scene featuring two of the hottest men on Falcon Studios Group's list of elite stars is being released to coincide with the availability of the DVD for retail purchase on March 6.



Hot Membership Site Scenes Available Now!



Falcon Studios Group Models Appearing Live in a City Near You
March 13: Johnny V at #FlexFridays at F Bar in Houston, TX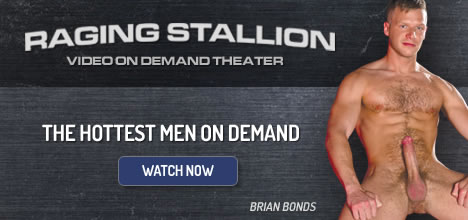 HUNT Readers,
Have we got a jam packed issue for you. Our March is getting kicked off with the hottest news in the world of gay erotica. Starting off, we've got the world premiere of the new Falcon Edge scene from Double Kross starring A-Team Exclusives Sebastian Kross and Chris Bines. You'll find it in Breaking News, and you can learn more about the Double Kross DVD in Studios News.
Also in our Studio News section, you'll find two chances to win with the Falcon Studios Group March Poll, and an opportunity to scoop up autographed goods from the Austin Wilde and Johnny Hazzard BTS video from their Private Gym promo. If that wasn't enough, you'll find a bit on NakedSword's latest #Workout, and a hot look at the best in male celebrity on-screen nudity in the Mr. Man Manatomy Award item.
Sexy Spaniard A-Team Exclusive Dario Beck is in the Model Spotlight, and you'll get to see him mucho in the Fuck Hole Free Action Gallery. That gallery and this week's Special Feature video interview will get you up close and personal in a fun exchange beetween boyfriends Johnny V and Joey D. Their hardcore gay porn debut scene appears in Fuck Hole and they answered revealing fan questions before filming their fuck in the feature.
On the promotions front, we're offering Hot House Download Debut Discounts, where you can save 25% on select scenes from the studios that have been made available for the first time ever. Plus, we've put together the Hardcore Fetish Hit Markdowns event that will save you up to 67% when you buy 6 DVDs for only $99.
We know you've been looking forward to this issue's Free Scene Download, which is brought to you by Raging Stallion from the hit Barback. The scene stars Ricky Sinz and Max Shutler, and is also now available on Hot Fucks, Vol. 8.
All the best and the biggest,
The HUNT Staff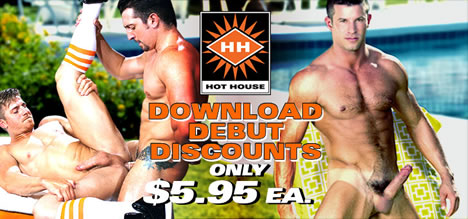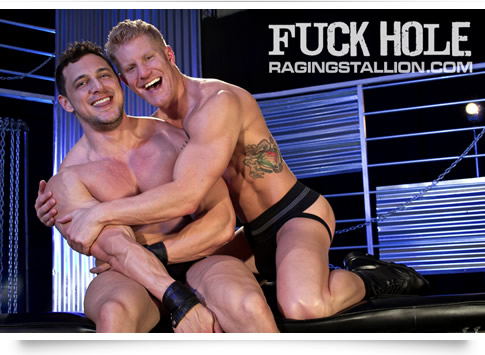 Exclusive Interview with Boyfriends Johnny V and Joey D
Be sure to watch A-Team Exclusive Johnny V and his real-life boyfriend Joey D's playful no-holds-barred interview below, answering revealing questions submitted by curious fans! These hunks have been dating for 4 years and their chemistry combines the bright-eyed glow of newlyweds along with the hilarious bickering and bantering of a married couple!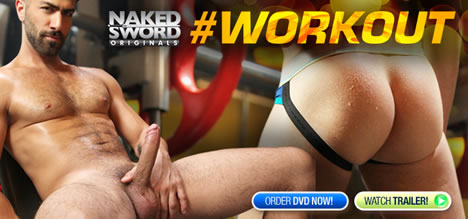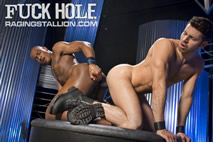 Raging Stallion Premieres 'Fuck Hole' on DVD & Membership Site - Raging Stallion releases its newest top-notch feature, Fuck Hole. Additionally, the most anticipated scene from the Tony Dimarco directed feature, starring A-Team Exclusive Johnny V and his real-life boyfriend Joey D, debuts on its highly successful membership site,RagingStallion.com Read Full Story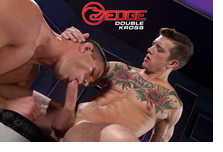 Falcon Studios Group Doubles Down with 'Double Kross' on DVD & Membership Site - Falcon Studios Group announced the unveiling of its latest Falcon Edge feature, 'Double Kross,' today. Director Nick Foxx gets double the pleasure out of every scene filled with heated man-on-man action that will leave fans' balls drained. In addition to the DVD release, Falcon Edge doubles down with the release of the feature's highly-anticipated scene starring newly-minted A-Team Exclusive Chris Bines and his fellow A-Team Exclusive Sebastian Kross. Read Full Story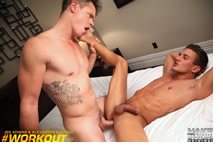 NakedSword Originals Pumps Out #Workout - You know how it is. You're at the gym or your neighborhood park, you see two really hot guys working out together, and your dirty mind starts racing. If you're brave enough, you stealthily snap a pic with your phone to look at later while you fantasize and jack off. Seeing those sweaty muscles and bulging crotches gets your juices flowing but you want to see more. Well you're in luck! NakedSword brings all your #Workout fantasies to life… Read Full Story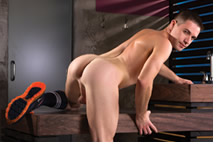 February Poll Results & March Poll Announcement - We've tabulated your votes for the February Hot House Finest Ass Poll and you're chosen stud Dylan Knight from 'The Club' as the finest ass from any Hot House movie in the last year. The winners of the poll drawing will be contacted soon, and we're giving you another chance to win and a new mystery discount with March's Hottest Recent Raging Stallion or Monster Bang Movie Poll. Read Full Story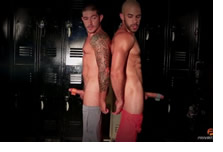 Watch BTS Bloopers & Win Private Gym Prizes Autographed by Austin Wilde & Johnny Hazzard - Private Gym is like exercise for your cock. It helps you last longer, stay harder and shoot further. To demonstrate the product to gay men everywhere, Private Gym did a special video with former Raging Stallion Man of the Year Austin Wilde and the sexy Johnny Hazzard. Watch the sexy video on the Falcon Studios Group Blog. Read Full Story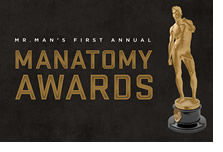 The 2014 Mr. Man Manatomy Awards - The team over at Mr. Man have announced their First Annual Manatomy Awards celebrating the hottest onscreen male nudity of 2014. The list of awards is full of fun and sexy categories includes everything from Best Vampire Dream Sequence to Best Nude While Doing Pushups Scene, and they're all available on MrMan.com. Read Full Story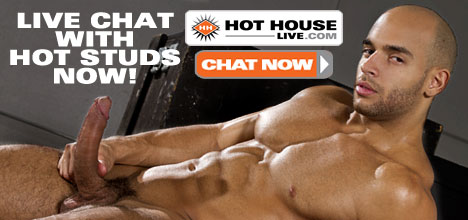 Ricky Sinz & Max Shutler from Barback
Now Available on Hot Fucks, Vol. 8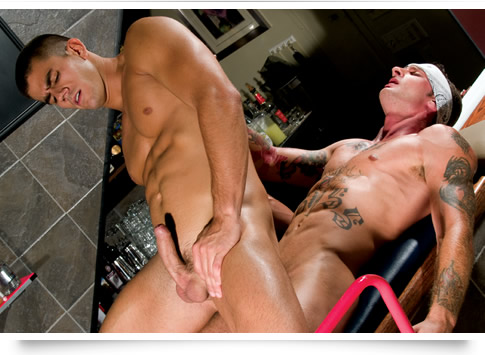 Ricky Sinz is working behind the bar when Max Schutler arrives with boxes of beer. After a quick glance, Max has his mouthful of Ricky's cock. On top of the bar Ricky's muscles glisten as Max services him. Max works his way up and down Ricky's dick, taking a chance to chew on his nipples and work his way down his 8 pack. With attention to detail, Max works Ricky's dick and then eats his hairy asshole. But these two boys are more interested in fucking. Max bends over and offers up his beautiful ass for Ricky to plow. Ricky fucks away with abandon, filling Max's ass with dick. When Max climbs on top the view is amazing, and the camera follows as Max bounces up and down on Ricky's cock. Max strokes himself off with Ricky's dick up his ass followed by Ricky, who covers his abs in cum.