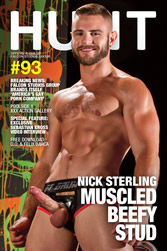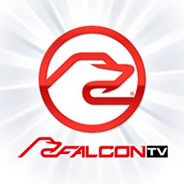 Check the listings in your Television Provider's Adult HD OnDemand Menu for:

WantItNow-Muscle – The OnDemand HD Release of Hard Friction's Want it Now Starring: Adam Ramzi, Chris Bines, FX Rijos, Nova Rubio, Jimmy Durano, Rylan Knox, Lawson Kane, and Shawn Wolfe.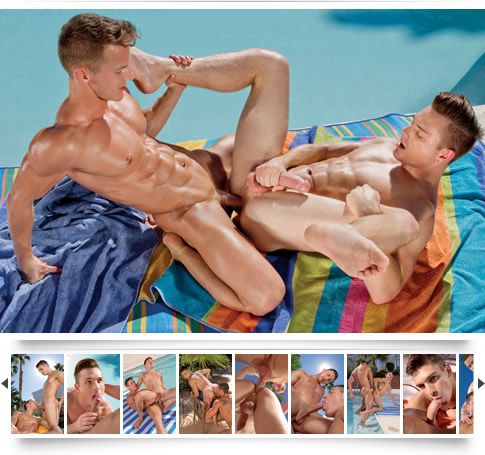 The most stunning men sport huge hard ons in their swim suits, the heat stirring their desires, the crystal blue waters and other sexy men inviting them for a dip. Poolside sex is steamy, sensual and satisfying. And, in Poolside 1, the first of two super-charged releases from director Bruno Bond, steamy sexual encounters heat up the screen when eight gorgeous men rendezvous Poolside for the breathtaking outdoor action that Falcon is famous for. Brent Corrigan and Darius Ferdynand share an intense connection with a high-impact flip flop. Anthony Russo provides oral and anal pleasure to Ryan Rose, resulting in a shower of cum for Anthony. Bulging swimsuits can't contain the lust between Josh Conners and Derek Atlas, and they reach a stunning climax together. Darius Ferdynand and Anthony Verusso trade eager blow jobs in the hot summer sun. Brenner Bolton takes on Lucas Knight's monster cock from both ends, climaxing in a deluge of cum into the turquoise waters of the pool! Poolside 1 guarantees to heat you up with All-American muscle, insatiable desires and flesh filled fucking in the classic Falcon style. You'll want to dive right in!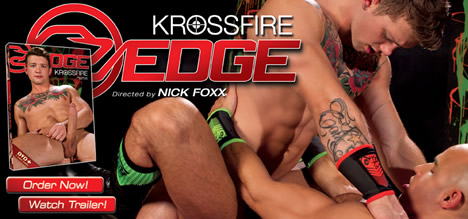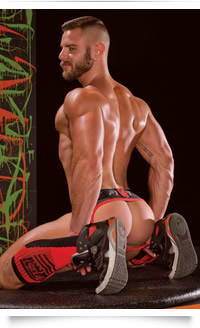 With his substantial endowment and impressively toned, muscular body, A-Team Exclusive Nick Sterling is a captivating on-screen presence. His first performance for Falcon Studios Group was the Falcon Edge release Ready to Fuck, which went on to become one of the most popular scenes of the year. Since then, he's given stellar performances in Falcon Edge's Jacked, both parts of the Falcon Blockbuster Alpine Wood and Falcon's Best Buddies.
His latest appearance—and his first as an official Falcon Studios Group A-Team Exclusive—is in the new Falcon Edge release Krossfire, where he treats Dorian Ferro to an intense, heavy fucking. Stay tuned for more exciting news about this dynamic performer and his upcoming scenes, and check out the free Model Spotlight gallery!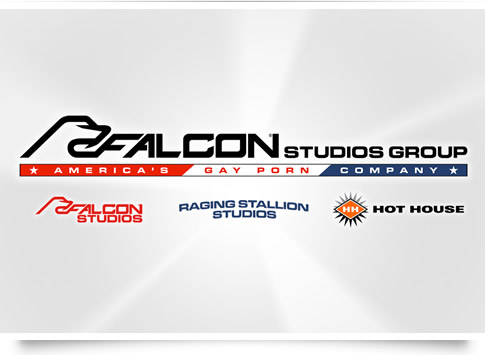 Falcon Studios Group Brands Itself 'America's Gay Porn Company'
Falcon Studios Group, the world's largest producer of gay male erotica responsible for over half of all American quality gay adult erotica, announced today that it is branding itself 'America's Gay Porn Company.' The kickoff launches a year-long campaign that will feature a new Falcon Studios Group logo, a focus on the All-American list of the Falcon Studios Group A-Team elite models, movies with American themes and more.



Hot Membership Site Scenes Available Now!



Falcon Studios Group Models Appearing Live in a City Near You
January 24: Boomer Banks at Powerhouse in San Francisco, CA
January 31: Brian Bonds & David Benjamin at the X-Room in Springfield, MA
February 20: Joey D at #FlexFridays at F Bar in Houston, TX
March 13: Johnny V at #FlexFridays at F Bar in Houston, TX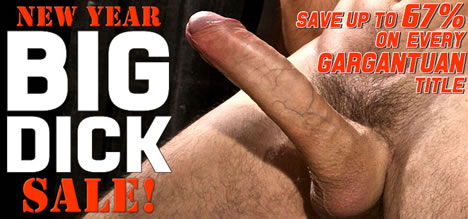 Hey Hunters,
Falcon Studios Group brings you over half the quality gay porn in the America and we're the biggest producer of top-notch content in the category around the world. That being said, we've announced our branding as America's Gay Porn Company in this issue's Breaking News. This is a year long marketing campaign that you'll see throughout our sites, our content and our All-American men.
Last issue we introduced you to our newest A-Team Exclusive, Sebastian Kross. Now, you can learn more about him in a Special Feature exclusive video interview he shot on the set of his new release, Krossfire. Watch and learn more about his secret kinks, his playful personality, and why he loves doing porn.
ALERT: The deadline to complete the Annual HUNT Reader & Falcon Studios Group Fan Survey is just days away. Complete the survey now and get a chance to win huge porn prizes, plus receive a special offer of your choice for taking the time to provide your feedback.
Enjoy more of sexy stud Nick Sterling in the Model Spotlight, get heated up with the Free Action Gallery from Poolside 1, and go big with the Free Scene Download with Latin favorites D.O. and Felix Barca from Stud Fuckers now available on Humongous Cocks #29.
Studios News has a list of news and hot products you won't want to miss. First up, more on the release of Krossfire, the newest Falcon Edge release, starring Sebastian Kross, followed by a new partnership and content share with Kristen Bjorn. Don't miss the sizeable story about the new Boomer Banks Dildo now available. And finally, a little note about our wins at the 2015 Cybersocket Awards.
We've extended the Boomer Banks 72 Hour Sale and New Dildo Promotion for HUNT readers. We're entering the final days of the Annual Big Dick Sale—with savings up to 67% off well-hung DVDS—so act now to save. And, we've created a companion Big Dick Download Deals promotion offering scenes with 9+ inches for only $4.95 each.
All the best and the biggest,
The HUNT Staff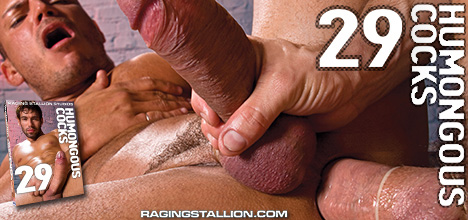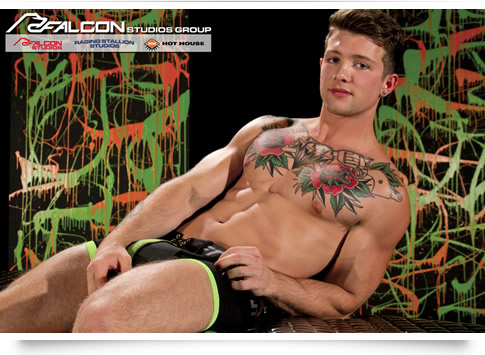 Exclusive Sebastian Kross Video Interview
With his impressive eight-incher, runway-ready looks, and unmistakeable chest tattoo, Sebastian Kross has made one of the most impressive debuts of any gay porn newcomer. His first-ever sex in front of a camera, in the new Falcon Edge title Krossfire, earned him a place in the roster of Falcon Studios Group A-Team Exclusives. In his two scenes from Krossfire—one with Colton Grey and another with fellow A-Team Exclusive Sean Zevran—Kross displays an impressive, instinctual talent for man-on-man sex. The first of those scenes, in which Kross subjects Grey to a blistering pounding before unloading into his mouth, debuts on FalconStudios.com on Monday, January 26. With an upcoming appearance in Steve Cruz' next Raging Stallion Blockbuster and plenty of other productions scheduled, fans will have ample opportunities to watch this exciting stud in action. We sat down with Kross at our Las Vegas production studio during the filming of Krossfire to learn more about his secret kinks, his playful personality, and why he loves doing porn.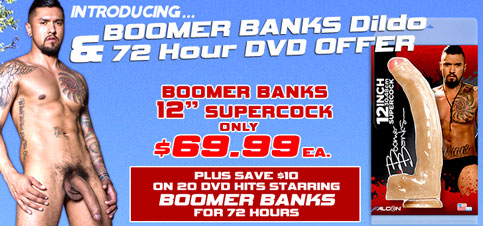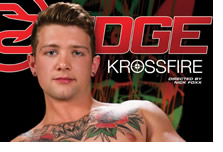 Get Caught Up In Krossfire From Falcon Edge - Falcon Studios Group today releases Krossfire to DVD. Directed by Nick Foxx, it was named in honor of Sebastian Kross' debut as an Exclusive A-Team model for Falcon Studios Group. The cast also includes Fellow A-Team Exclusives Ryan Rose, Sean Zevran, and Nick Sterling, plus Colton Grey and Dorian Ferro. Kross, a former Navy seaman and gay porn newcomer who has attracted considerable attention since his discovery by Trenton Ducati, appears in two scenes. The first of those two scenes, with Colton Grey, was Kross' second sexual encounter with another man and his first in front of the camera. Read Full Story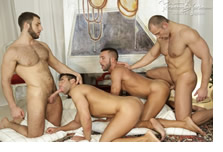 Kristen Bjorn and Falcon Studios Group Partner to Offer Membership Site Customers More Content - Kristen Bjorn and Falcon Studios Group today announce a joint project to share selected scenes on each other's membership sites. The innovative deal will bring Falcon and Raging Stallion content to Kristenbjorn.com and vice versa in the form of weekly bonus updates. The first Kristen Bjorn scene on RagingStallion.com is from Sands of Time – The Hourglass starring Alil Jafar, Tomas Friedel, Donato Reyes and Valentino Medici, and it went live on January 5, 2015. Read Full Story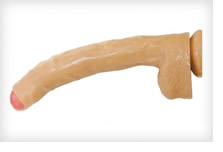 Boomer Banks Dildo - Last week, Falcon Studios Group announced the availability of the largest Supercock Dildo of all time: The Boomer Banks Supercock. Now, the biggest dick in gay porn is available for fans to sample for themselves in the form of a Signature super-sized, molded, uncut sex toy. In celebration of the dildo's release, Falcon Studios Group is launching a 72 hour Boomer Banks DVD sale, putting 20 hit DVDs featuring the star and his massive endowment on sale. Read Full Story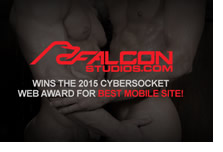 Falcon Studios Group Wins Best Mobile Site at Cybersocket Awards - The 15th Annual Cybersocket Web Awards were presented on Tuesday, January 13, 2015. Falcon Studios took home the trophy for Best Mobile Content Site in the fan-voted Surfers' Choice category. Additionally, Falcon Studios Group A-Team model Jimmy Durano won the prize for Surfers' Choice Best Pornstar. Read Full Story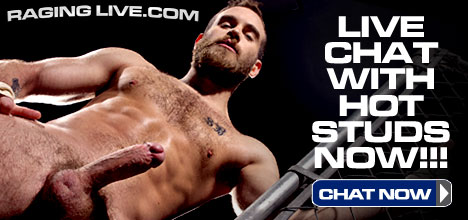 D.O. & Felix Barca from Stud Fuckers
Now Available on Humongous Cocks #29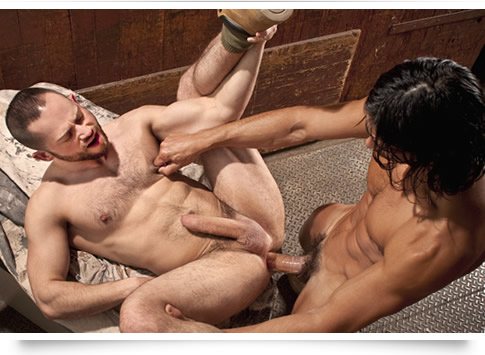 Felix has the body of a gymnast with a light dusting of wonderful chest hair. D.O., being the world's top porn star, towers above him with his eight pack ripping up and down like a washboard. D.O. also has one of the biggest dicks in porn, which Felix devours to the base, his throat stretching and veins popping as he eagerly takes on this giant Argentine cock. D.O. pays Felix back by giving one of the best rim jobs of the year – D.O. loves butt and it shows. He is an expert in getting Felix's hole to hang open – gaping in anticipation for what is next! D.O. fucks him standing up and on his back – Tony Dimarco's camera always where it should be: right up in there measuring each and every thrust. The fucking is so intense that Felix shoots a giant load while D.O. pounds away. D.O. then pulls out and covers Felix in cum – and we mean COVERS Felix in cum!!!