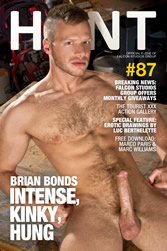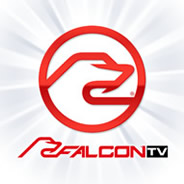 Check the listings in your Television Provider's Adult HD OnDemand Menu for:

Gay: GoldenGate3 HD – The OnDemand HD Release of NakedSword's Golden Gate Season 3: Seduced By San Francisco Starring: Tom Wolfe, Landon Conrad, Heath Jordan, Topher DiMaggio, Lawson Kane, Kennedy Carter, Shane Frost, and Johnny Torque.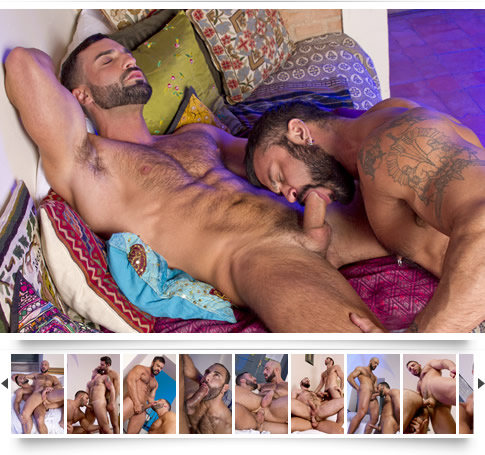 Rogan Richards is The Tourist, a lost and bewildered traveler wandering the streets of Madrid. As Rogan tries to get his bearings, a chance encounter leads him into a dangerous sexual underworld. Shot on location in Madrid, Spain by award-winning director Steve Cruz, the movie boasts a hairy and horny cast starring Falcon Studios Group A-Team Exclusive Dario Beck, plus Rogan Richards, Abraham Al Malek, Donato Reyes, Alessio Veneziano, Paco, and Bruno Boni.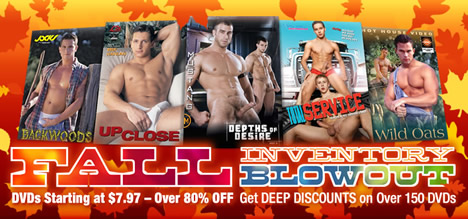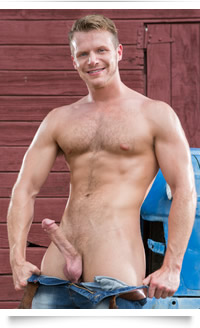 Exclusive Brian Bonds is a versatile, A-Team powerhouse with a mischievous, all-American smile, a broad chest covered in blond hair, and girthy, eight-inch dick. He fulfills fantasies from romantic passion to hardcore fetish, recently appearing in the Falcon Studios Blockbuster Naughty Pines, the kinky Breaking the Bond, and with fellow Exclusive Brent Corrigan in the forthcoming Jacked. His two-part scene from Saddle Up with Ryan Rose premiered this week on HotHouse.com, and his scene with Tommy Defendi in Dirty Fuckers is also available to stream. On the horizon, Brian will appear in Monster Bang's Guard Patrol and the Raging Stallion Fall Blockbuster Auto Erotic.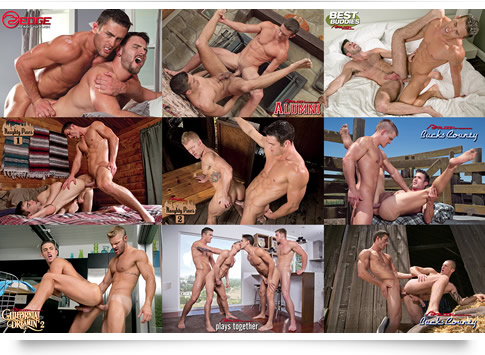 Falcon Studios Group Offers Monthly Giveaways
Falcon Studios Group announced today that they have launched a fun monthly poll that will give fans an opportunity to win prizes each month. A new reader poll will be announced each month and a new set of prizes will be up for grabs as well. Also, fans who complete the poll receive an exclusive mystery offer after they submit their selection. The excitement launches with the November Poll: Ryan Rose's Greatest Falcon Studios Group Scene. Pick your favorite from the hottest scenes of Ryan's Falcon career, and you could be one of three winners of recent DVDs or a Membership of your choice.



Hot Membership Site Scenes Available Now!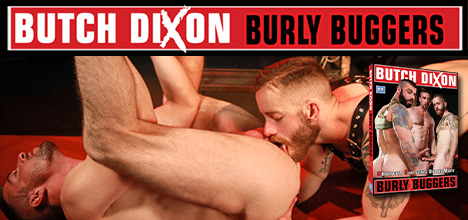 Hunt Readers,
Here at HUNT and Falcon Studios Group, we've been gearing up for the final months of the year and thinking about how we can give back to all our best fans, you, the HUNT readers. We've come up with some ideas that we think you'll love.
First, check out Breaking News for your opportunity to win some great prizes with the new Falcon Studios Group Monthly Poll. We're so excited about this that we're letting you know about it early. All you have to do is complete the one-question poll for your chance to win, and everyone who enters will have access to a Mystery Discount instantly upon submitting your selection. Win, Win, Win!
Then, we have a huge opportunity for you to save, and save BIG, in the Annual Fall DVD Inventory Blowout. This is no ordinary Fall blowout: this sale has DVDs starting at only $7.97. And we've put another list of hundreds of scene downloads on sale for $3.95 in the Raging Stallion 15th Anniversary Scene Download Sale #2.
Raging Stallion has been putting out amazing movies for over 15 years and the release in this week's Free Action Gallery is no exception. Check out the stunning images from Steve Cruz's erotic and thrilling tale set in Madrid, The Tourist. While we're on the subject of hot photos, don't forget to browse on over to the Model Spotlight, where you'll find A-Team Exclusive Brian Bonds in all his glory, including his super hot scenes from Hot House's Saddle Up, currently available on HotHouse.com.
A Falcon Studios Group fan and talented artist, Luc Berthelette has taken to creating beautiful drawings of some of our biggest stars. He's shared his works with us, and we've presented them for you in the Special Feature for this issue. Check out spectacular drawings of A-Team member Jimmy Durano, Damien Crosse, Landon Conrad, Liam Magnuson and Donnie Dean.
In Studio News this time around, check out the nominations for the 15th Annual Cybersocket Awards. Check out the nominations and please vote for your favorite Falcon Studios Group studios, exclusives and personalities. Our brother studio, NakedSword Originals, is offering a special pre-order for their release Dirty Rascals; the new A-Team member, Derek Atlas' scene from Saddle Up is available for download in the Falcon Studios Group store; and, see selections from gay porn icon Peter Berlin's self-portrait photography show in San Francisco.
Finally, for your viewing pleasure we're offering up a hot video featuring Marc Williams and Marco Paris originally from Mustang's Nailed as this issue's Free Scene Dowload. The scene is now available on the new release My Big Fucking Dick: Marc Williams featuring Marc wielding his 10 inches of man meat in five intense scenes from his career. Enjoy!
All the best,
The HUNT Staff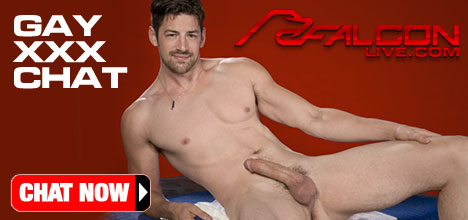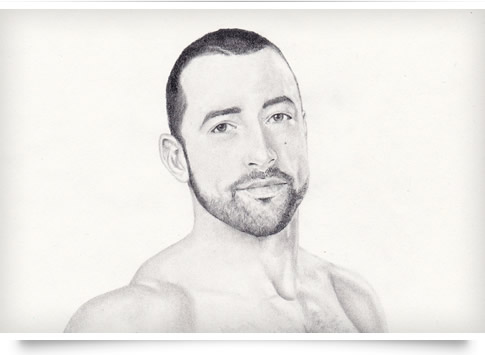 Gallery: Erotic Drawings by Luc Berthelette
A picture may be worth a thousand words, but it takes an artist to bring life to a blank page. Illustrator Luc Berthelette renders lifelike sketches of some of today's sexiest erotic models, including Jimmy Durano, Donnie Dean, Damien Crosse, Landon Conrad and Liam Magnuson.
It's not just Luc's exacting eye for detail that makes these drawings exceptional. By focusing on each man's facial expression and body language, Luc invites us to regard these men not as anonymous hard bodies, but as their actual human selves. Each portrait captures its subject's unique blend of confidence, masculinity, and sexual charisma.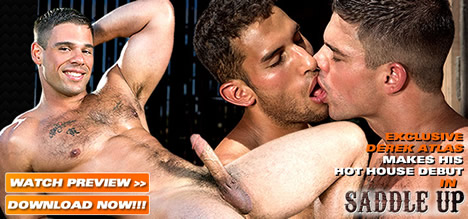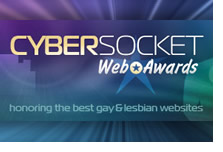 Falcon Studios Group Scores 19 Cybersocket Award Nominations - Falcon Studios Group and models have received 19 "Surfer's Choice" nominations in the 15th Annual Cybersocket Web Awards. The Group was also honored to receive several additional nominations in the "Industry Choice" awards, decided by fellow peers in the adult entertainment industry. Voting has already begun, and ends on December 5th.Awards will be announced at the annual Cybersocket Web Awards on Tuesday, January 13, 2015. Check out the full list of our nominations and cast your vote now. Read Full Story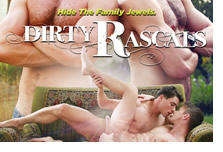 NakedSword Originals Announces Dirty Rascals Preorder & Special Offer - Dirty Rascals, the NakedSword Originals co-production with Bel Ami Studios, featuring Tommy Defendi and Connor Maguire, is now available for pre-order. Everyone who purchases the new DVD before the official release date of November 3 will receive a complimentary copy of NakedSword's Fuck & Cum. Defendi and Maguire flee their boring hometown in rural Ohio and set off for the summer to explore Europe. With just the clothes on their back and practically no money they find themselves in Prague, where they realize they're going to have to rely on their good looks, charm, and their huge cocks to survive. Read Full Story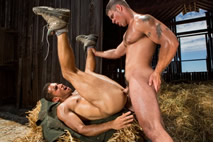 Derek Atlas Scene Now Available for Purchase on the Falcon Studios Group Store - Hot House returns to glory with its upcoming release, Saddle Up. The first scene from the movie starring A-Team Exclusive Derek Atlas and Fan Favorite Ricky Decker is now available for download-to-own from the Falcon Studios Group Store prior to the DVD release. In the intense, energetic scene, Derek wields his powerful, muscled frame and his enormous, unstoppable boner in a literal roll in the hay with chisled bottom Ricky Decker. Fans can preview the scene on HotHouse.com or buy it and download it now on the store. Read Full Story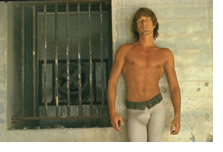 Gallery: Peter Berlin's San Francisco Photography Exhibition - Before the advent of instant #selfies, Peter Berlin created thousands of self portraits at a time when film photography required time and skills that we take for granted in the digital age. Peter spent hours preparing for each shoot - setting up the camera, creating the outfits, developing the negatives and printing the photos himself. It's unlikely this level of self-portraiture was ever been matched in the pre-digital era of photography. Read Full Story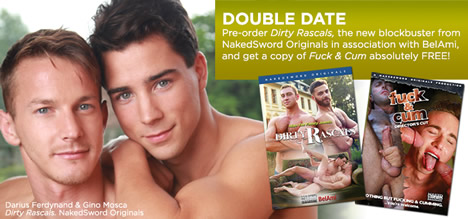 Marco Paris & Marc Williams from Nailed
Now Available on My Big Fucking Dick - Marc Williams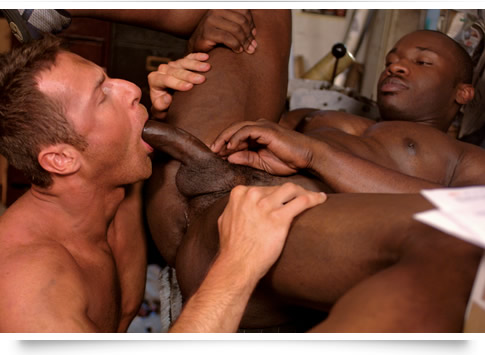 Inside the office, Marc Williams is applying for a mechanic job. Marco Paris tells him the golden rule of dealing with customers: They always come first. It doesn't take long before the two are racing to make each other come hard, with Marco riding on Marc's big black cock.