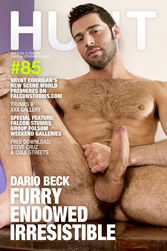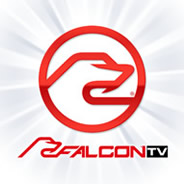 Check the listings in your Television Provider's Adult HD OnDemand Menu for:

Gay: GoldenGate3 HD – The OnDemand HD Release of NakedSword's Golden Gate Season 3: Seduced By San Francisco Starring: Tom Wolfe, Landon Conrad, Heath Jordan, Topher DiMaggio, Lawson Kane, Kennedy Carter, Shane Frost, and Johnny Torque.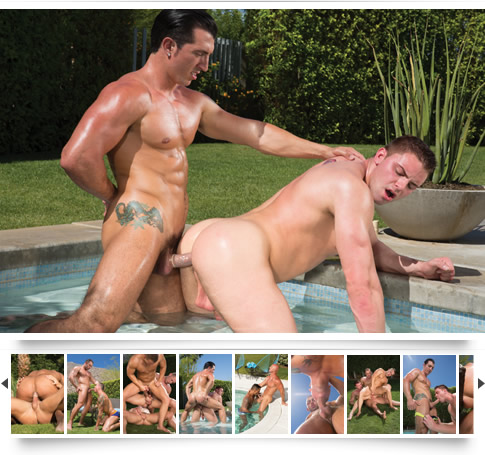 The world's hottest poolside sex series continues when a new cast of muscular, hung hunks take over a Palm Springs resort in Trunks 8! Director Christian Owen brings you more oiled up bodybuilders with big juicy bubble-butts and giant throbbing cocks bursting out of their speedos in nonstop, scorching-hot action. Jimmy Durano and Jake Wilder's oral exchange gets so heated, they move the action into the refreshing water of the pool. Later, Jake can't resist an invitation for a three-way with Luke Adams and Donnie Dean. David Benjamin secretly takes pictures of the three-way from next door, and then uses them to get his fuck buddy Mitch Vaughn all worked up and ready to bust a nut. Fabio Stallone, hired to erase some incriminating footage of a three-way hookup captured by a security camera, has a hookup of his own when Sean Duran comes out to clean the pool. Grab your trunks and join the party!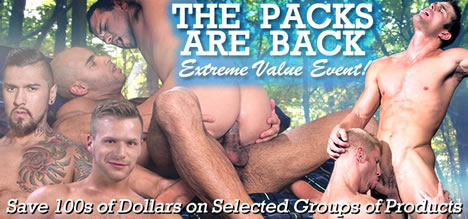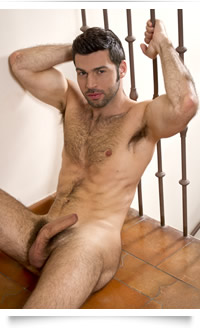 This furry Falcon Studios Group Exclusive, Dario Beck, is one of the sexiest, most irresistible men on the planet. He was just named to the Falcon Studios Group A-Team, adding him to the elite group of the world's hottest men. His olive skin, covered with just the right amount of hair, and exceptional lips are just the bait for you to take a closer look. Upon further inspection you find his perfectly toned body, delicious ass and eight solid inches of prime, uncut cock, and you're swooning with unstoppable desire.
Beck, a well-known superstar, signed on as an exclusive just two months ago, and we've already been fortunate to see him in two award-worthy flicks, Gran Vista and The Tourist, both Raging Stallion features shot in Beck's native Spain. Gran Vista, directed by Bruno Bond, gives you two stunning and beautifully filmed scenes to satisfy your Dario hunger. In The Tourist, Beck plays a pivotal role in Steve Cruz's thrilling tale of sexual seduction. Keep an eye on Beck because he's set to shoot more in coming months, giving us more to swoon over.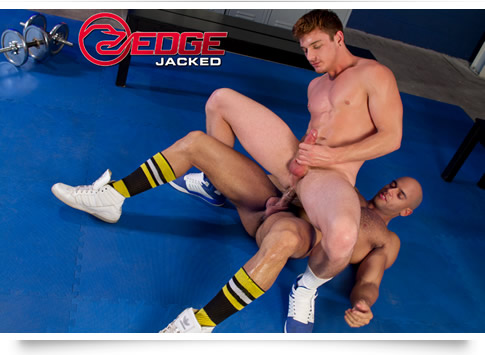 Exclusive Brent Corrigan's New Scene
World Premieres on FalconStudios.com
After a four year break from the industry, Brent Corrigan's new gay porn scene is now streaming on the FalconStudios.com membership site, The world-famous superstar has returned to adult erotica as a Falcon Studios Group A-Team Exclusive, with a hunky, muscled body and confidence to match.
This new scene, from the forthcoming Falcon Edge DVD 'Jacked,' stars Corrigan and fellow A-Team Exclusive Sean Zevran in a sweaty locker room scenario packed with steamy, athletic action. Brent and Sean face each other on the locker room bench, wearing only jockstraps, socks and sneakers. The energized action unfolds with Brent eagerly bottoming for Sean's huge endowment. Fans can preview the intense scene on FalconStudios.com and get special discounts on memberships for a limited time.



Hot Membership Site Scenes Available Now!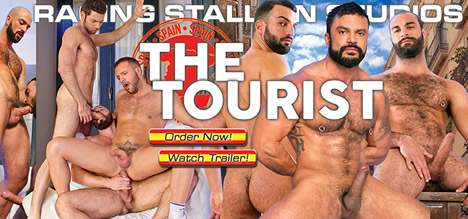 Hey HUNTers,
Wow! Our fans are the best in the world. A special thanks to all of you who came out to share our Raging Stallion 15th Anniversary celebration at the Falcon Studios Group Annual Party, and those who visited out booth at the Folsom Street Fair to meet all the hot A-Team models.
The party had record-breaking attendance and we're pretty sure the models signed more autographs than ever before at the booth. If you weren't able to make it, we've loaded up two amazing galleries in this issue's Special Feature, giving you VIP-level access to all the excitement.
One of the most popular A-Team Exclusive models at the Folsom Street Fair was none other than Brent Corrigan, who had a line snaking out of the booth during his autograph session. Find out more about his return to porn and his debut scene that recently hit FalconStudios.com in Breaking News.
We've had several big releases come out in the last couple weeks, including Hot House's Trunks 8, which you will find in the Free Action Gallery. The Tourist, from Raging Stallion, also hit the streets and A-Team star Dario Beck is one you'll definitely want to check out in this issue's Model Spotlight.
Studio News is jam-packed this week with not-to-be missed items on the release of The Tourist, the announcement of the Falcon Fall Blockbuster Naughty Pines 1 & 2 and the availability of Hard Friction's newest Ass To Grind.
Ass to Grind was directed by Steve Cruz, who was one of Raging Stallion's greatest models of all time before becoming an acclaimed filmmaker. Steve's hottest scenes as a model have been collected in The Steve Cruz Anthology. One of those scenes, originally from the critically acclaimed, award-winning movie Refocus and co-starring Cole Streets, is this issue's Free Scene Download.
Even though the big party has come and gone, we're going to keep celebrating with huge 15th Anniversary Savings on DVDs, RagingStallion.com and Scene Downloads. Save up to 67% on DVDs with the Raging Stallion 15th Anniverary DVD Sale, get a year-long RagingStallion.com Membership for under a hundred bucks and build your Raging Stallion Scene Download Library with $4.95 downloads for a limited time with the Raging Stallion 15th Anniversary Scene Sale.
Happy days,
The HUNT Staff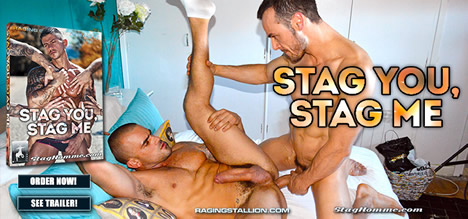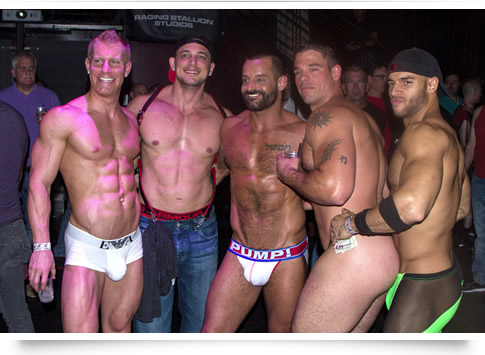 Falcon Studios Group Folsom Weekend Galleries
Thanks to all the fans who joined us at the huge Falcon Studios Group Annual VIP Party celebrating Raging Stallion's 15th Anniversary and who visited our booth at Folsom Street Fair. We wish all our fans could have made it, but if you couldn't, we've finally recovered from the weekend and gathered some of our favorite photos in these exclusive galleries. They're filled with images that give you VIP-level access to these hugely successful events and the A-Team stars who made the weekend so special.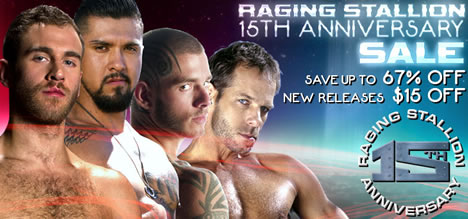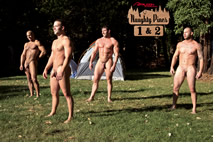 Falcon Studios Releases Two Part Fall Blockbuster 'Naughty Pines' - Falcon Studios, the iconic San Francisco-based producer of adult gay erotica, has released the two-part Fall Blockbuster Naughty Pines. Naughty Pines 1 and Naughty Pines 2 each deliver steaming hot men and explosive sex, with technical and artistic magnificence from award-winning director Tony Dimarco. The cast of chiseled, hung studs stars Exclusives Ryan Rose, Johnny V, Brian Bonds and Sean Zevran, plus Owen Michaels, Colt Rivers, Zack Randall, Connor Maguire, Mike Gaite, Jeremy Walker, Chris Bines, Topher DiMaggio and Luke Adams. Read Full Story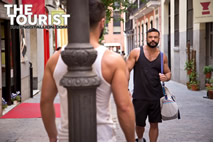 Raging Stallion Streets The Tourist – Director Steve Cruz Tells a Thrilling Tale of Sexual Seduction - Premier gay adult erotica studio Raging Stallion announces the release of its newest full-length feature, The Tourist. Shot on location in Madrid, Spain by award-winning director Steve Cruz, the movie chronicles a disoriented traveler's descent into a dangerous sexual underworld. The smoking-hot cast of hairy, tattooed, and pierced studs features Falcon Studios Group A-Team Exclusive Dario Beck, plus Rogan Richards, Abraham Al Malek, Donato Reyes, Alessio Veneziano, Paco, and Bruno Boni. Read Full Story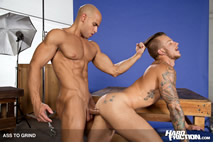 Hard Friction has an Ass to Grind - With butts like this, it's no wonder that every hot bottom in this Hard Friction feature has an 'Ass to Grind.' And grind they do in this movie from award-winning director Steve Cruz, who doubles down on both the hard and the friction. A guy with an axe to grind has ulterior motives, but the motives of the men in 'Ass to Grind' are clear as day when they work the huge dicks of their scene partners. In 'Ass to Grind,' these glutes eagerly take on the task of pleasure and satisfaction. Read Full Story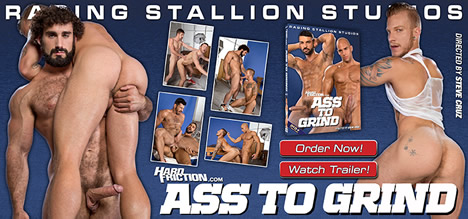 Steve Cruz & Cole Streets from Refocus
Now Available on The Steve Cruz Anthology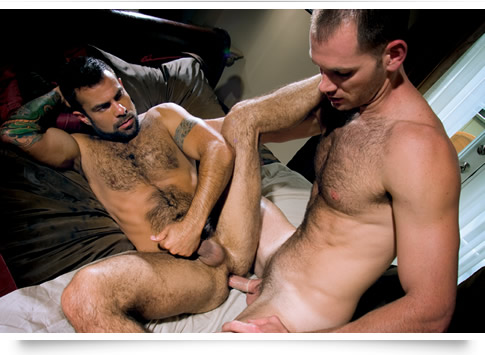 Hairy studs Cole Streets and Steve Cruz meet up in an upscale apartment. After some coffee in the kitchen, they head for the bedroom for some horizontal fun. It's a switch hit scene to remember as they suck and fuck each other to a blazing climax!