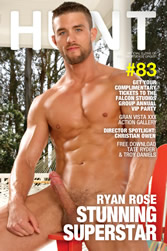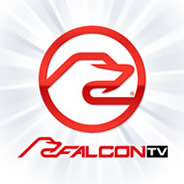 Check the listings in your Television Provider's Adult HD OnDemand Menu for:

Buck Naked HD – The OnDemand HD Release of Falcon's Buck Naked Starring: Ryan Rose, Shawn Wolfe, Landon Conrad & Tyler Wolf.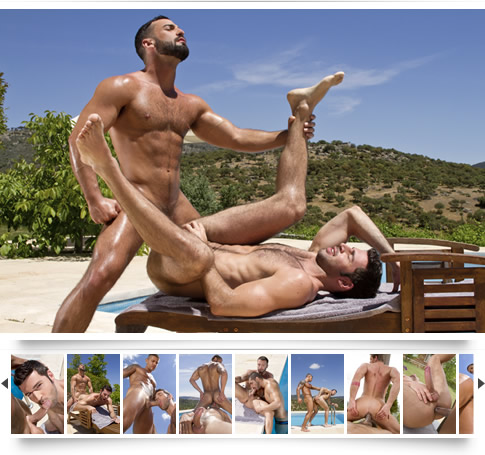 Raging Stallion and director Bruno Bond bring together seven of the hottest men from Spain, Brazil, Hungary and The Netherlands to a country estate in the foothills of the mountains in Northern Spain. From the Spanish countryside setting with the epic view of the tree-filled valley, to the godlike muscular bodies of the men by the perfectly clear blue water of the enormous swimming pool, everything in Gran Vista is breathtakingly grand in scale. This movie delivers passionate man on man sex like you've never seen it before.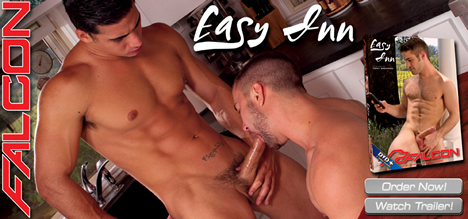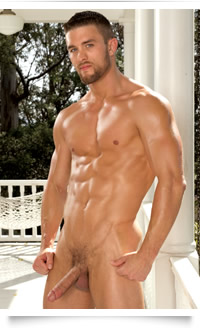 Since Ryan Rose was crowned Falcon Studios 2013 Man of the Year, he's become one of the most celebrated and recognizable Falcon men of all time. With a perfectly chiseled body, stern jaw, and godlike sexual endowments, Ryan has delivered electrifying performances in blockbuster Falcon Studios productions including Bucks County, California Dreamin', and Alpine Wood.
Ryan's incredible talents were recognized by the gay adult industry when he won Best Versatile Performer at the 2014 Grabby Awards. His magnetic persona continues to attract a rabid and loyal fanbase, and his career is moving at full steam ahead. Recently he dominated Chris Bines and seduced Adam Wirthmore in Easy Inn, where he appears with a stunning, studly beard for the first time! Up next, Ryan wields his formidable assets in yet another Falcon Studios 2-part Blockbuster, Naughty Pines.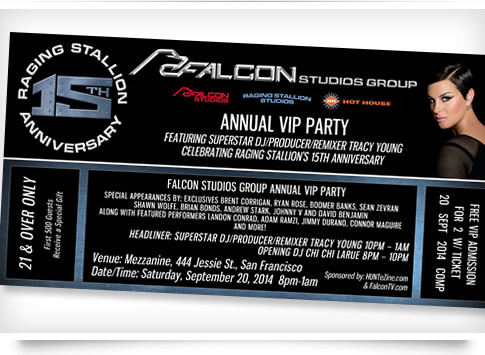 Complimentary Tickets to the Falcon Studios Group Annual VIP Party Now Available
Tickets are now available for the Falcon Studios Group Annual VIP Party, the must-attend gay porn event of the year. This year's party celebrating Raging Stallion's 15th Anniversary is sponsored by HUNT eZine, and we're giving you the first chance to download free tickets directly from the Falcon Studios Blog or request hard copy tickets. This all-star event will feature opening DJ Chi Chi LaRue and headliner, superstar producer remixer DJ Tracy Young, as well as appearances by the hottest men in the world, Falcon Studios Group list of scorching exclusives including Boomer Banks, David Benjamin, Brian Bonds, Brent Corrigan, Hunter Marx, Ryan Rose, Andrew Stark, Shawn Wolfe, Johnny V and Sean Zevran, plus many more.



Hot Membership Site Scenes Available Now!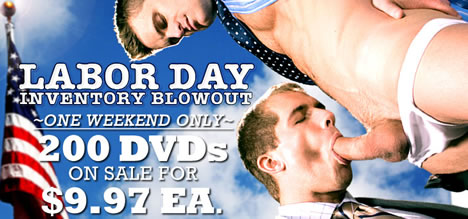 Hey Fans,
It's the last big holiday weekend of the Summer and we're finishing it up with a big bang. To close up this spectacular summer, we're serving up 200 DVDs for $9.97 each in the Labor Day Inventory Blowout, plus it's your last chance to get super discounts on nearly every Hot House and Club Inferno DVD ever produced.
If that wasn't exciting enough, we'll be hosting the gay porn event of the year in just three short weeks, and we want you to be there so we're givng away tickets starting now. You're invited to attend the Falcon Studios Group Annual VIP Party Celebrating the 15th Anniversary of Raging Stallion Studios, and your complimentary tickets are now available in this issue's Breaking News item.
We hope you can join us and get your chance to meet nearly every Falcon Studios Group Exclusive, including the stud who appears in this week's Model Spotlight, Ryan Rose. Ever since becoming a Falcon Studios Group exclusive, Ryan has been delivering award worthy performances, and his star shines extra bright in the new Falcon feature, Easy Inn, which you can learn more about in Studio News.
Also in Studio News, check out the newest HD title available on FalconTV, Buck Naked, and get the scoop on the newest Hot House Collection featuring Tate Ryder's Best Scenes, and for the first time ever, we're offering a Hot House scene as our Free Scene Download. Get it now, and it's yours to keep forever. It's a great scene from The Tate Ryder Collection. You get Tate with Troy Daniels from Kiss Lick Suck Fuck, a recent Hot House hit directed by Christian Owen.
In the Special Feature this week, we've sat down with Christian to get some insight into the mind and passion of the lead director of Falcon Studios Group's Hot House and Club Inferno brands. Find out from the man himself about his career highlights, meeting and working with the love of his life, and what the future holds.
While we're showering you with a great Labor Day feast for the eyes, let's not forget the Free Action Gallery. This issue we've put together a stunning gallery of some of the most beautiful and sexy photos taken by our resident photog, Kent Taylor all year. We're talking about the exceptional action shots from the latest Falcon Studios release, Easy Inn.
We hope you had a great summer and we look forward to seeing you at our Annual VIP Party.
The HUNT Staff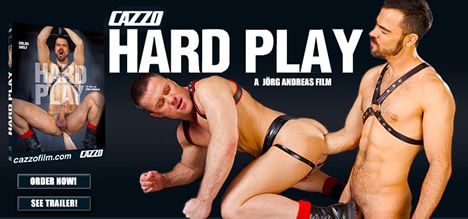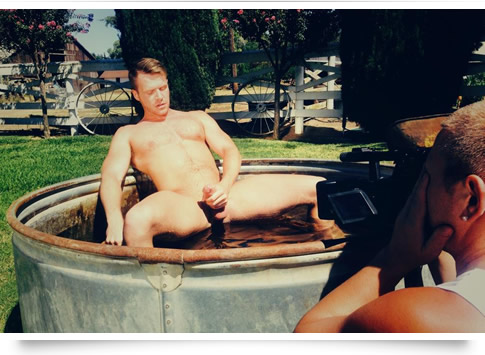 Director Spotlight: Christian Owen
Few people could claim a more significant status in the contemporary gay porn industry than award-winning Hot House Director Christian Owen. The protégé of Hot House founder Steven Scarborough, Christian displays an extraordinarily vivid style behind the camera, consistently releasing some of the most eye-catching and high-quality films in the gay porn industry.
He was inducted onto the Grabbys Wall of Fame in 2012, and he is now the Lead Director of Hot House and Club Inferno under the umbrella of Falcon Studios Group. We spoke with Christian about his career highlights, meeting and working with the love of his life, and what his future holds.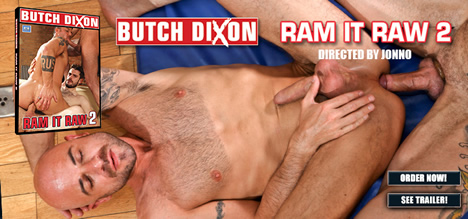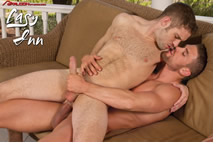 Falcon Studios Releases Easy Inn - Gathering at the Easy Inn for a weekend of fun, these guys turn the secluded retreat into a hot and heavy hookup scene. Normally it's a quiet getaway, but this weekend the Easy Inn is overrun by horny guys with big dicks, willing asses and fucking on their minds. See what happens when six studs have nothing to do… except each other. Read Full Story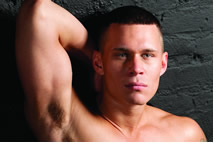 Hot House Releases the Tate Ryder Collection - Hot House Superstar Tate Ryder shares his favorite scenes with you in the must-have collector's edition! Tate is young, ripped, and hung. His versatile performances raise wood whether he's being fucked into a frenzy by a ferocious top like Trenton Ducati or dominating a cock-hungry bottom like Chris Tyler. Read Full Story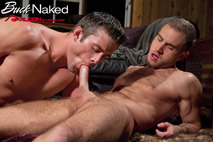 Buck Naked Now Available in HD on FalconTV - A secluded cabin in the woods is the perfect place to be Buck Naked, and when everyone else is naked too, there's bound to be plenty of sudden hard ons, impromptu blow jobs and all out, hardcore sex! The couplings award-winning director Steve Cruz has conjured up for your erotic pleasure are some of the best pairings in Falcon history. After you see what's going on inside this cabin, you'll want to be Buck Naked and watching this hot action all the time. Read Full Story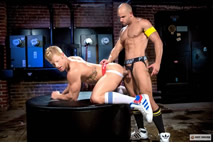 Watch Sean Zevran Pound Johnny V in Dirty Fuckers on HotHouse.com - New HotHouse.com Update! Exclusives Sean Zevran and Johnny V – in his Falcon Studios Group debut – have what are arguably the best muscle physiques in porn today. Giant pecs, bulging biceps, ripped abs, rock hard cocks and asses–these guys are prime specimens of the male form. And they are nasty fuckers who live lives focused on sexual pleasure! Read Full Story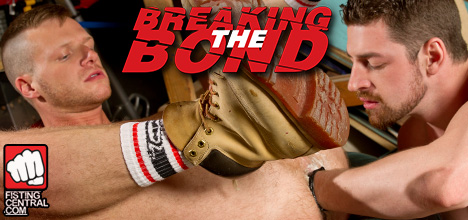 Tate Ryder & Troy Daniels from Kiss Lick Suck Fuck
Now Available on Tate Ryder Collection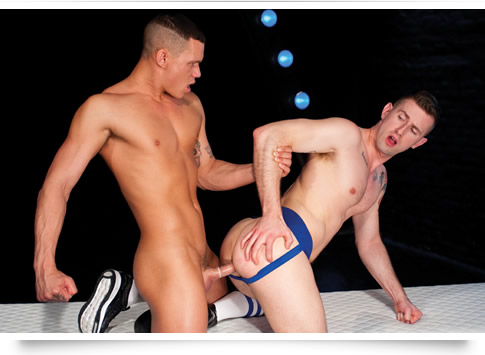 Kiss. Tate Ryder and Troy Daniels love to kiss. Troy can't get enough of Tate's thick, full lips. Tate can't get enough of Troy's hot mouth. They shove their tongues down each other's throats as the passion rises. Tate uses his lips to explore every inch of Troy's body; his nipples, his tight abs and eventually his ass. Troy orders Tate to french kiss his puckered hole. Tate orders Troy to kiss the head of his big cock but Troy can't stop there. He swallows the hot rod to the base while Tate bends over to kiss Troy's backside and pries open his hole with his fingers in preparation for his cock. Tate fucks Troy down then kicks back and offers up his ass to Troy's big cock. They flip-flop fuck until they can't take it any longer and blow their loads.