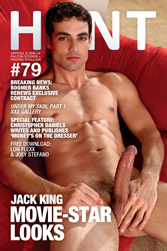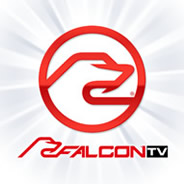 Check the listings in your Television Provider's Adult HD OnDemand Menu for:

Gay: Hooker Stories HD - The OnDemand version of NakedSword Originals's Hooker Stories 1. Starring Tommy Defendi, Rafael Alencar, Christopher Daniels, Parker Perry.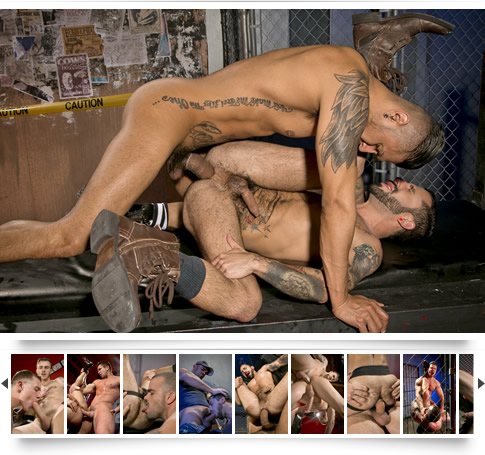 Under My Skin, Part 1 is a captivating erotic tour through dark alleys and kinky tattoo parlors from Raging Stallion Studios. Directors Tony Dimarco and Steve Cruz capture the compulsion for intense, connected sex from an inked-up cast starring Exclusives Boomer Banks and Seven Dixon, as well as fan favorites Christian Wilde, Damien Crosse, Trenton Ducati, Nick Cross and James Ryder. For these seven studs, the sting of a new tattoo is a thrill that can only be exceeded by a rough and raunchy pounding.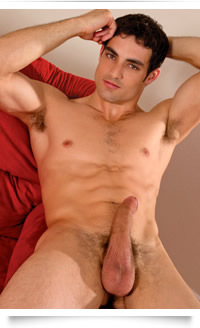 Jack King is a hunk of a man with movie-star looks.  He is a recent Falcon find, who delivers. With a toned body, this clean-cut top has an intense gaze and a giant cock. His smooth body puts his endowment, washboard abs, powerful arms, and sharp masculine chin on full display. He previously delivered incredible erotic performances in two Falcon Studios Blockbusters: Tahoe – Snow Plowed and Bucks County 2 – Road to Temptation. Now, he puts his sexual skills on display in Falcon Studios most recent feature release Intensity, Part 1. See for yourself why Jack is a top notch performer who's reputation for sexual virtuosity continues to grow along with this dynamo's fan base.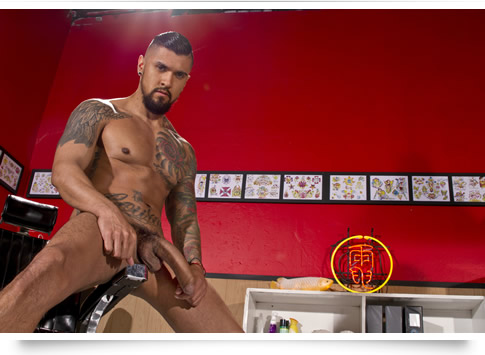 Boomer Banks Renews Exclusive Raging Stallion Contract – Super-Hung Performer of the Year Inks Another Year-Long Agreement
San Francisco based Raging Stallion Studios announced that it has renewed its exclusive contract with Grabby Performer of the Year, Boomer Banks.  The celebrated, super-hung stud made his porn debut a year ago this week, and he quickly rose to superstardom for his dynamic performances.  Today, he happily added another year to his agreement to perform exclusively for Raging Stallion Studios.



Hot Memebership Site Scenes Available Now!






Hey Fans,
Happy 4th of July! We hope your holiday is super explosive.  We're starting the holiday off with a big BOOM! Well, a big Boomer Banks and his renewed exclusive contract, that is.  Check out the Breaking News item to learn more about how you'll be seeing more of Boomer and his big firecracker in Raging Stallion movies for the next year.
You'll also find Boomer in this issue's Free Action Gallery for the recent Raging release, Under My Skin, Part 1. See hot action shots from the inked-up movie that features some of the hottest tattooed studs around.  For another hot gallery, cruise on over to our Model Spotlight, where you'll find recent Falcon find Jack King, who appears in Intensity, Part 1.
Find more firework-worthy items in Studio News like the big announcement about the redesign and update of the Falcon Membership Site, the release of GRRRRRR! from Butch Dixon and the availability of NakedSword Original's Hooker Stories on FalconTV.
One of the stars of Hooker Stories, Christopher Daniels, is a porn star and escort who has appeared in numerous movies from Falcon, Raging Stallion and NakedSword Originals.  Recently he wrote and self-published a retelling of some of his most shocking, emotional and revealing experiences about his work in the "world's oldest profession."  More about Christopher, his book and his movies can be found in the Special Feature of this issue.
What would the 4th of July be without some great sales and promotions.  We're feeling generous, and we're passing along extreme savings on Best of's, Anthologies and Falcon 4 Hour DVDs (as low as $15.97) in our 4th of July "Best Of" & "Falcon 4-Hour" Celebration. Plus we're offering Raging Stallion Scene Favorites For Less. Get the favorite Raging Scenes from all time for only $4.95 each.
And, if you haven't got explosive already, here's the Free Scene Download.  It's Falcon pre-condom action featuring Lon Flexx & Joey Stefano from Plunge, now available on Falcon Bareback Vol. 21 Crazy for Raw Cock.  Exclusively for our best fans, scroll down and enjoy.
Happy 4th!
The HUNT Staff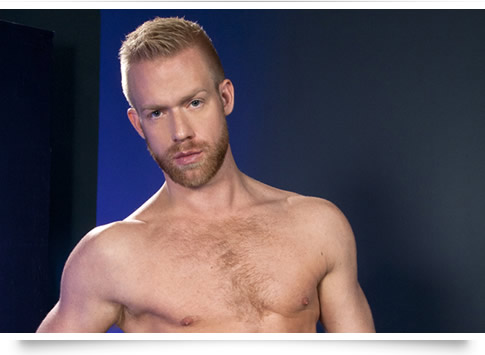 Christopher Daniels Writes and Publishes 'Money's on the Dresser'
Christopher Daniels is an in-demand porn star and escort, thanks to his ginger-blond supermodel looks, ripped physique, and his natural charisma and charm. But if you've ever wondered about all the hot, dirty, and outrageous things clients ask for, you can read about his real-life escorting exploits in his self-published book Money's on the Dresser.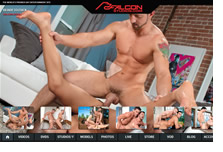 Falcon Redesign Is Now Live - Falcon Studios and award-winning affiliate program Buddy Profits are proud to announce the totally new FalconStudios.com website. The intuitive, visual redesign offers over 2,400 exceptionally hot scenes featuring over 2,000 of the finest models ever to appear in gay porn, and will continue showcasing three sexy, satisfying updates every week. Read Full Story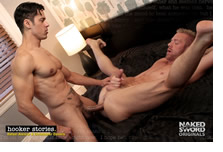 Hooker Stories Now Available in HD on FalconTV - Porn powerhouse NakedSword Originals worked with real-life escorts like Rafael Alencar and Tommy Defendi to find out about the life behind the blinds and bank accounts. Now, <em>Hooker Stories </em>takes you deep into the sizzling world of gay escorts: married men and party boys, first-timers and porn stalkers. Read Full Story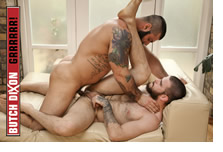 Butch Dixon Releases GRRRRRR! - Get ready to woof for the hairy, horny studs of 'GRRRRRR!' Alex Marte, Delta Kobra, and Dolan Wolf lead a cast of muscled daddies, bears, and furry fuckers who can't wait to get down for some man-on-man action. It's a tornado of deep-tongued ass licking, spit-lubed cocksucking, and cum-heavy fucking from the hottest unshaved, untrimmed, unrestrained guys around. Read Full Story






Lon Flexx & Joey Stefano from Plunge
Now Available on Falcon Bareback, Vol. 21 – Crazy for Raw Cock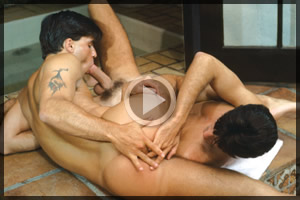 Lon Flexx is relaxing in a hot tub when Joey Stefano walks up and inquires about the water. Lon invites him to get in. It only takes a few minutes for Joey to get accustomed to the water and his immediate surroundings. Joey sucks on his big dick enough to coax him out of the hot tub and into his tight ass.