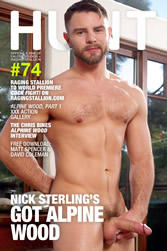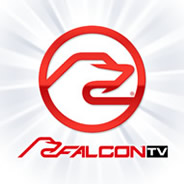 Check the HD listings in your Television Provider's Adult OnDemand Menu for:

Gay: D Sex Grind HD
- The OnDemand version of NakedSword Originals' 'Grindhouse' Starring Christian Wilde, Adam Killian, Seth Knight and Angelo Marconi.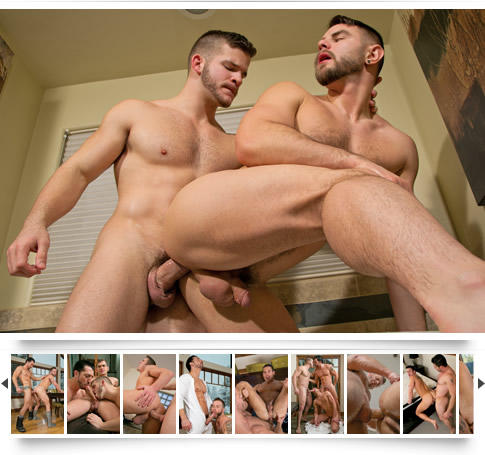 The hottest studs around sport Alpine Wood in Falcon's Two-Part Spring Blockbuster when they share a house in the mountains for a weekend of fun. Leading Director Bruno Bond shows you how a rugged good time gets even better when these scruffy-faced Falcon men hook up all over the house in spontaneous manly action. If home is where the hard on is, these studs feel right at home in this mountain cabin where the air smells like sex. Alpine Wood, Part 1 features nine of the sexiest young, hard and horny guys, and they're bound to burst into exciting action when their lust levels rise with the elevation. Being late for breakfast leaves Landon Conrad with nothing to eat except Ricky Decker, whose cock and hole are rarin' to go. Ricky cums likes there's no tomorrow. A hot bath is a perfect antidote to a cold hike for Nick Sterling and Angel Rock. Nick's humpy body makes Angel's cock swell to new heights. The steamy vapors of the hot tub mesmerize Jimmy Durano, Luke Milan and Angel Rock into oral frenzy. Luke's exuberant sucking triggers carnal abandon and hungry cum eating. The noise made by Ryan Rose and Kayden Fleming in an upstairs bedroom has everyone's cock twitching. Watch as Ryan's mouth and hole offer twin temptations for Kayden's lust. Jimmy Durano and Chris Bines know when to come in out of the snow, and how to warm up fast. Jimmy's torso is ripped, and Chris can handle it. This mountain retreat filled with raging hormones will have fans longing for a getaway in the woods where they can share some impulsive, exciting sex just like the studs in Alpine Wood, Part 1.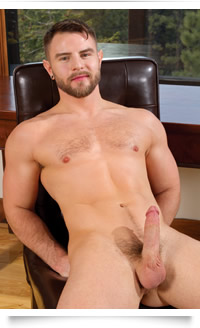 Dynamic stud Nick Sterling just started working with Falcon Studios a few months ago, but he's already making a mark, and once you see him, you'll know why. For starters he has super-hero good looks with a sexy steely, gaze and a well-trimmed beard. This versatile stud's skin is pristine and it shows off his perfectly bulged muscles. His torso is defined with a nice dusting of chest hair that leads down to his 7+ inch cock. His ass is inviting and he's an energetic performer who made a big splash in his first Falcon movie appearance in Best Buddies, which just went live on FalconStudios.com. You can also find him in the most popular scene from the new Falcon Edge line's first release, Ready to Fuck, and he's part of the All-Star cast of Falcon's two-part Spring Blockbuster, Alpine Wood, in which he stars in both Parts 1 & 2. If his start with Falcon Studios is any indication, it's likely you will see a lot more of this hunk soon.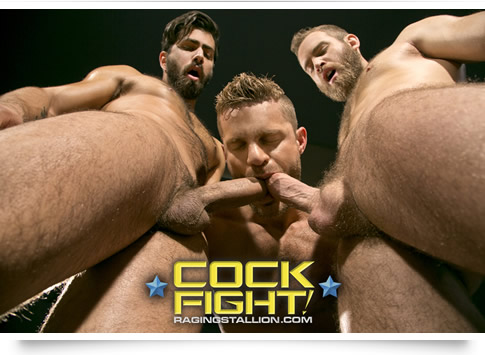 Raging Stallion to World Premiere Cock Fight! on RagingStallion.com Vote for your Favorite to Become Cock Fight! Champion
Three incredible men, Exclusive Shawn Wolfe, Landon Conrad and Adam Ramzi lay it all on the line in Cock Fight!, the first ever Raging Stallion movie to World Premiere on the studio's memberships site. In an unprecedented move, RagingStallion.com will provide the four intense matches from its newest Monster Bang release as membership site updates prior to releasing the Cock Fight! DVD. Releasing the four scenes – three head-to-head matches and one all-out, winner-takes-all three way - on RagingStallion.com will allow fans to watch this "Battle of the Sexiest" and vote for their favorite. The contestant with the most votes will be given the title Cock Fight! Champion and receive a $1,500 cash prize. ans will have the opportunity to support their favorite stud and choose the best sexual performer starting on May 5, when the first Cock Fight! match featuring Landon Conrad and Shawn Wolfe goes live on RagingStallion.com. Support your favorite so he takes home the cash and the Title: Cock Fight Champion!



Hot Memebership Site Scenes Available Now!






Hey HUNTers,
Just like the Hollywood entertainment industry, we're launching some of the most important projects of the year between now and Memorial Day. We've got Big Events and Blockbusters and Super Sales all for your viewing pleasure, and with HUNT we're giving you a front-row seat so you don't miss any of the action. And, don't be mistaken, this is some pretty intense, hand-on-cock action we have in store for you.
First, we're more than excited to announce a Big Event. It's a first; it's out-of-this-world; it's Cock Fight! Raging Stallion will be exclusively releasing scenes from the newest Monster Bang release Cock Fight! on the RagingStallion.com membership site prior to the release of the DVD. You get to watch four thrilling, head-to-head matches and one winner-takes-all threeway featuring contenders Exclusive Shawn Wolfe, Landon Conrad and Adam Ramzi. It's up to you to vote and choose the Cock Fight! Champion. Learn more about the matches and prize in Breaking News.
Next, we're giving Hollywood a run for their money with a Blockbuster release that beats all the super hero and big budget action flicks to the theater. It's the Falcon Spring Blockbuster, Alpine Wood, and part 1 is now available. Learn more about Alpine Wood, Part 1 and it's A-Lister porn star cast in Studio News. And, if you like your men to have super-hero good looks and bodies to match, check out one of Alpine Wood, Part 1's superstars Nick Sterling in this issue's Model Spotlight.
Another major talent found in Alpine Wood, Part 1 is Chris Bines who not only gives great performances, but he gives good behind the scenes too. In this issue's Special Feature, you can watch Chris's sexy snowball fight with Jimmy Durano from the set of Alpine Wood, Part 1, find out more about his hot action and see some sexy behind-the-scenes footage from the filming of this blockbuster release.
Studio News also serves up some fun news about our partnership with Ajaxx63.com who is offering the hottest-selling t-shirt in town: the San Francisco Meat Packers t-shirt seen on the models in the Raging Stallion Spring Blockbuster. While you're in Studio News, you'll also find out more about the next big HD release on FalconTV, NakedSword Originals' Grindhouse. The movie appears in providers' HD OnDemand menus as Gay: D Sex Grind HD and it's definitely worth a look…or two.
You say you want a Free Scene Download? Well we've got a whopper for you. It's from the new collection My Big Fucking Dick: Matt Spencer. The scene originally from Absolute: Aqua stars Matt Spencer and David Coleman in a flip fuck for the ages. If you're a fan of anything big, this is a scene for you.
And if you're a fan of collections of the finest scenes ever produced for Falcon & Raging Stallion Studios, we have a sale for you. The Collections & Compilations Clearance is on and thes are DVDs filled with the best of the best for only $15.97 each – that's 60% off the value price. Plus, we're in the final days of the Raging Stallion Decade of Excellence Scene Sale, where you'll get great discounts on some of the highest quality scenes Raging Stallion ever produced, and that were previously unavailable for download-to-own anywhere.
All the best,
The HUNT Staff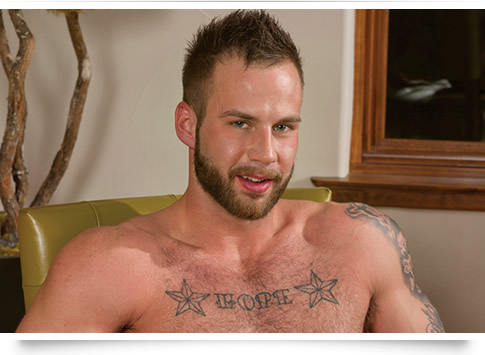 Chris Bines from the Set of Alpine Wood
The incredibly handsome, Chris Bines is featured in the Falcon Blockbuster Alpine Wood, Parts 1 & 2, and he took some time out from shooting his hot scenes while on location to play in the snow with one of his scene partners, Jimmy Durano. Check out the snowball fight, and watch Chris give a little teaser about his action in Alpine Wood and talks a about what happened behind the scenes.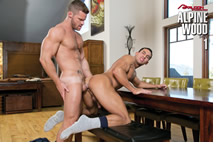 Falcon Unveils Spring Blockbuster Alpine Wood, Part 1 - Bruno Bond Directs Star-Filled Cast Headlined by Falcon Men of the Year Ryan Rose & Landon Conrad - Falcon Studios announces the release of the first part of its two-part 2014 Spring Blockbuster, Alpine Wood. The hottest studs around sport Alpine Wood when they share a house in the mountains for a weekend of fun. Leading Director Bruno Bond shows you how a rugged, good time gets even better when these scruffy-faced Falcon men hook up all over the house in spontaneous manly action. Read Full Story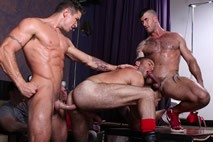 NakedSword Originals' 'Grindhouse' Now in HD on FalconTV - 'Grindhouse' is in Your TV Provider's OnDemand Menu Listed as 'Gay: D Sex Grind HD' - Grindhouse is a gritty look at the seedy world of San Francisco strip clubs - a place where even good guys go bad. Club owner Trenton Ducati is battling to build a respectable business, but when some old prison pals show up looking for a cut of the hustle, he's got to make some unconventional moves. With stage-hungry twinks, money-hungry dancers, and party-hungry stars, Grindhouse isn't your average sex show. If you want to get a good seat here, you better be ready to tip... big! Read Full Story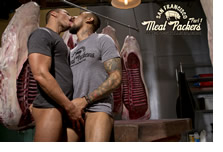 Limited Edition San Francisco Meat Packers T-Shirts Available from AJAXX63.com – Gay Apparel Designer Offers Special T-Shirt and Discounts for Fans who Purchase the DVD - Specialty gay t-shirt and apparel designerwww.ajaxx63.compartnered with Raging Stallion Studios to create the logo and the t-shirts worn by the stars of San Francisco Meat Packers, the studio's Spring Blockbuster. Now they are making the t-shirts available to fans and retailers. These high-quality, great-fitting t-shirts are sexy and they are an amazing value at only $25.95 each. Plus, fans who purchase theSan Francisco Meat Packers, Part 1DVD will receive a promotion code for 10% off their www.ajaxx63.com purchase. Read Full Story






Matt Spencer & David Coleman from Absolute: Aqua
Now Available on My Big Fucking Dick: Matt Spencer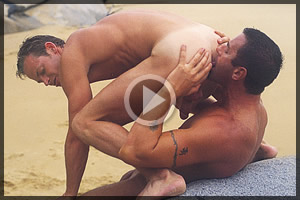 Alone on a stunning tropical beach, Matt Spencer and David Coleman indulge their lust. The two men suck and rim each other in a variety of positions...warming each other up for the fucking to come. The men bury their cocks in each others asses, pounding hard until each man sprays his load over the sand.