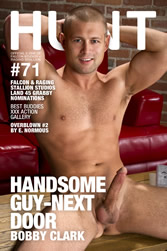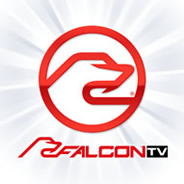 Check the HD listings in your Television Provider's Adult OnDemand Menu for:

Gay: 8 Boning BF'sHD
- The OnDemand version of NakedSword Originals' Boyfriends Starring Blake Daniels, Blue Bailey, Christian Wilde, Troy Haydon & More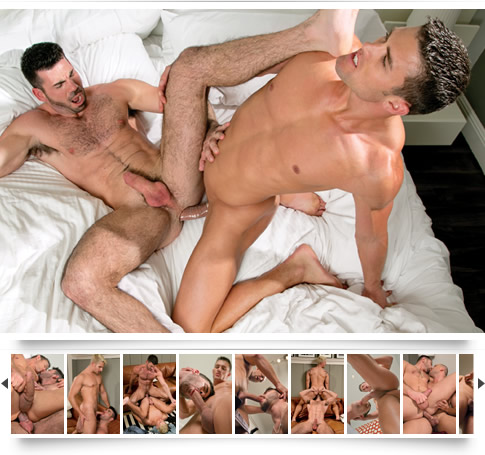 Best Buddies do it better and hotter, especially when the sexual excitement has been building for years. In college, Ryan Rose and Billy Santoro were Best Buddies, but they never hooked up. Now Billy owns a big house and rents rooms. When his buddy, Ryan, moves in, the sexual tension builds. Billy and Ryan both have hidden feelings for each other, but when they bring home other guys their unrequited desires surface. While they negotiate these desires, director Tony Dimarco keeps you aroused with sexy bodies on display in energized action. Brandon Jones uses his mouth and ass to give Ryan Rose's cock an awesome workout in athletic positions. Logan Vaughn's bubble butt is a magnet for Billy Santoro's fingers, tongue and dick. Fellow roomer Bobby Clark relieves his hard on by ordering groceries from his favorite delivery boy, Nick Sterling, whose meat selection includes his nice meaty ass. Ryan and Billy finally vent their passion. Physical opposites — lean and smooth versus beefy and furry — they attract like crazy. After waiting so long, they are unbelievably ready. They feed off each other's bro-passion as well as off their cocks, pecs, mouths and asses in a flip-fuck for the ages. Tony Dimarco knows and shows that the ultimate Best Buddies make for the hottest fuck buddies.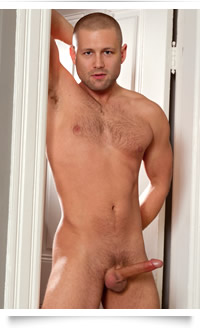 Handsome, guy-next-door type, Bobby Clark has been appearing in Falcon releases since his debut in Dripping Wet 2 in 2009. His dashing smile, blond hair, blue eyes and attractive face invite you in, and his slim, toned body with exceptional enowments seal the deal. This dynamic performer is a versatile stud with nearly eight inches and a round ass that would grab most any man's attention. That's why he's already appeared in a total of eight Falcon and JOCKS Studios releases with appearances in some of the biggest hits of the last five years, including Fleet Week 2, Deep Inside: Part 2 and Big Country. Most recently you will find him in the recent Guys Like Us release, Down To Business and the new release from Falcon, Best Buddies.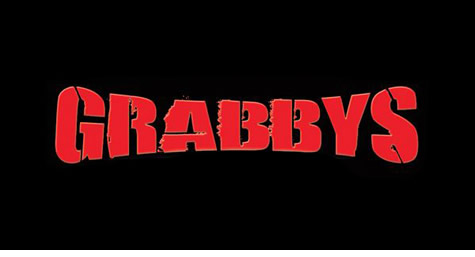 Falcon & Raging Stallion Studios Land 45 Grabby Award Nominations Timberwolves Scores Six Nods & Behind the Big Top Grabs Five
Falcon & Raging Stallion Studios and exclusive models raked in 45 total nominations from the most important awards show in the Gay Adult Entertainment industry, The Grabby Awards, which announced the 2014 nominees last week in Chicago. Timberwolves, Steve Cruz's thriller, scored six nominations including Best Movie, Steamworks Fan Favorite Movie, Best Director, Best Screenplay, Best Actor (Shawn Wolfe) and Best Duo (Tommy Defendi & Adam Ramzi). Behind the Big Top, Tony Dimarco's look at the hot sex that goes on behind the scenes at a traveling circus, brought five nominations including Best Movie, Best All Sex, Best Director, Best Art Direction and Best Videography.



Hot Memebership Site Scenes Available Now!






HUNT Fans,
Getting that Spring itch? Feeling the Luck of the Irish? Got your green ready for St. Patrick's Day? We're ready, and actually we're getting things kicked off a little early. If the first days of Spring has you sprung, lucky you; we've put together a spectacular DVD promotion to celebrate the March 17th holiday. Check out our annual St. Patrick's Day Sale to find a huge selection of over 140 DVDs for only $17.97 each.
Not only is Spring right around the corner, but It's also awards season, and the gay porn world is no exception. Check the Breaking News item to discover the nominations Falcon & Raging Stallion took home for the 2014 Grabby Awards. The studios and exclusive models racked up 45 nominations, and we'd like thank the Grabbys and all the fans for these acknowledgements. Thank You!
The 2013 HUNT Reader Survey winners have been notified, and if they all get back to us to claim their prizes, we'll be announcing the winners in the next couple issues. So, check your email to see if you're one of the winners and claim your prize now.
The newest Falcon Studios release, Best Buddies is now available, and we've given you a Free Action Gallery to see all the hotness of this dynamic and energized cast, including headliners, Exclusive Ryan Rose and fan favorite Billy Santoro. Another big name in the cast is the one and only, Bobby Clark, who has been working with Falcon and Jocks for the last five years. You can find him in this issue's Model Spotlight.
Studio News is packed with goodness. You'll find more about Best Buddies, as well as Into Darkness. Plus, there's a story about FalconTV's newest HD release, Boyfriends, the hot feature directed by Mr. Pam from NakedSword Originals. You can find it now in your television provider's Adult OnDemand menu.
If you're looking for a Free Scene Download, we've got a great one for you this issue: Erik Rhodes and Marc Williams in a scene that originally appeared in Rush & Release, directed by Matthew Rush. The scene is now on new release Humongous Cocks #24. We're back with another installment of Overblown by E. Normous as a Special Feature that takes hot images from Falcon & Raging Stallion and gives them an E. Normous fantasy twist. Overblown #2 will blow your mind.
After a few technical issues, we have the Raging Stallion Origins Scene Celebration promotion online and working, so now you can access huge deals on over 300 of the first Raging Stallion scenes.
This is your last chance to take advantage of the free download of the Jimmy Durano & Shawn Wolfe scene from 'Tahoe: Snow Packed,' it will only be available until March 31, so please try out the new Falcon & Raging Stallion Store and download this complimentary scene today. All you have to do to get your complimentary download is either set up a new account or confirm your account details, then visit this Special Complimentary Scene Page, add the Jimmy Durano/Shawn Wolfe scene to your cart and apply promo code FR14T1. The scene will appear for $0.00, and once you provide your account details, you'll be taken to the page where you can download your free scene.
Happy Spring,
The HUNT Staff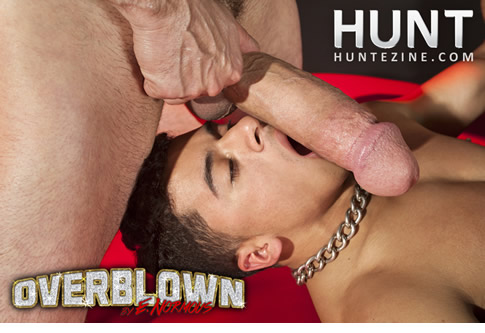 Overblown #2 by E. Normous
Enter the Overblown world of E. Normous, veteran Falcon and Raging Stallion Photo Editor and Retoucher who, in this second gallery, has morphed some of the hottest Raging Stallion images taken by Kent Taylor to the extreme. In this ultimate enlarged fantasyland filled with the hottest men on the planet, E. Normous has pushed the limits created works of super-sized erotic art. He's given these studs the physique of Gods – displaying hyper masculinity, wildly bulging muscles, big round erect nipples and out of control sexuality. And, of course, the all have rock-hard, GIGANTIC cocks that are often stretching tight holes to the limit! Welcome to E. Normous' make-believe world where everything is Overblown.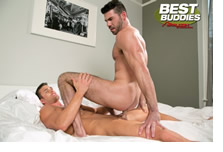 Falcon Studios Streets Best Buddies - Exclusive Ryan Rose & Billy Santoro Lead All-Star Cast Directed by Tony Dimarco - Falcon Studios announces the availability of its newest feature, Best Buddies. Award-winning director, Tony Dimarco assembled an all-star cast headlined by Best Buddies, Exclusive Ryan Rose and fan favorite Billy Santoro. In the finale, they realize their unfulfilled sexual desires for each other in an intense flip-flop, but not before fans get to enjoy hot scenes featuring hot, popular studs Nick Sterling, Brandon Jones, Bobby Clark and Logan Vaughn. Read Full Story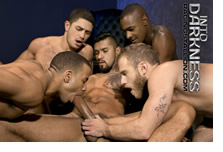 Monster Bang's Into Darkness Arrives - Steve Cruz Directs Multi-Cultural Cast Headlined by Exclusive Shawn Wolfe & Boomer Banks in Their First Scene Together - The popular Monster Bang brand from Raging Stallion Studios revealed its newest release, Into Darkness, today. This new, multi-cultural gang bang epic, featuring Exclusives Shawn Wolfe and Boomer Banks in their first scene together, takes erotic impulse to the darkest level. Award-winning Director Steve Cruz drives the intensity in Into Darkness, another Monster Bang spectacular featuring "Big Dicks and the Holes They Fill!" Read Full Story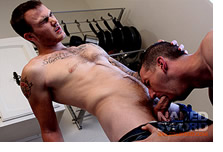 NakedSword Originals' Boyfriends is Now Available in HD on FalconTV - Find it under Gay: 8 Boning BF'sHD in Your TV Provider's OnDemand Menu - The critically acclaimed mini-series from NakedSword Originals, Boyfriends, shows that settling down doesn't have to mean settling. Now, the series, directed by award-winning gay porn powerhouse Mr. Pam, has been put into one, hot HD release available OnDemand on FalconTV. Real-life partners Blue Bailey and Blake Daniels show how hot a little commitment can be, Dylan Hyde and Cole Streets make a porn of their own, Christian Wilde and Tony Hunter have intense make up sex and Troy Haydon and Ari Sylvio have indiscretions as they meet for a sex club nooner. Read Full Story






Erik Rhodes & Marc Williams from Rush & Release
Now Available on Humongous Cocks #24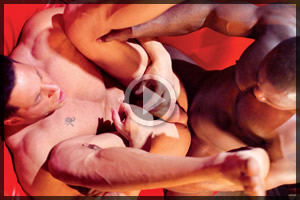 Erik Rhodes and Marc Williams star in the ultimate muscle worship fantasy. Six-foot-four Erik takes on six foot Marc like a champ. Both men give new meaning to the word Adonis making this one of the best scenes of Rush & Release.