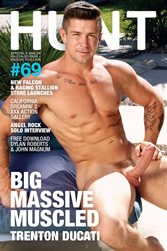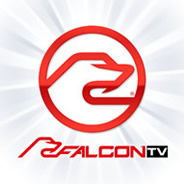 Check the HD listings in your Television Provider's Adult OnDemand Menu for:

Gay: 8Gay Loads HD - The OnDemand version of Hard Friction's Full Release
Starring Shawn Wolfe, Ty Roderick & James Ryder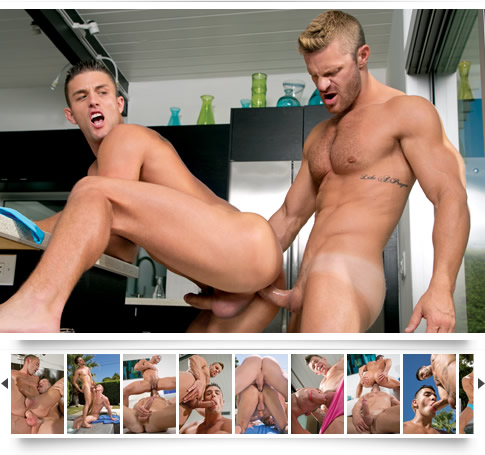 Steamy fantasies come to life when Tony Dimarco's vision of California Dreamin' 2 captures - in classic Falcon fashion - what happens when temperatures soar and stunning studs get rock hard, remove their clothing and turn their poolside sexual desires into reality. Mix equal parts sunshine, swim suits and sunscreen. Add a sparkling pool and eight hard and horny studs, to ratchet up the heat. Blond Landon Conrad is grizzled and packed with muscle; brunet Ryan Rose is smooth and slim. Opposites can't attract more than this, when Landon becomes an undulating S-curve of power fucking. Put a hard dick in front of Ray Han and he'll take it at either end. Splashing in the pool, he makes dreamboat Lance Luciano peer out from behind his shades. The need is instantaneous and their oral session is lip-smacking good, and it ends with underwater cum shots. Ray puts his other end to work for Liam Magnuson in the hot tub. Liam is hot-n-ready to probe Ray's throbbing ass. Nifty camera work shows part of the action reflected in a pair of Ray-Bans on the ground. Trenton Ducati's cock is a curved prize. His tongue and fingers stoke a roaring fire in Donnie Dean's bubble butt that only a rousing fuck can quench. Hand-rubbed meat can't be beat — a slogan that applies to more than BBQ when Angel Rock rubs one out under the sun. His muscle-packed, furry body is enough to get anyone hard. Most guys would take a number to be crushed between his thighs. California Dreamin' 2 is a suck, slurp and fuck fest you won't want to wake up from.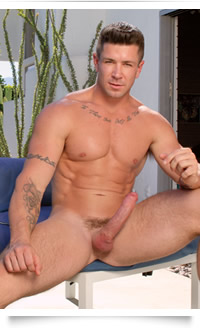 Trenton Ducati is big...in more ways than one.He's a massive muscled hunk of a man with a huge cock, and a giant warm and energizedpersonality. Raging Stallion and Falcon Studios started working with this dynamo at the beginning of 2012, and since then he's won numerous performer of the year awards and racked up an impressive 24 appearances in Falcon & Raging Stallion DVDs with over 30 total scenes shot.With remarkable versatile performances and a body that won't stop, you can expect to see Trenton in many future releases with nearly every one of the lines that we currently produce. He's appeared in the last five Monster Bang features and he is back in the studio next week for a Tony Dimarco directed Monster Bang DVD and he's featured in Falcon's new release California Dreamin' 2.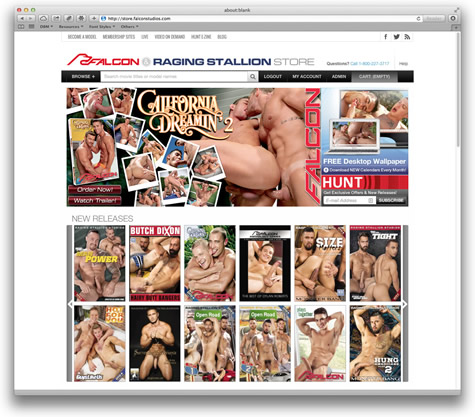 New Falcon & Raging Stallion Store Launches
Falcon & Raging Stallion Studios, announced the launch of a new, merged online store. The consolidated store offers customers a completely revamped, cutting-edge online shopping experience. The new site makes it easier for fans of all-male erotica to find, preview and purchase the thousands and thousands of video, novelty and printed products available from the porn giant. As an added bonus to customers, the new store expands image galleries and video previews (featuring over 56,000 unique images), adds over 2,000 download-to-own scenes, gives access to scene downloads on the same day as a DVD release, provides over 3,500 model profiles and increases the merged porn giants' ability to offer fans new promotions and sales of their award winning products.



Hot Memebership Site Scenes Available Now!






HUNT Readers,
Happy Valentine's Day! We have so many ways to show our love to you.
For starters, check out the Breaking News item about the NEW Falcon & Raging Stallion Store – we've completely overhauled our online store just for you, adding over 2,000 never-before-available download to own scenes, smokin' hot images galleries (over 56,000 pics in total) and 3,500 model profiles.
As a token of our appreciation to our most loyal fans and as a special incentive to have you give the store for a whirl, we're giving you a free download: the Jimmy Durano & Shawn Wolfe scene from 'Tahoe: Snow Packed.' All you have to do to get your complimentary download is either set up a new account or confirm your account details, then visit this Special Complimentary Scene Page, add the Jimmy Durano/Shawn Wolfe scene to your cart and apply promo code FR14T1. The scene will appear for $0.00, and once you provide your account details, you'll be taken to the page where you can download your free scene.
You also get the Free Scene Download that's part of every issue of HUNT to make you Valentine's Day even hotter. Issue #69's download originally appeared in Falcon's Hot Property and it stars Dylan Roberts & John Magnum. This scene is now available on Falcon Athology Series the Best of Dylan Roberts, which was released on February 3.
Finally, we're giving you some extra Valentine Love with the 72 Hour Porn Lover's Valentine's Blowout, offering up 100 hot DVDs for the clearance price of $9.97 each. In addition to this limited time offer, we've got a Major Studio New Store Grand Opening Sale available and a Monster Bang and Hard Friction Scene Sale, featuring over 100 scenes never previously available for download-to-own purchase.
Thank you all for providing your feedback in the Annual HUNT Reader Survey. We're working on getting the results tabulated and finding the winners of the drawing, so keep an eye on your inbox to see if you're a winner. Once we receive confirmation from the winners, we will announce them in HUNT.
Following up last issue's very popular Free Action Gallery, we've added the hot images from new Falcon release, California Dreamin' 2 for your enjoyment. Plus, we've got an endearing Interview, featuring Angel Rock (one of the feature's stars) for this issue's Special Feature.
Another star of California Dreamin' 2 is always energetic and super hunky stud Trenton Ducati, and he is our HUNT Issue #69 Cover Boy. Check the Model Spotlight to find his extensive videography and gallery. You can also learn more about California Dreamin' 2, the Ryan Rose and Ray Han Scene from California Dreamin' 1 and New Stag Homme release, Abraham Al Malek in the Studio News section.
Lot's of Love,
The HUNT Staff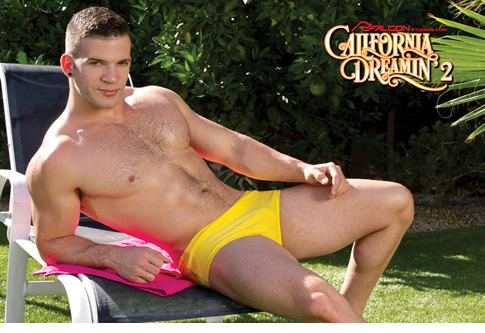 Fun interview with Angel Rock
Endearing, sexy stud Angel Rock appears in both California Dreamin' 1 & 2 and he sat down with us during filming to tell us about when he found out he was gay, when he thought he had a small dick and when he found out it wasn't small at all. In his make-you-melt Cuban accent, he talks about the hottest Latino stars - a list he appropriately adds himself too. He closes up about how he transformed his body from skinny kid to the man you see now, and hot sex in a car next to a police station and how he thinks an officer wanted to join in.
Click Here to Read the Full Interview & Watch the Solo Scene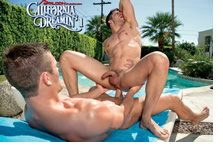 Ryan Rose & Ray Han California Dreamin' 1 Scene Debuts on FalconStudios.com - Chris Ward Responds to Controversy Surrounding Minimizing Appearance of Condoms - Falcon Studios announces the availability of the first scene from California Dreamin' 1. The scene, featuring Exclusive Ryan Rose and Ray Han, is available on Falcon's streaming membership site, FalconStudios.com. In the scene and throughout the two part movie, production and post-production techniques have been used to deliver fans a completely safe sex movie that reduces the appearance of condoms. Read Full Story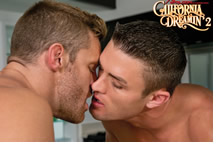 California Dreamin' 2 First New Release on New Falcon & Raging Stallion Store - Tony Dimarco Directs All-Star Cast with a Flip Flop Featuring Ryan Rose & Landon Conrad - Swimwear Provider CA-RIO-CA WEAR Offers Special Promotion for Falcon & Raging Fans - Falcon Studios releases its newest feature, California Dreamin' 2 to coincide with the launch of the new Falcon & Raging Stallion Store. The second of the two-part movie continues the classic Falcon throwback style helmed by Tony Dimarco with the hottest actors to date. The second of the two-part movie continues the classic Falcon throwback style helmed by Tony Dimarco with the hottest actors to date. Exclusives Ryan Rose and Donnie Dean appear with fan favorite all-stars Landon Conrad, Trenton Ducati, Angel Rock, Lance Luciano, Ray Han and the last release ever featuring Liam Magnuson. Read Full Story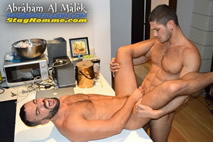 Stag Homme Streets Newest Release - Abraham Al Malek - New Arab Title Star Featured in Three Scenes is an Overnight Sensation - Newcomer Abraham Al Malek is "brutally handsome," with a warm dark complexion, full beard, intriguing nose and a broad, hairy chest. and he appearsin three of the five scenes in the Stag Homme production bearing his name: Abraham Al Malek. His scenes parade not only his hot body and uncut cock, but his sexual versatility: one scene is all oral; in the others, he tops and he bottoms. Six horny Spaniards join him for 105 minutes of ball draining, ass stretching action. Read Full Story






Dylan Roberts & John Magnum from Hot Property
Now Available on Falcon Anthology Series
- The Best of Dylan Roberts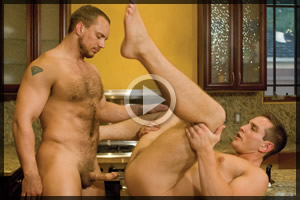 John Magnum takes prospective buyer Dylan Roberts through the house, showcasing its many features including the large kitchen with its top-notch appliances and marble countertops. Dylan likes the house but is showing more interest in the big-muscled realtor. All it takes is a mischievous grin to signal their unspoken desires and two men get busy cooking up some sexual mischief. They kiss and get naked and John soon has Dylan down on the counter so he can feast on his dick. They then switch roles so Dylan can begin fellating John's cock and rimming his ass. John follows up by plowing Dylan's manhole, sliding his dick in and out with furious thrusts. Dylan balances himself on the counters, his ass hanging in mid-air allowing John to continue fucking him harder and deeper. He whimpers and pleads for more as he jerks himself off and cums and John finally pulls out to add his own powerful load to the mix.