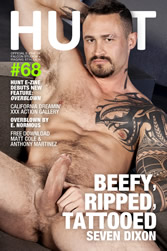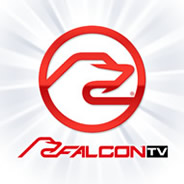 Check the HD listings in your Television Provider's Adult OnDemand Menu for:

Gay: 8Gay Loads HD - The OnDemand version of Hard Friction's Full Release
Starring Shawn Wolfe, Ty Roderick & James Ryder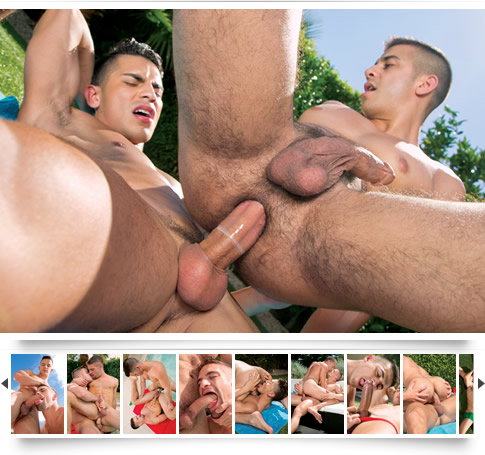 Steamy fantasies come to life when Tony Dimarco's vision of California Dreamin' 1 captures – in classic Falcon fashion - what happens when temperatures soar and stunning studs get rock hard, remove their clothing and turn their poolside sexual desires into reality. The eight visions in the sun of part 1 are tanned and toned; the packages are perfect. Ryan Rose finds tanning impossible when Ray Han flashes his tail that's never seen sun. Ray opens wide at both ends for a multi-position pounding. The hair on Liam Magnuson's pumped pecs reflects sunlight like gold. Magnuson appears here in his final scene shot before he retired. Donnie Dean's touch triggers a sexual chain reaction that doesn't end until Liam and his hard bodies are drenched with sweat and spooge. Adam Wirthmore's ass would give a saint a hardon … and Angel Rock is no saint. Hot underwater camerawork captures every detail of their watery suck-n-fuck. Dreamboat Lance Luciano is California Dreamin' incarnate. Asleep on the lawn, his dreams could never be as hot as Ray Diaz, whose lusty intentions are welcome. Ray is more than turned on by Lance's finger in his hole, but once Lance's cock is lodged tightly in Ray's ass, they go on a fuck journey that leads to a dream ending. You don't have to dream: Tony Dimarco and the stunning cast of California Dreamin' 1 deliver chapter and verse in an evocation of primal heat evoked by perfect bodies in the sun. Pass the sun screen and the lube.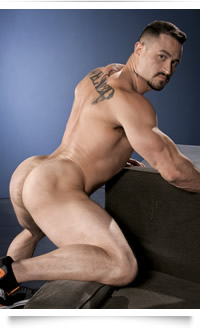 Seven Dixon, the recently introduced new Raging Stallion Exclusive, touts distinctive tattoos and a beefy, ripped body, while delivering an edge that personifies the Raging Stallion brand and look. This hunky stud has an unstoppable ass, a sizeable endowment and striking good looks, and he performs with intensity and high energy. He's a versatile, primarily bottom performer, who has been modeling for well-known erotic photographers while he rises as a gay porn star. He's high energy, and he loves showing off his huge guns, sculpted torso, powerful legs and ruggedly handsome face that is bookended with unique, number seven tattoos on each side of his neck. Dixon was introduced to the world of gay porn fans in the Raging Stallion blockbuster, Open Road, Part 1 and now he can be seen in Hard Friction's newest, Man Power. Next up is the early March release, Into Darkness from Monster Bang, and February will find him in the studio again shooting an upcoming Monster Bang feature.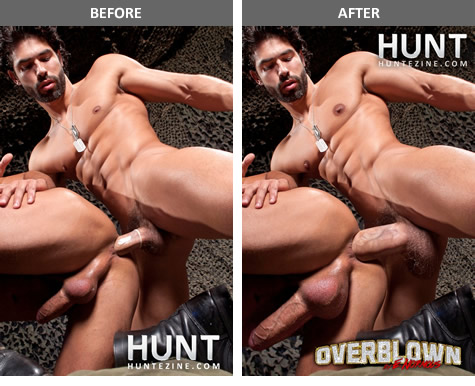 HUNT eZine Debuts New Feature: Overblown - Exciting New Galleries Will Showcase Fantasy Works by Graphic Artist E. Normous
HUNT eZine has launched a new feature entitled Overblown, which will feature classic Raging Stallion and Falcon images transformed by the artistic vision of in-house graphic artist E. Normous. The first set of remarkable images now available on HUNTeZine.com showcases the excellent photography of Kent Taylor from Raging Stallion and Fetish Force films pushed to Overblown limits by E. Normous, the lead photo editor and photo retoucher at the studio for over five years. The new feature was inspired by the over-the-top look of Tom of Finland, and is meant to give fans an ultimate enlarged fantasy world filled with Falcon and Raging Stallion men.



Hot Memebership Site Scenes Available Now!






HUNT Readers,
A couple of very important announcements to start off with.
Please pay close attention to you email inbox next week for information about a huge development at Falcon & Raging Stallion Studios. We have a sneaking suspicion that you're going to be very excited about this NEW way for you to find your favorite movies and scenes from our studios.
Also, today is your very last chance to complete the 2013 HUNT Reader Survey. If you haven't done the survey yet, you must complete the 3rd Annual, 2013 HUNT Reader Survey before midnight PST tonight for your chance to win hot porn prizes. Please click on the link and take 3-7 minutes to complete the survey and you'll be entered to win up to 10 DVDs of your choice. Only one entry per person, so please do not attempt to take the survey multiple times (the site won't let you start the survey again if you've already taken it).
We're excited to present you with a brand, spanking new regular feature that is making it's debut in this issue: Overblown. Check out the Breaking News item above to learn more about the extreme fantasy vision of our veteran photo editor/retoucher E. Normous. For the premier of Overblown, he's taken the spectacular photography by Kent Taylor and pushed it to Overblown limits, giving models wildy bulging muscles, huge round erect nipples and gargantuan cocks. Inspired by the likes of Tom of Finland, E. Normous will be offering up ongoing, larger-than-life visions in future issues of HUNT and on HUNTeZine.com.
Everybody's talking about California Dreamin' 1 and we've put together a dreamy Free Action Gallery for you to check out the hottest images from the newest Falcon release.
HUNT coverboy and most recently signed exclusive, Seven Dixon is in the Model Spotlight. Check out his tasty gallery and learn about his upcoming projects there. His second movie, Hard Friction's Man Power, premiered today. The Studio News section is where to go to find out more information about Man Power and the 30th Fetish Force release, Warehouse Kinks.
One of this week's new releases featuring the finest scenes of strikingly handsome Matt Cole, The Matt Cole Anthology is the source for this issue's Free Scene Download. Scroll down to find the link to download the smokin' hot scene featuring Matt Cole & Anthony Martinez. The flip flop scene originally appeared in Bedroom Eyes.
Don't forget about the new item featuring the newest offerings from FalconTV in the left hand column of every issue. The newest HD offering on FalconTV is "Gay: 8Gay Loads HD" the OnDemand version of Hard Friction's Full Release starring Shawn Wolfe. Visit www.FalconTV.com to learn more about how to access our content on your television.
If you're in the market for great savings on Raging Stallion & Monster Bang DVDs, the Super Sale banner below saves you 50% of select titles from the rough and rugged studios. Click on the sale banner below or click here to get in on the action.
Don't miss a thing,
The HUNT Staff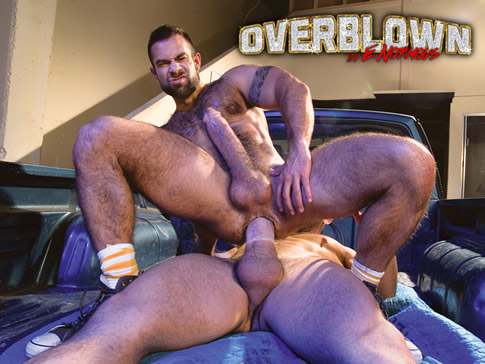 Overblown by E. Normous - Gallery #1
WARNING: Objects in These Images are
Larger than Life
Enter the Overblown world of E. Normous, veteran Falcon and Raging Stallion Photo Editor and Retoucher who, in this debut gallery, has morphed some of the hottest Raging Stallion images taken by Kent Taylor to the extreme. In this ultimate enlarged fantasyland filled with the hottest men on the planet, E. Normous has pushed the limits created works of super-sized erotic art. He's given these studs the physique of Gods – displaying hyper masculinity, wildly bulging muscles, big round erect nipples and out of control sexuality. And, of course, the all have rock-hard, GIGANTIC cocks that are often stretching tight holes to the limit! Welcome to E. Normous' make-believe world where everything is Overblown.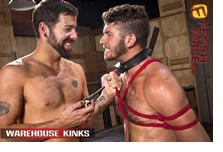 Fetish Force Celebrates 30th Feature: Warehouse Kinks - Exclusives Boomer Banks & Jimmy Fanz Star and Tony Buff Directs & Performs - Fetish Force, the kink line of San Francisco-based, award-winning all-male erotica producer Raging Stallion, released its 30th full-length feature, Warehouse Kinks. Tony's Buff's kinky exploration of sex outside the box, Warehouse Kinks, features sock and foot worship, cock sucking, nipple play, sex in bondage, breath play, rimming, spitting, throat fucking, face sitting, electro, CBT and, as always, harcore sex. Read Full Story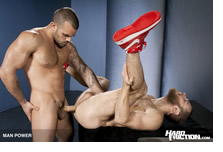 Hard Friction Delivers Man Power - Steve Cruz directs Exclusives Shawn Wolfe and Seven Dixon in Powerful Release - Hard Friction's latest release, Man Power, serves up a fuck fest that's all about how to pleasure a man. And to pleasure a man you have to understand more than sensation: sucking his huge cock the right way or opening your tight juicy hole for him. Good technique is half the battle. Hot sex between men is also an exchange of power, Man Power. Starring Exclusives Shawn Wolfe and Seven Dixon, and featuring some of the biggest names in gay porn including Landon Conrad, Damien Crosse, Jimmy Durano, Adam Ramzi, Tyson Tyler and Sam Barclay, Director Steve Cruz assembled an all-star cast. Read Full Story






Matt Cole & Anthony from Bedroom Eyes
Now Available on The Matt Cole Anthology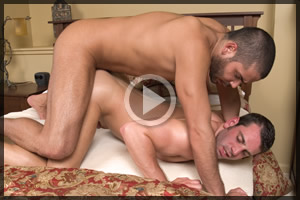 Open on a balcony with Matt Cole and Anthony Martinez in silhouette, the afternoon sunlight brightly lighting the skyscrapers of the city. Matt Cole may be one of the best looking men alive! Anthony Martinez is just as hot, but he also has a huge, uncut, massively thick tool between his legs. Next you expect to see the oral part of the scene, but no. Skip all that and jump straight to rimming. Anthony really eats out Matt's prefect hole–watch it wink aggressively every time Anthony pulls off–almost like it is talking to him, saying "don't stop!" But more intrusive things are on the menu, so the rimming does eventually stop, replaced by…Matt Cole fucking Anthony! But wait a minute! We thought Matt was our bottom boy! Well, after you see him fuck with his rock hard rod you will never ask that question again! It's a great fuck, lots of energy and stunning vistas of Matt's beautiful body. Suddenly, Matt is thrown to the bottom position as Anthony drills his thick cock into Matt's hole! Matt goes crazy and the fucking really takes off. You will not believe it when you see Matt's hole hang open as Anthony's thick tool draws out! The fucking gets faster, as these two muscle studs lose control. Soon it is all about the cum shot - and Anthony gives us a huge one, leaving Matt, cock still hard, lying on the bed…