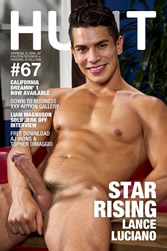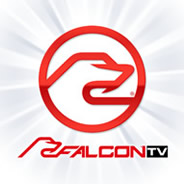 Check the HD listings in your Television Provider's Adult OnDemand Menu for:

10" F'fest or 10" Poolside F'fest - The OnDemand version of Flacon's Sun Kissed
Starring Padding O'Brian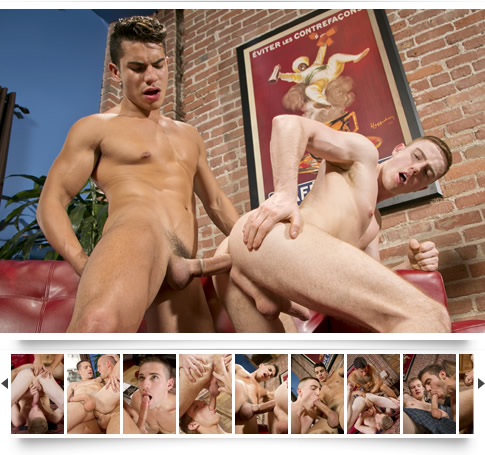 When director Andrew Rosen calls "Action!," his men get Down to Business. In these transactions, a raging hard on is legal tender and the tax is paid in cum rather than in currency and power is the name of the game. Tall, tan and trim dreamboat Lance Luciano has sexual designs on JP Dubois - the young man from the UK. Clothes fall fast as they negotiate the sexual terrain, which includes tons of foreskin, double docking, fingering and fucking. Liam Harkmoore offers added value to his tricks: he can suck himself. The outspread wings inked across Joey Rico's pecs take flight as he rushes to sink his cock into Liam's upturned ass. Mark Gabriel and Sam Northman leave the air pungent with sweat and pheromones. Mark is tall, blond and smooth; Sam is shorter, more muscular with darker skin and hairy legs and buns. Bobby Clark stops waiter Dylan Knight in his tracks with a tractor-beam gaze and a huge bulge in his pants. Bobby is the pro and Dylan is the hugely hung novice who is schooled in how to suck, rim and bottom. Dylan's cum shot could put an eye out. Time is money, and when these studs get Down to Business, you'll agree that once every cock is sucked, every crack is licked and every hole is plowed, these young studs — and probably the viewers — have been well spent.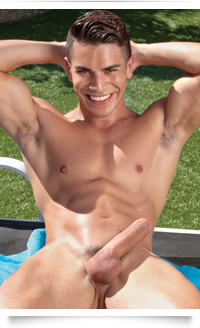 Latin lover, Lance Luciano is a rising star. He has recently become a heavily featured model in Falcon and Guys Like Us features and when you see his performances you'll know why. His smooth olive skin, defined torso and abs, fashion model face with piercing eyes and full lips, firm toned ass and exceptional endowment are just a few of the reasons. The main reason is because he's a dynamic, exciting performer who knows how to use all those remarkable assets with passion to bring the hottest sexual moments to life. He began his Falcon journey in the 2013 Blockbuster, Bucks County 1, Into the Wild; then, he graced the cover of Falcon's Plays Together. Now, he's featured on another cover for the newest Guys Like Us release, Down to Business. Plus, he can be seen in the next two Falcon releases, California Dreamin' 1, available now, and California Dreamin' 2 which arrives on shelves next month. Keep you eye on this stud, he could be the next superstar.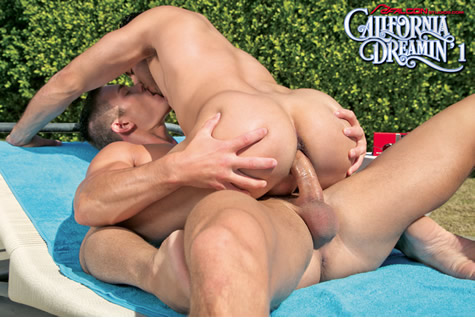 California Dreamin' 1 Now Available - Tony Dimarco's Modern Take on Classic Retro Falcon Poolside Action Experiments with Technology and Innovation to Make the Release Appear Pre-Condom
Falcon Studios announces the availability of its newest title, California Dreamin' 1. As the original Falcon productions were shot in the pre-condom era, Dimarco and the Falcon post-production team have used technology to deliver fans a completely safe sex movie that mostly appears to be a bareback release. The goal of the experiment was to provide the pre-condom fantasy and remain true to the safe sex philosophy of the studios focused on protecting the health of the models.



Hot Memebership Site Scenes Available Now!






HUNT Readers,
Thank you to everyone who has completed the 2013 HUNT Reader Survey. If you haven't done the survey yet, you only have two weeks left for a chance to win hot porn prizes by providing your feedback in the 3rd Annual, 2013 HUNT Reader Survey. Please click on the link and take 3-7 minutes to complete the survey and you'll be entered to win up to 10 DVDs of your choice.
In Breaking News this issue, learn more about the new Falcon release, California Dreamin' 1, which is now available for pre-order. We're always looking to innovate and provide you with the hottest content. Check out this post to find out how we've used technology to experiment with making California Dreamin' 1 appear to be a pre-condorm film, achieving Tony Dimarco's throwback to Falcon Poolside Classics. Additionally, Issue 67's Special Feature is an ultra-hot jerk off solo interview with none other than the now-retired, Liam Magnuson. California Dreamin' was the last gay erotica project that Liam shot. Check out the poolside interview and find out how recounting one of his first lovers gets him hot and horned.
In honor of hot Falcon poolside action, this issue's Free Scene Download is AJ Irons and Topher DiMaggio from Dripping Wet 3. The scene can also be found on the new release, The Best of Topher DiMaggio. We know it's been a while since we released a Falcon Anthology, but this is hottest in some time: a collection of Topher's finest Falcon scenes.
We've added a new section to HUNT. You'll find the newest offerings from FalconTV in a special section found in the left hand column of every issue. The newest HD offering on FalconTV is 10" Flesh the OnDemand version of Falcon's Sun Kissed starring Paddy O'Brian. Visit www.FalconTV.com to learn more about how to access our content on your television.
There's more about the newest FalconTV HD offering in Studio News, where you will also find more about today's Guys Like Us release, Down To Business. The hot release is the source of this week's Free Action Gallery, and it stars Bobby Clark, JP Dubois and Lance Luciano, the stunning cover boy who can also be found in the Model Spotlight.
Before we sign off, we want to clue you in to great deals on DVD featuring huge cocks. The Semi-Annual Big Dick Sale is on and you can save 60% on these massive endowments. Click on the sale banner below or click here to get in on the action.
Happy Hunting,
The HUNT Staff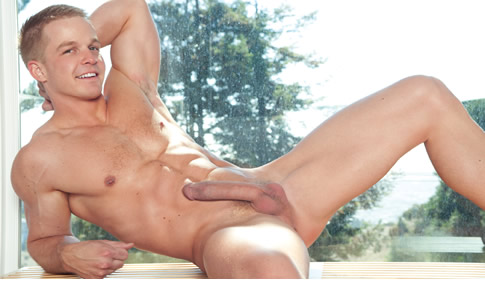 Liam Magnuson Solo Jerk Off Interview
From the set and location of his last scenes as a porn model, Liam Magnuson shot this interview especially for the readers of HUNT. Learn about how he got into porn, his hottest scene ever, how he was excited to finally get to work with Donnie Dean after meeting him on the set of Bucks County and some behind the scenes info about California Dreamin' 1 & 2. But that's not all, keep watching to see Liam get hard, stroke his meat and bust his nut while telling you about his hot sexual experiments with one of his first lovers. This goes down as one of the best Solo Jerk Off Interviews of all time. We'll miss seeing Liam in the gay porn world, but he sure left us with a super hot solo/interview and two amazing scenes in California Dreamin', his final project. You can see the last scene he shot before his retirement in California Dreamin' 1, available now, and the first scene he shot for the project with Ray Han, in California Dreamin' 2, available on February 10.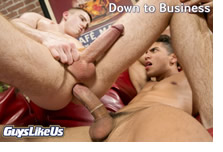 Down to Business from Guys Like Us Debuts - Andrew Rosen Directs Stars Lance Luciano, JP Dubois, Bobby Clark & More - The new line Guys Like Us announce the release of its newest feature, Down to Business. The focus of the Guys Like Us line of DVDs is focused on the hottest sex between super-hot young studs, and Down to Business delivers. Award-winning director Andrew Rosen assembles a striking cast who all know how to get Down to Business. Read Full Story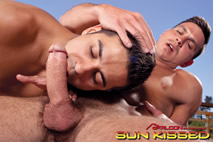 FalconTV Going Strong - New HD Title Added - 10" Ffest (Falcon's Sun Kissed) - The launch of FalconTV to over 30 million television customers has been wildly successful. Delivering the award winning content of gay, adult mega-producers Falcon Studios, Raging Stallion Studios and Naked Sword Originals, FalconTV is one of the top providers of OnDemand gay adult erotica. Read Full Story






AJ Iron & Topher DiMaggio from Dripping Wet 3
Now Available on The Best of Topher DiMaggio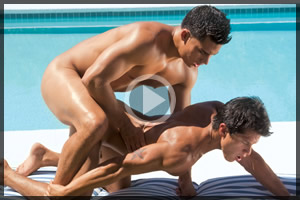 Topher DiMaggio drifts in a pool of clear blue water, lost in dreamland, as AJ Irons watches from the side. AJ is so smitten with the sexy seagod that he dives in and swims towards the rubber float. He immediately pays homage by wrapping his lips around Topher's thunderstick and sucks away. Then the two trade roles with AJ relaxing poolside and exposing his cock for Topher to guzzle down. Topher's got AJ crooning and sighing as he plays with his pal's bunghole, sliding a couple of fingers inside to prime it for action. AJ declares his hole is hungry and crying to be fed and Topher complies, slamming his cock in hard and fast. After a steady series of thrusts inside AJ's wrinkled crinkly, both guys step back and stroke themselves off to finally climax and cum.