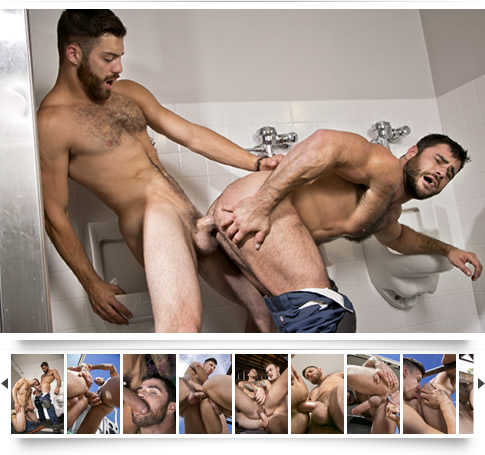 Take an uninhibited journey with Raging Stallion on the back roads of America. Sexy, rough and rugged men let loose and ride free on the Open Road, experiencing intense sexual encounters and hooking up whenever and wherever it happens. Hookups are on the horizon, and directors Steve Cruz and Bruno Bond drive the wild and unruly action in Open Road, Part 2. A thumb and a highway are all it takes to experience intense, in-the-moment sexual encounters. Mike Dozer cruises back roads in his van, looking for guys like Boomer Banks, who will exchange a sexual ride for a ride on down the road. Christian Wilde's is frustrated while he is fixing his broken down muscle car, but he takes his mind off it by stroking his hot meat. Then, he finds unsuspecting Jimmy Fanz and takes out his frustrations on Jimmy's ass. Tommy Defendi makes a pit stop at a public restroom that escalates into sex with plumber Mike Dozer. Mike loves getting his deep hole snaked by Tommy's massive tool. The Open Road ends in a vineyard, where Donnie Dean helps lost Esteban Del Toro find his way in exchange for an intense tailgate fuck on Donnie's truck. Even though Esteban was lost on this back road, he sure know his way around Donnie's willing body and ends his journey deep in Donnie's hole. Once you're on the Open Road anything can happen, and in Part 2, it takes these studs to some of the most aggressive, exhilarating encounters that you've ever seen.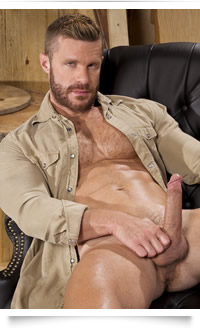 Multiple Award-Winning Superstar Landon Conrad was the first ever Falcon Studios' Man of The Year, and he's more than worthy of all the accolades he's received in his expansive gay porn career. He's one of the great stars of the industry, and he's grown into his extreme popularity. This blond-haired, blue-eyed, strikingly handsome man is one of the sexiest men on the planet. With a cock that's won trophies of its own, a tight muscled body and a charismatic face, Landon has been featured in hundreds of magazines, blogs and on countless box covers. Landon ranks as one of the most popular Falcon Studios stars ever, and he's recently let his facial and chest hair grow out, making him just right for Raging Stallion releases. With over 40 scenes for Falcon and Raging Stallion in the past four years, Landon also has more scenes available than any actively filming model at our studios. He appears in the new Monster Bang release, Size Matters, and he has exceptional perfomances in the following upcoming releases: Falcon's California Dreamin' 2 as well as upcoming Hard Friction titles.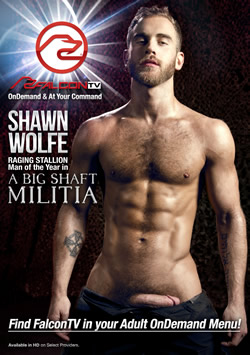 FalconTV Now Available to Nearly 30 Million Households - Studio Launches "FalconTV: OnDemand & At Your Command" Campaign
Gay, adult mega-producers Falcon Studios, Raging Stallion Studios and Naked Sword Originals have joined forces with some of the country's major TV providers to offer award-winning, high-quality gay video to their adult offerings under the name FalconTV. In an effort to promote the content's availability to nearly 30 million households, the studios have launched the "FalconTV: On Demand & At Your Command" campaign urging TV customers who are fans of gay adult video to check their providers' Adult On Demand listings for FalconTV.



3rd Annual HUNT Reader Survey Live - Fans Who Complete the Survey Get Special Offer & Eligible for Porn Prizes
HUNT eZine announced the launch of its 3rd Annual Reader Survey today, available by clicking here. Every year, HUNT, Falcon Studios and Raging Stallion Studios invite gay porn fans everywhere to provide feedback that helps the studios make important decisions about content and how it gets delivered, plus questions about promotions and emails. The eZine offers every fan who responds to the survey a special offer and a chance to win one of seven great prizes…



Hot Memebership Site Scenes Available Now!






HUNT Readers,
Thank you for your patience as we adjusted our schedule to give the HUNT elves some time off for the holidays, and while we prepared to deliver two major announcements this week.
As you can see in the Breaking News section, today we've launched FalconTV in 30 million households, and we're starting our FalconTV: OnDemand & At Your Command campaign to raise awareness of this new option for you to watch our award-winning content. Visit www.FalconTV.com to learn more. We're also presenting you with a chance to win hot porn prizes by providing your feedback in the 3rd Annual, 2013 HUNT Reader Survey. Please click on the link and take 3-7 minutes to complete the survey and you'll be entered to win.
As this will be the final issue of the year, the HUNT crew would like to extend our very best to you and yours this Christmas and New Year's. May your hearts be filled with joy and love and may you have a happy, healthy and prosperous 2014! We've got all kinds of holiday gifts to give you as a symbol of our thanks for being such a great fan!
The first thing out of Santa's bag of goodies is a Free Scene Download, which comes from the Raging Stallion hit Unloaded. It's the scene featuring Cameron Adams and Former Raging Man of the Year, Austin Wilde. It's also now available on the new release, The Austin Wilde Anthology. Santa's got more in store with another installment of Core with Race Cooper in the Special Feature section. Race brings Sexy Back, with exercised to tone and firm your back.
Take a look under the HUNT tree and you'll find a Free Action Gallery featuring hot action shots from the Raging Stallion 2013 Blockbuster, Open Road, Part 2. You'll also find the Model Spotlight Gallery which has one of the biggest names in all of gay porn, Landon Conrad. He appears in the newest Monster Bang release, Size Matters, which is featured in the Studio News area along with a story about the newest Stag Homme release, Surrender to Deviance.
The sexy Europeans of Stag Homme are hung, just like the stockings on the HUNT mantle where you'll find our next offering in the form of great deals on almost every 2013 release, as well as Collector's Editions and Packs. Click here to save $10 on every new release and get huge discounts on packs and collector's editions in our Annual Holiday Sale. Plus, 2014 Calendars are on sale for only $4.97 each – Save 67% by clicking here.
While Santa was here he asked us what we wanted for Chistmas, and we told him the only thing on our list was some votes for Gay Site of the Year in the 2014 XBIZ Awards. It's the first time the prestigious awards are opening up voting to the fans in certain categories and RagingStallion.com is up for the award. Please click here to vote, and encourage share your votes on social media.
Merry Christmas,
The HUNT Staff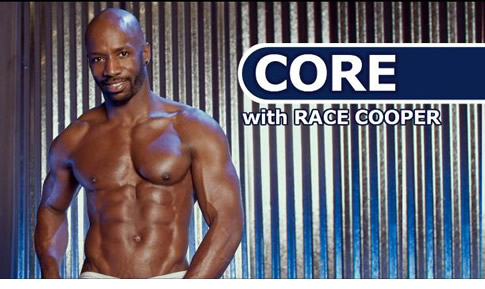 CORE with Race Cooper: Bringing Sexy Back
Core with Race Cooper is bringing Sexy Back in this installment with the fourth segment focused on building back muscles. Race has one of the most amazing bodies in all of porn, and now, he's giving his killer physique secrets away exclusively to HUNT readers in a series of HUNT Special Features entitled Core with Race Cooper. In these five segments, Race takes you through a series of Core exercises that focus on building specific body parts. "I love my fans, and I want to share these great tips with them to help them look better and feel better. These exercises are effective, and you can do them anywhere." states Cooper about this HUNT Special Feature Series.
Click Here to check out some hot pics of Race's Back and Stream or Downlod Core with Race Cooper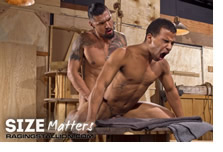 Size matters Hits the Streets - Bruno Bond Directs the New Feature from Raging Stallion's Monster Bang Brand Starring Sizable Exclusives Boomer Banks & Tommy Defendi - Raging Stallion, San Francisco-based, award-winning all-male erotica producer unveiled its newest release, Size Matters, from its popular Monster Bang line. This Monster Bang release, focusing on "Big Dicks and the Holes They Fill," puts four, hot significantly smaller bottoms on notice to wrangle their mighty, hung top scene partners. Read Full Story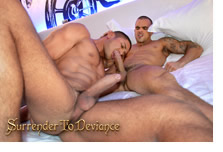 Stag Homme Encourages You to 'Surrender to Deviance' - Newest Release Directed by Damien Crosse & Francesco D'Macho Introduces Hot Newcomer Dato Foland - Warning: This movie will overcome you, it will seduce you and you will find yourself quickly subscribing to its mantra: Surrender to Deviance. Stag Homme creators Damien Crosse and Francesco D'Macho claim to have the raunchiest reality porn, and they step up to put their money — and their cocks — where their mouths are. Read Full Story






Austin Wilde & Cameron Adams from Unloaded
Now Available on The Austin Wilde Antholoy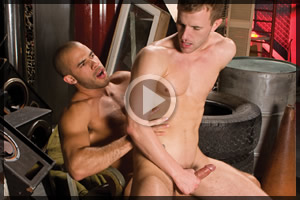 The sun is setting and the yard workers have gone home for the weekend. Sexy Austin Wilde and his partner in crime, adorable Cameron Adams, carry a large bodybag in to the yard to unload. These guys are up to no good. Austin ripped his pants on the way in, exposing his low hanging meat. It is just is too much for Cameron to resist. The two are soon passionately sucking each other's cocks. Austin tongues Cameron's sweet round ass and pink pucker making it ready for an energetic cock-pounding fuck. Cameron sprays a crazy large load straight up in the air and Austin matches him with an equally impressive spray of cum.