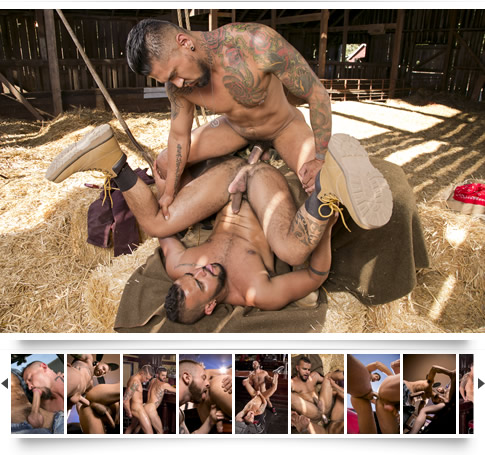 Take an uninhibited journey with Raging Stallion on the back roads of America. Sexy, rough and rugged men let loose and ride free on the Open Road, experiencing intense sexual encounters and hooking up whenever and wherever it happens. A thumb and a highway are all it takes, and when you arrive you know you're gonna get some. Open Road, Part 1, directed by dynamic duo Steve Cruz and Bruno Bond, offers triple-X American man sex featuring blue collar studs doing it dirty. Lots of liquids have been spilled on Aleks Buldocek's bar, but none like the spills coming from the guys who work behind the counter. Employees James Ryder and Marcus Isaacs dress to reveal — one, a smooth ass; the other, hairy pecs — because it gets more tips. They wind up their sexual tension before the bar opens. Aleks hears the noise and joins them. Aleks is alone later, when drifter Adam Ramzi steps off the Open Road to wet his whistle. Adam's holes need to be filled and Aleks is the big, burly man for the job. Adam's back on the road, and he hitches a ride from Seven Dixon, a studly man with 7's tattooed on his neck and biceps like bowling balls driving a car that has as much muscle as he has. Adam feels the need to top this time, and delivers on all cylinders. Boomer Banks is exhausted from lugging around his big sack on the road. He is carrying an endowment that makes you doubt your eyes. While taking a load off and napping in a barn, Boomer is discovered by farmer Tony Orion, who wants to touch, suck and then offer his ass to experience Boomer's horse-hung power. Once you're on the Open Road anything can happen, and in Part 1, the road takes these studs to some of the most aggressive, exhilarating encounters that you've ever seen.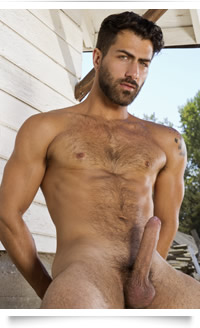 Adam Ramzi is the true definition of tall, dark and handsome with olive skin, a roguish gaze, a handsome face, and an athletic frame. Versatile in look and in position, Adam packs heat in the front with a substantial cock…and in the back with a round, firm ass. All of this and he's got a sexy dusting of hair in all the right places. He's undeniably one of the hottest performers to appear in any gay porn during 2013. He first hit the scene when he was introduced to male erotica fans in the Monster Bang release, Hole 2. Since then he's only been shooting with Raging Stallion, appearing in the thriller, Timberwolves; the recent Hard Friction release, Tight; and, now in the biggest Raging Stallion relase of the year, Part 1 of the Blockbuster, Open Road. And, there's more in store, Adam is set to shoot an upcoming Hard Friction release and another big Raging Stallion two-parter. He also sat down with us for a quick interview which appears with his Model Spotlight Gallery and Videography.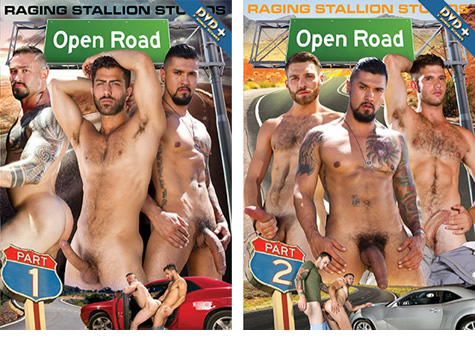 Raging Stallion Studios 2013 Blockbuster Movie Event: Open Road Now Available - Award Winner Steve Cruz & Bruno Bond Direct Rugged All-Star Cast
Distinctive, award-winning, gay adult entertainment producer Raging Stallion introduces its 2013 two-part blockbuster release, Open Road. Steve Cruz and Bruno Bond drive the wild and unruly action in Open Road, Parts 1 & 2 offering triple-X American man sex featuring blue collar studs doing it dirty. The all-star cast introduces new Exclusive Seven Dixon as well as Exclusives Boomer Banks, Tommy Defendi, Jimmy Fanz and Donnie Dean, and it features fan favorites Adam Ramzi, Christian Wilde, Mike Dozer, James Ryder, Marcus Isaacs, Aleks Buldocek and Tony Orion.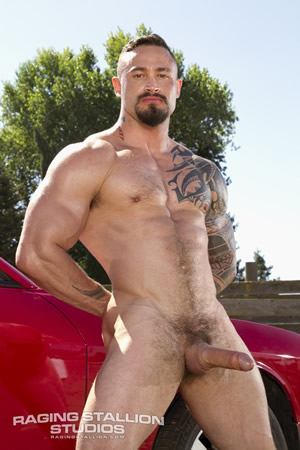 Introducing Seven Dixon the Newest Raging Stallion Exclusive - New Star Debuts in Studios' Fall Blockbuster, Open Road
Raging Stallion Studios announced that it has reached an agreement with Seven Dixon to appear exclusively in releases from the studio. The handsome, muscled and inked emerging star will make his porn debut in the studios' Fall blockbuster, Open Road, which will be released on November 27. Dixon, based out of Miami, Florida, is openly gay and was introduced to the industry through his budding mainstream modeling career.



Hot Memebership Site Scenes Available Now!






HUNT Readers,
As the Holiday Season officially begins with Hanukah and American Thanksgiving, HUNT wants to wish you all the best during this special time of year. We also want to give thanks to you for being a loyal reader by giving you some of the hottest gay porn around, introduce you to the Raging Stallion 2013 Blockbuster and the hot new Raging Stallion Exclusive and offer you the best deals of the year on all of our products with our Black Friday and Cyber Week Specials.
If you're looking for great deals on the hottest gay adult video on the planet, we've got a gift for you! From now until the end of the year, every DVD, calendar, book and toy we have in stock will be on sale, guaranteed. We're getting the Black Friday and Cyber Week party started right now with the Pre-Black Friday Event (100 amazing DVDS for only $12.97 each) and our Black Friday Blowout (150 great titles for only $9.97 each). Act now on the Pre-Black Friday Event, because it ends tomorrow!
As we promised last issue, this is a jam-packed HUNT and we start with exciting Breaking News items. Raging Stallion's 2013 Blockbuster is now available. Steve Cruz and Bruno Bond drive the wild and unruly action in Open Road, Parts 1 & 2 offering triple-X American man sex featuring blue collar studs doing it dirty. One of those rugged studs is Seven Dixon, who – as you will see in the other Breaking News item – has become the newest Raging Stallion Exclusive.
Another star of Open Road can be found in the Model Spotlight. The tasty, rogue Adam Ramzi has appeared only in Raging Stallion releases since he started his budding gay adult career earlier this year and he's a stunning example of a Raging Stallion man. Check out his gallery and videography, plus a special interview, to get your fill of this versatile performer. He has two scenes in Open Road, Part 1. One with stud Aleks Buldocek and one with Seven Dixon, who shares a intense, engine-revving scene with Adam. Check out shots from these and the release's other scenes in this week's Free Action Gallery.
And if that wasn't enough, Open Raod goodness, we're giving you an jaw dropping Special Feature. A steamy, wet video interview and solo featuring another Exclusive star from Open Road: Donnie Dean. Watch as he cleans up in the shower, answers questions about his hottest scenes, and then gets dirty with a thick dildo. Out of control!
Sometimes big things do come in big packages, and for our final gift we're giving you a HUMONGOUS one. It's a massive Free Scene Download appropriately from the 2011 release He's Got a Big Package starring Tony Buff and his crazy big meat with Cavin Knight. You can also find this scene on the New Release Humongous Cocks 22.
We're also giving congratulations. Falcon Studios, Raging Stallion Studios, RagingStallion.com, Tony Dimarco and his Raging Stallion Blockbuster, The Woods, Parts 1 & 2 have all been nominated for the upcoming 2014 XBIZ Awards. Learn more in Studios News, where you'll also find details about Tight, the new Hard Friction.
Finally, on the subject of Awards, the 2014 Cybersocket Awards Voting is closing on December 8th and we'd like to ask you to take a moment to vote for your favorite Falcon & Raging Stallion movies, sites and stars. Cybersocket Awards Voting Ballot.
Seasons Best,
The HUNT Staff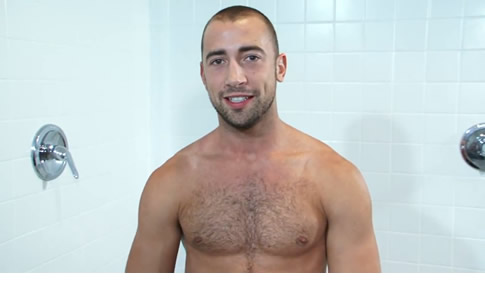 Donnie Dean Cleans Up & Gets Dirty in Interview Solo
In this exclusive Donnie Dean interview and Solo in the showers for the set of Open Road, he cleans himself up and gets dirty with a dildo as he talks about the scenes he's shot for Falcon & Raging Stallion. He's the only Exclusive stud who appears in both Raging Stallion & Falcon's Fall Blockbuster Movies, Open Road and Bucks County. In his shower interview he recounts everything that turned him on during his first hot Hard Friction scene with Jimmy Durano from Throb, his amazing outdoor scenes with Connor Kline and Woody Fox that appear in Bucks County and he wraps it up with his newest, Open Road, Part 2, in which he appears in a hardcore truck bed scene with Esteban Del Toro and a spectacular solo with hugely hung Tommy Defendi. As he gets more excited recounting these experiences he gets more and more intimate with a sizable dildo that he consumes with his hole until he edges his way to orgasm.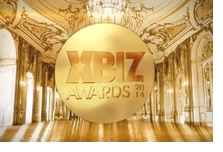 Raging Stallion & Falcon Score XBIZ Award Nominations - The adult entertainment industry's biggest awards event, the 12th Annual 2014 XBIZ Awards, have honored Raging Stallion Studios and Falcon Studios with five nominations. Included in these prestigious accolades are separate Gay Studio of the Year nominations for Raging Stallion Studios and Falcon Studios, a nomination for Gay Site of the Year, a nod for Gay Movie of the Year and one for Gay Director of the Year. Read Full Story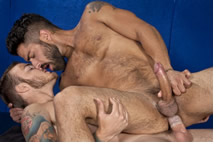 Tight from Hard Friction Now Available - Directors Steve Cruz and Bruno Bond serve you horned up muscled men, hungry for the taste of skin burning with physical lust… testosterone dripping from every pore. Hard Friction once again brings you the pounding, ass-dominating action you're dying to see from men who like their holes as Tight as they keep their physiques. Read Full Story






Tony Buff & Cavin Knight from He's Got a Big Package
Now Available on Humongous Cocks 22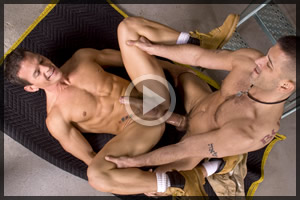 Tony Buff is working on some lights when Cavin Knight comes by to see if he can help. Asking Cavin to hand him his gloves, Tony exposes his thick, massive cock, while Cavin's not looking. Cavin rises up with Tony's gloves only to have a huge, stiff package staring him in the face. "Go for it!" urges Tony, and Cavin can't resist gulping down immediately. Sliding his throat around Tony's tool, Cavin gets rock hard and Tony knows it's time to give Cavin a rim job he will never forget, probing deep with his tongue, spitting on the tight hole and spreading it wide and ready for the package that Cavin is about to receive in his loading dock. Cavin's jockstrap is framing his huge ass mounds and Tony wants to deliver bringing him down off the step ladder and having him hold on tight. Alternating between Cavin rocking back on Tony's wide load and Tony driving it home, the two of them please each other totally. Laying back to let Cavin ride, Tony enjoys the tight hole wrapped around his cock until he wants to drive and he wrestles Cavin around to the floor on his back, spreads his legs and starts slamming with rhythmic strokes, spreading Cavin wider and wider until he unleashes a shower of cum on his chest and abs, and Tony shoots a bullets of cum that hit Cavin in the face.