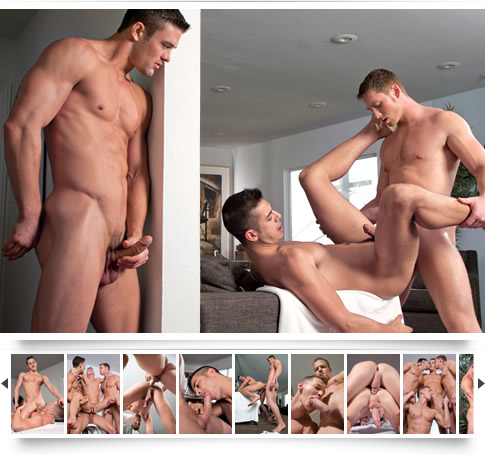 Plays Together is wild romp of sex and lust that begins with an amorous duo, continues to a coupling with a voyeur, swells to a three way and erupts in a fourgy with geysers of cum. You won't see a shred of clothing anywhere, and these young naked studs will have you dripping. Director Bruno Bond adds a new hit to his list of gay erotica achievements with Plays Together, the first Falcon release featuring a group scene in some time. This one will make you crave more. Ryan Rose and Lance Luciano greet the day with a sensuous flip-fuck that shows off their smooth skin and muscly bodies. Ripped masseur Liam Magnuson wants more than his hands on the sculpted body of Darius Ferdynand. Lance Luciano solos as a voyeur, grabbing his cock when Liam and Darius grab his attention. Ryan Rose is unwilling to settle for watching. When he catches Connor Maguire and Ray Diaz mating like ferocious sex bunnies, he steps in to make it a threesome. Connor, Lance, Ryan and Darius show you what amazing group sex is all about, in a fuck-and-suck marathon in which Darius ends up getting double-penetrated. Plays Together is a sizzling example of how hot it is when every move is right. The pacing, the erotic intensity, the light—all flawless. There's not a false move, from the foreplay to the satisfied, cum-drenched finale.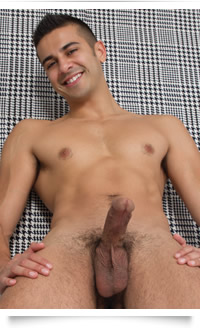 From the moment he became an exclusive with Falcon/Raging Stallion, we all knew there was something special about Ray Diaz. One glance or one fun-loving smile from Ray Diaz and you're hooked. This half-Hispanic, half-Middle Eastern guy with a warm, dark complexion and a fit, athletic body has been a Falcon Exclusive for just over a year. Since he joined the studio as an Exclusive, he's delivered heated performance after heated performance as a super star bottom, with an exceptional, firm ass that leaves men drooling. He's thoroughly enjoyed taking it from some of the hottest men in the world, and he continues to impress. Now with a list of 11 Falcon, Guys Like Us and JOCKS DVDs, he's quickly become a bona fide porn star. His handsome face and youthful sexual energy can be found in the newest Falcon release, Plays Together, and he has two great scenes in the recent Falcon DVD, Alumni, as well as an appearance in He's Got the Moves from Guys Like Us. Next you'll find him in the major Falcon release due out in January, California Dreamin' 1.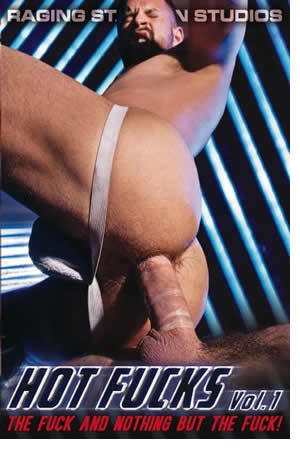 Raging Stallion Debuts New collection Line: Hot Fucks - DVDs Include Only 100% Hot Anal Sex from the Studios' Best Scenes Ever
Raging Stallion Studios today announced the first release of a new line of DVDs focused on "The Fuck, The Hole Fuck and Nothing Butt the Fuck." The line is called Hot Fucks and features only the anal sex portions of the best scenes the studio has ever produced. All foreplay and oral sex has been edited from these great scenes to emphasize solely on (as the box cover states) "Pure, Hardcore, Anal Fucking. No oral and no plots – just 100% dick-in-ass action featuring the finest powerfucking we have ever filmed!"



Hot Memebership Site Scenes Available Now!






HUNT Readers,
As always, thank you for your continued readership of HUNT, your source for gay porn news. We've harvested the best news, content and features from the past week, and we have it all here for you in one stop. Plus, we've picked some great promotions and offers for you, so you can save big on your favorite gay erotica.
Just a quick note, with the U.S. Thanksgiving Holiday on November 28th and HUNT staffers out on the 29th, we'll be sending you the next issue of HUNT on November 27th, and it promises to be a jam packed issue with the release of the Raging Stallion Fall Blockbuster, Open Road.
This week in Breaking News, Raging Stallion debuts a new line of DVDs called, Hot Fucks. Each of these collections features 100% anal sex – "The Fuck-The Hole Fuck-And Nothing Butt the Fuck." Each hot Raging Stallion scene that appears in the new line will be edited to only show intense, blue-collar, Raging Stallion ass-pounding. Get a taste of one of the first scene on the DVD, Carlos Morales & Ivan Andros from Passport to Paradise, which is your Free Scene Download at the bottom of this issue. Download the entire scene for free, and compare it with the edited version in Hot Fucks, Vol. 1.
The Model Spotlight is shining on Exclusive Ray Diaz in this issue. Celebrate over a year of this hot bottoms amazing performances in his Model Spotlight gallery, and find him as well in the Free Action Gallery from the newest Falcon release in which he appears, Plays Together. This new Falcon DVD features voyeurism, group sex and a sensational DP. Learn more about this great feature in Studio News along with information about the newest Monster Bang release, Hung Americans, Part 2.
We hope you've started in-CORE-porating Core with Race Cooper into your workout, and that you're seeing positive results. This issue's Special Feature is another set of workout secrets from Race, giving you practical tips on getting Hot Legs.
And, now, for your hand-picked Featured Promotions, offering a bounty of DVDs and Scenes at money-saving prices. Scroll down or click on these links to find sale banners for the Young Guns Markdowns with most DVDs at $12.47 each – that's 75% off, and the Falcon & Mustang Super Scene Sale that hooks you up with some of the hottest Falcon & Mustang Scene Downloads for only $3.49 each.
Happy Harvesting,
The HUNT Staff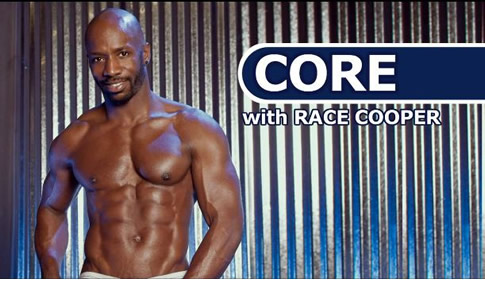 Core with Race Cooper: Hot Legs
Core with Race Cooper is taking it to the lower extremities this time with the third installment focusing on Hot Legs. Race has one of the most amazing bodies in all of porn, and now, he's giving his killer physique secrets away exclusively to HUNT readers in a series of HUNT Special Features entitled Core with Race Cooper. In these five segments, Race takes you through a series of Core exercises that focus on building specific body parts. "I love my fans, and I want to share these great tips with them to help them look better and feel better. These exercises are effective, and you can do them anywhere." states Cooper about this HUNT Special Feature Series.
Click Here to check out some hot pics of Race's Legs and Stream or Downlod Core with Race Cooper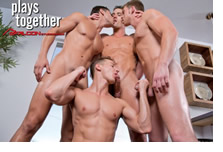 Falcon Releases Plays Together - Bruno Bond Directs Voyeurism & Group Sex Featuring Exclusives Ryan Rose & Ray Diaz - Iconic, gay adult mega producer, Falcon Studios has released its newest full-length movie, Plays Together. Director, Bruno Bond presents a film that is distinctly Falcon featuring a cast of classically handsome men with sculpted bodies. Read Full Story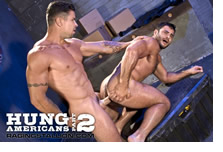 Monster Bang Unveils Hung Americans, Part 2 - Raging Stallion released the newest feature from its popular Monster Bang line, Hung Americans, Part 2, today. This is the second part of the two-part feature from the line that focuses on "Big Dicks and the Holes they Fill," and it delivers more heaping servings of Grade-A, All-American, blue collar, back woods cock. Read Full Story






Carlos Morales & Ivan Andros from Passport to Paradise
Now Available on Hot Fucks, Vol. 1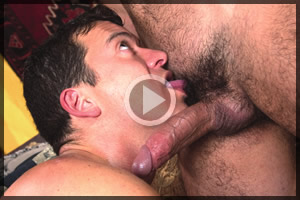 As the scene unfolds, Carlos Morales is topping Ivan Andros--these two world-class studs have never looked better and the pairing is one made in porn heaven. Carlos, usually a bottom, told us that he is actually just as much a top. When he showed us his 10 inch cock, thick as a beer can, Ivan's eyes bulged, and within minutes his ass was straining to take Carlos all the way to the base. Carlos fucked him silly, in some of the most dramatic positions possible. This scene is so well-filmed that you will rewind it over and over again, enjoying the juicy cum shots each and every time.