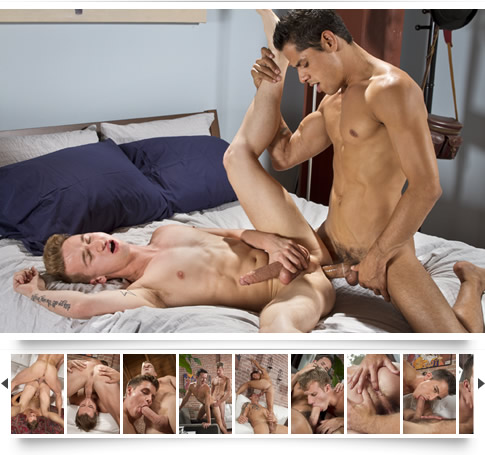 Hot For You is the phrase you can see in the eyes of each of these studs as they look at each other. It's a look that begs a reply, and these young studs with cocks as hard as their ripped muscles are quick to answer with intense action. They're youthful bodies are so horned up that they can't help but share their cocks and asses with each other, and director Andrew Rosen captures the energized, mind-blowing action that plays out. Rosen is an expert at capturing guys at their youthful testosterone peak and translating that sex drive into world-class erotica, and he delivers again with Hot For You. Joey Cooper is undeniably hot for Liam Magnuson, and his eyes and body invite Liam through passionate foreplay that leads to welcoming him deep inside Joey, proving that the right bottom celebrates an expert top. It doesn't take much to show Jace Chambers what Devin Dixon wants. Devin makes Jace's enormous probe disappear at both ends effortlessly, yet with an enthusiasm that shows he wishes there were more. There's no mistake of what happens next after an intense make out session between Isaac Hardy and Jake Parker: an oral exchange not to be missed followed by an earth-shaking fuck. Bobby Hart and Ashton Weber are so hot for each other they trade off top and bottom roles with a ferocious flip fuck that has each guy transformed by giving and receiving. These eight young studs are seriously hot for each other and that's Hot For You!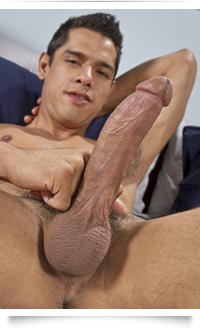 Dark complected, Latin 'Hart' throb, Bobby Hart, is a prime example of young, sexy, versatile man meat. He arrived on the gay porn scene in late 2012 full force and out front, making his Falcon debut in Dripping Wet 4. His athletic body, mocha-colored skin, handsome face and million-dollar smile gets your attention, and his amazing cock and ass seal the deal. Once you're sold, you keep coming back for more after you see his energized action. Bobby came back for more, and has appeared in three major releases. You can find him in the first Guys Like Us DVD, Just For You, and he's featured in the newest release from the new brand, Hot For You, where he delivers another amazing performance.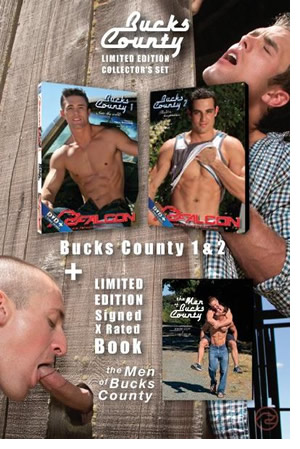 Fall Blockbuster Bucks County is Falcon's Biggest Hit - Limited Edition Collector's Book Nearly Sold out
Falcon Studios announced that its Fall 2013, two-part blockbuster release, Bucks County has shattered all recent retail sales records. The widely acclaimed and favorably reviewed release, directed by Award-Winners Tony Dimarco and Bruno Bond, has become the biggest hit from Falcon in recent years.



Hot Memebership Site Scenes Available Now!






Hey HUNTers!
Hope you had a great Halloween! Did you spot any Timberwolves roaming around? If they didn't find them on the streets, you can find the hot ones getting busy on RagingStallion.com as part of our 1 Year Anniversary Celebration. As we noted in last issue, we're offering 50% off to everyone and special offers on the site to some lucky HUNT readers (keep your eyes on your inbox this weekend), plus everyone who visits today will find three Timberwolves scenes on the site as well as 160 previously unavailable scenes in The Vault.
In Breaking News, Falcon's Fall Blockbuster Bucks County has shattered all recent sales records to be the most popular release in recent years. Thanks for the support, and if you don't have your copy yet, or you were thinking about getting the Limited Edition Collector's Set, check out the Breaking News item now, because there are only a few left at press time.
Fine, Latin lover, Bobby Hart, appears in the Model Spotlight this week. This star is rising, and he appears in the new release from Guys Like Us, Hot For You. That movie is the source of this issue's Free Action Gallery. Check out Bobby and seven other smokin' young studs in sizzling action.
We're serving up more Core with Race Cooper in this issue's Special Feature. Race gives you his secrets for Sexy Arms this round. This is the second in the series of segments where Race gives away his killer physique secrets.
The Spencer Reed Anthology is now available and we're giving you one of the hot scenes from this amazing collection as your Free Scene Download. Watch Spencer Reed get it on with not only one hot guy, but two in this award-winning threeway from Adrenaline, featuring Spencer, Alexsander Frietas and Dominic Pacifico.
And if that wasn't enough, we've got loads of DVDs and scenes on sale in our Featured Promotions. Scroll down or click on these links to find sale banners for the Compilation Clearance with most DVDs at $15.97 each, and the JOCKS Favorites Scene Sale that hooks you up with the most-watched JOCKS Scenes for only $3.49 each.
All the best,
The HUNT Staff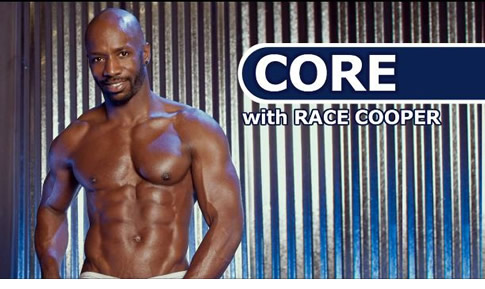 Core with Race Cooper: Sexy Arms
Race Cooper is known for having one of the most amazing bodies in all of porn, and he works hard to keep it that way. Now, he's giving his killer physique secrets away exclusively to HUNT readers in a series of HUNT Special Features entitled Core with Race Cooper. In these five segments, Race takes you through a series of Core exercises that focus on building specific body parts. In the second Core with Race Cooper segment, Race shows you how to grow 'Big Guns' with Sexy Arms. "I love sports and the art of training to achieve one's goals, and this is my way of having fun with it by sharing something I love with my fans!" states Cooper about this HUNT Special Feature Series.
Clicke Here to check out some hot pics of Race's Guns and Stream or Downlod Core with Race Cooper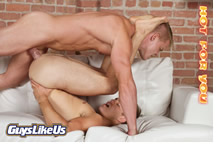 'Hot For You' from Guys Like Us Hits the Streets – Liam Magnuson & Bobby Hart Star – Andrew Rosen Directs - Falcon/Raging Stallion Studios and its new line Guys Like Us announce the release of its newest feature, Hot For You. Guys Like Us is focused on delivering smoking hot young men sharing amazing sex, and Hot For You brings exactly that to fans of male erotica. Directed by award-winner Andrew Rosen, who is an expert at capturing guys at their youthful testosterone peak and translating that sex drive into world-class erotica. Read Full Story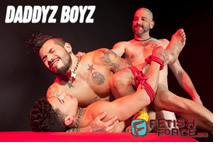 Dominant Daddies Now Available from Fetish Force - In Daddyz Boyz, none of these sexy boyz is spared the rod, and their daddyz deliver discipline in nearly every hot, kinky way imaginable. Director Tony Buff aims to coax pleasure out of pain with a cast chosen for toughness as well as tenderness. It's common for sexual gratification to be achieved through kissing and petting, but achieving gratification though pain is a carefully acquired — and administered — taste. Daddyz Boys offers nearly four hours of tantalizing punishment. Read Full Story



Spencer Reed, Dominic Pacifico
& Alexsander Freitas from Adrenaline
Now Available on The Spencer Reed Anthology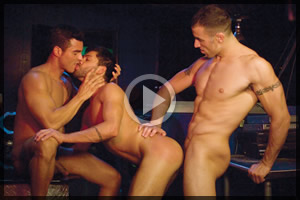 Like the charismatic Pied Piper, DJ Dominic Pacifico makes all the guys hop to a driving disco beat. Spencer Reed wants to thank the music meister personally so he pays homage to the man, sucking, kissing and deepthroating his meaty baton. Dominic cranks the music up higher drawing Alexsander Freitas into the mix and Spencer now has two big cocks to suck. As if programmed, the talented DJ shows his multi-tasking skills as he rims Alexsander's ass while guzzling Spencer's pole. Then he bends over to get screwed at both ends, sucking Spencer's dick while Alex fucks him from behind. Spencer and Alex switch places as Dominic relishes being the middle of this 3-man fuck sandwich. The studs rock it out until they each shoot their big loads one after the other.