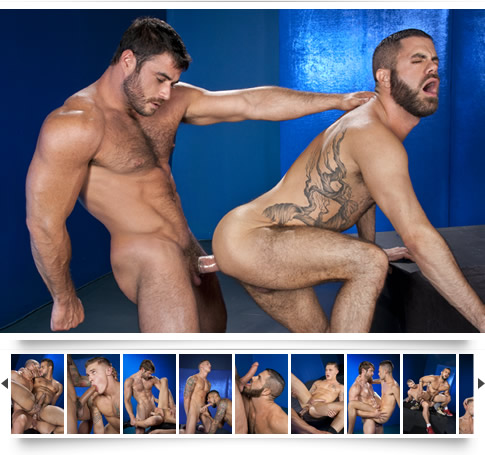 The shared desire and sexual hunger of these studs is Relentless. It takes hold of them with the first glance, and is a constant driving force that holds them until they completely spend every last ounce of energy and every drop of cum. Award-winning directors Steve Cruz and Bruno Bond bring together the sexiest men, matching them perfectly and capturing their Relentless passion. It's an unstoppable force that takes each pair of guys to another level of erotic pleasure and sexual abandon. Mike Dozer smolders until Marcus Isaacs adds a little heat and the erotic fire erupts between them. These hairy guys put their energy into sucking and fucking. Current king of humongous cocks, Boomer Banks, pegs young James Ryder with 10+ inches of man flesh connecting them. Tony Orion has a sultry come-hither that unleashes the beast in sex-hungry Jeremy Stevens. Colby Keller, famous for his thick and never-ending cum shots, makes a meal out of Levi Madison's ass before fucking it. The action is Relentless it keeps cumming and cumming until you're cumming right along with it.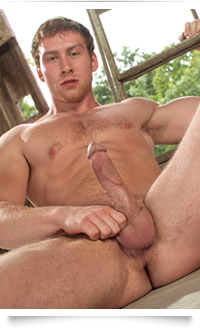 Connor Maguire is a young ginger stud who is one of the big stars of Bucks County. One look and him and you'll know why he's been consistently cast in Falcon, Guys Like Us and Hard Friction features since he burst onto the scene two years ago. He's got classic good looks and an exceptional physique, plus he's a versatile dynamo with terricfic endowments – a thick handsome cock and delicious firm ass. Those assets are now on show in Falcon's Fall Blockbuster, Bucks County 1 – Into the Wild, and they're soon to be featured in the next Falcon Release Plays Together. He can also be found in recent releases Magnetism from Hard Friction and Rub Me Right from Guys Like Us.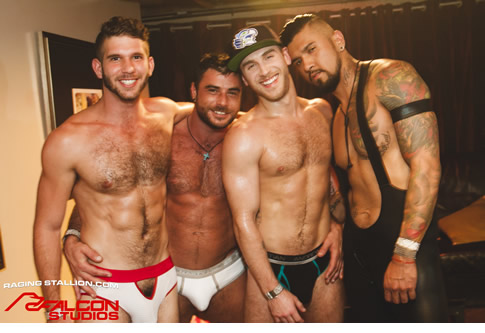 Annual Falcon & Raging Stallion VIP Party & Folsom Street Fair Round Up – Fans Get a Chance to Meet Their Favorite Stars
Thanks to all the fans who joined us for the Annual VIP Party, we were thrilled to have you join us for our big night, and to see you all visiting the hot Raging and Falcon studs at the Folsom Street Fair Booth on Sunday. The weekend was a huge success with a packed house at Mezzanine and crowds of fans getting autographs and having their pictures taken with the models. We have gathered up some of our favorite photos of the festivities here for you to enjoy.



Hot Memebership Site Scenes Available Now!






Hey HUNT Fan,
Wow…we're finally recovered from one of our biggest weekends of the year, between The Annual Falcon & Raging Stallion VIP Party and our sexy booth at the Folsom Street Fair, we were beat. Thanks to everyone who came out and saw us at one or both. If you missed it or you want to relive some of the sexiest moments of the year, check out Breaking News, where we've put together a Round Up of the weekend's festitivities.
After last issue's focus on the Falcon Blockbuster, Bucks County and it's distinct Americana and Falcon feel, we took a little trip down memory lane and looked at all the stunning blonds that epitomized the early Falcon look. Check out some of the sexy modern blonds on BucksCountyTheMovie.com, and then check out this issue's Special Feature below: The Blonds of Falcon complete with an exclusive photo gallery of rare photos.
One of those studs in Bucks County (even though he's a ginger and not a blond) is Connor Maguire and he is being featured in the Model Spotlight. He's consistently performed for Falcon and Hard Friction over the past two years and he's definitely one to watch.
Of course we wouldn't send you an issue of HUNT without a Free Action Gallery – from Hard Friction's Relentless and a Free Scene Download featuring Trent Locke & Conner Habib from Man Up, which is a scene available in The Trent Locke Anthology a new collection of Trent's finest scenes.
Finally, check out all the latest Studio News below including bits about the newest Monster Bang release, Hung Americans, Part 1, hot Falcon & Raging Stallion calendars and the newest UK Naked Men movie that's distributed by Raging Stallion.
Enjoy,
The Entire HUNT Staff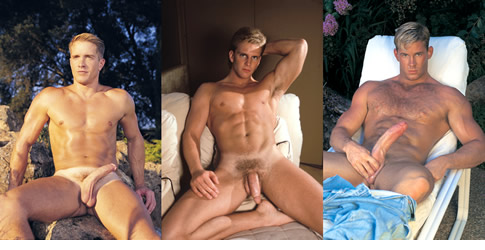 The Blonds of Falcon
Everybody knows that blonds have more fun. And gentlemen, as the song goes, prefer them. With their golden locks, shiny and soft-as-corn-silk hair, blonds have embodied our fantasies, lived in our dreams, and fueled our desires from the Athenian acropolis to the Hollywood movie house. Falcon Studios is no exception! Kevin Williams, Leo Ford, Kurt Marshall, Skye Dawson, Casey Jordan, Rex Chandler, Ken Ryker, Chase Hunter…. These blonds personified the dream of mind-blowing sex that Falcon has always delivered.
Click here to read more and see the special Falcon Blond Photo Gallery and Famous Falcon Blond Videography.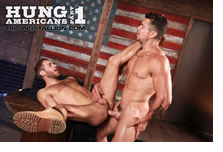 Raging Stallion Delivers Hung Americans, Part 1 - San Francisco-based gay erotica giant, Raging Stallion announced the release of its new Monster Bang title, Hung Americans, Part 1, today. Hall of Fame Award Winner, Steve Cruz directs an all-star cast featuring Exclusive/Raging Stallion Man of the Year, Shawn Wolfe, Exclusive Tommy Defendi, Grabby Performer of the Year, Trenton Ducati and Superstar Adam Killian, as well as sexy stud fan favorites Tyler Wolf, Ray Han, Marcus Isaacs and Logan Stevens. Read Full Story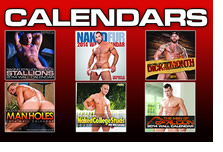 2014 Falcon & Raging Stallion Wall Calendars Now Available - A selection of eight wall calendars featuring the men of Falcon & Raging Stallion are now available for purchase. Each month opens to 12" x 24" of your favorite Falcon & Raging Stallion stars with strikingly hot photography from the Grabby Still Photography award-winner, Kent Taylor, as well as Edward Scott. Falcon calendars include The Men of Falcon, Falcon Studios Boy's Academy and JOCKS' Naked College Studs. Raging Stallion offers Dick of the Month, Manholes, Naked Fur, Naked & Rugged and Stallions. Read Full Story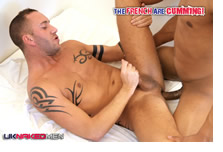 The French Are Cumming Now Available - UK Naked Men's newest release distributed by Raging Stallion Studios is The French are Cumming. They are coming with their sexy French accents, big uncut dicks, stunning faces, hot bodies and dirty minds, UK Naked Men turning the world's most romantic country into a lusty, playground of hard tools and cum-drenched hunks. Directed by Jonno, The French Are Cumming stars Kameron Frost, Romeo Courtois, Enzo Rimenez, Mike Eventz, Nicolas Torri, David Castan, Kevin Archer, Jeff Stronger, Drew Brody and Juan Perez. Read Full Story



Trent Locke & Conner Habib from Man Up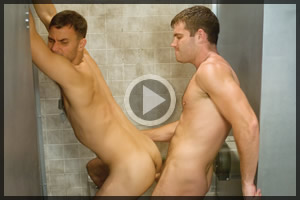 Conner Habib thinks he's safe, hiding out in the latrine so he can get his rocks off, masturbating to a porn rag. But Trent Locke senses something nasty's going on behind that stall's closed door so he busts inside and catches Conner in action. Startled at first, Conner now recognizes he's got a hot stud to get down'n'dirty with and he quickly surrenders himself to Trent's charms. The horny cadet sucks his big buddy's hard cock, swallowing it down his throat. Trent gets his turn to hungrily suck Conner off before he rims his ass and then fucks him fast and furious. Trent next lowers himself onto Conner's stiff dick and rides him hard. Then they leave the confines of the stall and, braced against a urinal, Conner resumes fucking Trent's ass until he pulls out and cums all over and Trent follows by shooting his load.




©2013 Christopher Ward Enterprises, LLC. All Rights Reserved.
18 U.S.C. §2257 Compliant. Custodian of Records, 1155 Mission Street, San Francisco, CA 94103 1-800-227-3717
This issue of HUNT has been sent to %%EMAIL_ADDRESS%% because you requested email updates
from Falcon Studios, Raging Stallion, or Affiliated Companies.
To unsubscribe from this mailing list, click here or send an email to: unsubscribe-@up0.net.
Please add reply@huntezine.com to your safe sender list to ensure that HUNT is delivered to your inbox.