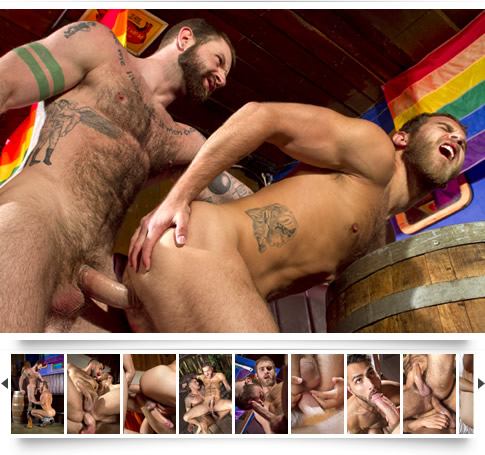 Sexual animals are walking among us, Timberwolves in men's clothing. In Timberwolves, Award-winning director Steve Cruz prepares your hole, not your soul, for the erotic possibilities in this hairy, hair-raising thriller. This forest harbors dark secrets. That might explain why the sleepy mountain village in Timberwolves posts "Missing" signs with the man in the photo warning tourists that "The end is now!" Beware because these furry studs' sexual hunger will make you their next victim. No one can be really sure if they are next to be preyed upon, but that doesn't keep this hairy cast from following their erotic desires for a hot fuck. Boomer Banks' cock is champion in size, and he looks forward to fishing "The Bend," but he throws caution to the wind when Marcus Isaacs reels him in with a hot tub invite and a hot ass. The big one didn't get away. Tommy Defendi's warnings convince handsome hiker Adam Ramzi to abandon backpacking and follow Tommy home for a sizzling hookup. Superstar Shawn Wolfe plays it safe, connecting with bearish Aleks Buldocek in a bar. Is Shawn's howling supernatural, or is it a product of the intense, rugged sex he shares with Aleks. Jimmy Fanz's animal attraction makes anyone want to eat him up. Mountain Man James Jamesson gets to do so when he finds Jimmy in the woods, disoriented by "magic brownies," and carries him home to ensure his safety — and James' sexual satisfaction. They say, "don't be afraid of the big bad wolf," but you never know which of these Timberwolves will make you their prey.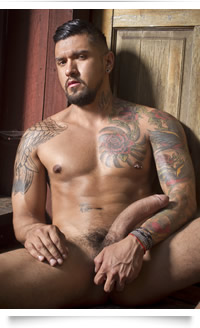 With the title The Hugest Dick in Porn, there are a lot of expectations, and Exclusive Boomer Banks lives up to them all. This top is packin' and he delivers maximum intensity and size every moment he's in front of the camera. Always charismatic and funloving, he's an aspiring fashion designer and a New York City party performer and promoter when he's not on set, but when he is, it is all business. And his business is stretching holes with 10+ inches of hefty, thick man meat. His porn DVD debut and first movie shot under his exclusive contract, the energized Raging Stallion thriller, Timberwolves, was release last week, and he's got two new release coming out in the coming weeks, Hard Friction's Relentless due out September 27 and Monster Bang's Hung American's 1, which hits the street on October 4. Fans can also meet Boomer at the Raging Stallion & Falcon Annual VIP Party on September 28, where he'll be dancing and greeting fans.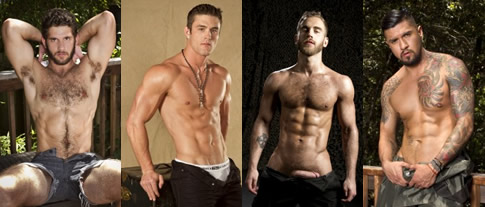 Falcon & Raging Stallion Studios Stars to Appear at 30th Annual Folsom Street Fair Booth & Annual VIP Party GOGO Dancers Announced
In addition to the Annual Raging Stallion & Falcon VIP Party, the San Francisco-based mega studio announced that it will also be hosting a Meet the Models booth in conjunction with the Hard Men Store at this year's 30th Annual Folsom Street Fair, September 29 11:00 am to 6:30 pm. Exclusives Ryan Rose, Shawn Wolfe, Boomer Banks and Jimmy Fanz will be joined by fan favorites Landon Conrad, Trenton Ducati and more.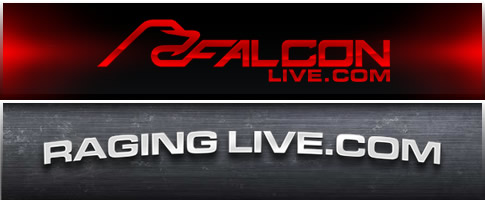 FalconLive.com & RagingLive.com Launch - Falcon & Raging Stallion Offer Fans Live XXX Video Chat
Raging Stallion and Falcon Studios announced today that they have launched www.RagingLive.com and www.FalconLive.com, offering you the ability to share live XXX chat 24/7 with the hottest men from around the world. The new sites will eventually serve as a new live show platform for the studios' exclusives and select models. As new Falcon and Raging Stallion models become available for chat and schedule live shows, fans will be able to learn about their special appearances in HUNT eZine and on www.HUNTeZine.com.



Hot Memebership Site Scenes Available Now!






Hello HUNT Reader,
Thanks for being a subscriber to our humble little eZine, HUNT! As you can see in Breaking News, we've been busy boys launching the new Live sites, FalconLive.com and RagingLive.com where you can share live, XXX, private chats with some of the hottest men on the planet. You'll also see we've finalized details of who will be performing at the Annual Falcon & Raging Stallion VIP Party, so get your tickets now before it's too late. And, don't forget to come out to the Folsom Street Fair where we'll have a Meet the Models Booth. You'll be able to get autographs and take photos with the hottest men in the world.
2013 Men of the Year, Shawn Wolfe and Ryan Rose will be dancing at the party, and signing autographs at the booth, and they have helped us choose 100 hot DVDs to offer you for only $13 each. Check out the promotion banner below or click here to get in on the action.
We've officially released the Falcon Blockbuster, Bucks County. And you can see all the young studs and special trailers and B Roll footage on the dedicated web site BucksCountyTheMovie.com. Don't miss out on the added bonus video features there that you won't find anywhere else. Plus, there aren't many Limited Collector's Edition Packages left, so check it out on the site and get yours before their gone.
Check out the 'The Hugest Dick in Porn," Boomer Banks in this week's Model Spotlight where you'll find exactly how much he's packin'. Spoiler alert: it's 10+ inches of thick Latin meat. Plus, if you just can't get enough of Boomer, you'll find an extra Free Download when you click trough to the Special Feature below. Mr. Banks continues our series of Solo Jerk Off Interviews available exclusively to HUNT readers by stroking his massive piece for your enjoyment.
And if that still wasn't enough, you'll also find Boomer in the Free Action Gallery, where we deliver the hottest action photos from Raging Stallion's newest movie, Timberwolves. Learn more about the thriller directed by Steve Cruz and featuring an all-star cast in Studio News, where you'll also learn more about the newest Fetish Force release, Tony Buff's Twinks with Kinks.
And finally, the best for last…In celebration of the the two year anniversary of the repeal of Don't Ask, Don't Tell we're giving you a Free Scene Download from Don't Ask, Just Fuck. Girth Brooks & Jake Tyler serve up some steamy, big-dicked Seargeant/Private action in this scene, which can also be found in this issue's new release collection, Humongous Cocks # 21.
Enjoy,
The Entire HUNT Staff










Boomer Banks Solo
Jerk Off Interview
Watch Boomer Banks Manage His Massive Meat - Raging Stallion's newest Exclsusive, Boomer Banks,has the hugest cock in porn, so you can only imagine how he manhandles his own meat. This rising superstar is letting it all hang out, and when we say, all…that's a lot. 10+ inches! Learn more about how he got into porn, why he did it, and what turns him on while he strokes his gargantuan cock. There's nothing like watching someone with a huge dick jerk off, especially when you get to hear him fantasize and talk about their hottest experiences along the way. This interview is exclusively available to the readers of HUNT.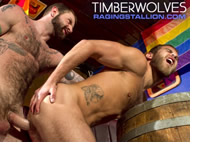 Raging Stallion Unveils Thriller Timberwolves on Friday the 13th - Hugely Endowed Newcomer, Boomer Banks, Stars with Exclusives Shawn Wolfe, Tommy Defendi & Jimmy Fanz, and Hall of Famer Steve Cruz Directs - Appropriately on Friday the 13th, Raging Stallion's 113th release, Timberwolves, hits the streets. Not only is mega studio Raging Stallion's new gay erotic thriller directed by Hall of Fame director Steve Cruz, it also marks the DVD debut of Exclusive Boomer Banks, who possesses the biggest dick in porn. Banks is joined by an all-star cast featuring Raging Stallion Man of the Year, Exclusive Shawn Wolfe and Exclusives Tommy Defendi and Jimmy Fanz. The cast is completed by fan favorites Adam Ramzi, James Jamesson, Marcus Isaacs and Aleks Buldocek. Read Full Story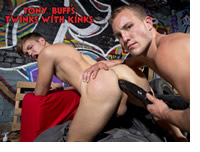 Fetish Force Releases Tony Buff's Twinks with Kinks - Major Fetish Studio Shows How the Younger Generations Gets Kinky - Fetish Force and Raging Stallion Studios announce the release of the newest fetish feature, Tony Buff's Twinks with Kinks. Enter the sexual underworld of Tony Buff's Twinks With Kinks. Desire restrained increases kinky rewards as seven young guys explore their sexuality beyond the bounds of sucking and fucking. When all the holes have been filled, curiosity leads these hot youths to experiment, and Raging Stallion's resident kinkster, Tony Buff, knows exactly how to quench their kind of thirst. Read Full Story



Girth Brooks & Jake Tyler from Don't Ask, Just Fuck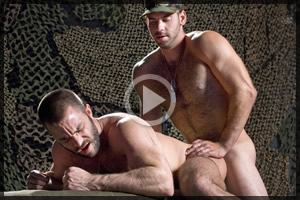 Jake Tyler wakes up in the middle of the night to take a leak at an outside urinal. His Sergeant - Girth Brooks - has to take a leak as well. With dicks in hand and horned up they start talking about getting laid. Both men look great--hairy, just like you expect your RSS men to be! The Sergeant baits the private to suck his cock. Jake obliges Girth. It's a hugely thick cock but Jake makes it look easy, he deep throats that big fucker- a task not many could accomplish. As good as it feels, its just not enough... so Girth bends Jake over and fuck his perfect round ass, doggy style. Jake then takes control sitting on Girths fat cock he rides it long and hard. Girth wants to ride him! So he moves him on his back and fucks the cum out of him before finally pulling out and spraying his dark chest hair with his own jizz. Jake is left in a collective pool of seed.