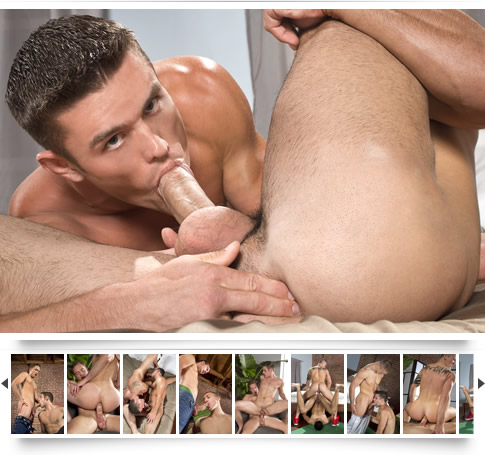 He's Got the Moves, and on moving day that means tired muscles and sweat-soaked clothes. Lifting all those boxes, has the air ripe with the aroma of male pheromones. It's the perfect reason to get naked or to rely on a buddy for a massage. Award-winning director Andrew Rosen exploits the erotic possibilities of moving day in He's Got the Moves. Seven of the hottest "Guys Like Us"' studs work up a sweat and then they sweat some more from exchanging hot fucks. Ever-horny Latino Ray Diaz swoons over inked white boy Connor Kline, whose sweaty t-shirt clings like a second skin. Connor is more than willing to fulfill Ray's fantasies -- and his hole. Lucas Knight gets Duncan Black's blood pumping, and Duncan puts his oral skills to work to earn a satisfying fuck. Connor Kline showcases his versatility when Hayden Richards drops a box filled with sex toys and can't resist trying one out on Connor's firm ass, which he replaces with his huge cock. The full moon has long been known to bring out the beast in a man, and it's sex-hungry beasts in the case of hard-throb Ryan Rose and Andrew Fitch, who tangle the bed sheets in a flip-fuck that makes them howl. He's Got the Moves will get you moving to the erotic rhythm of these horny studs.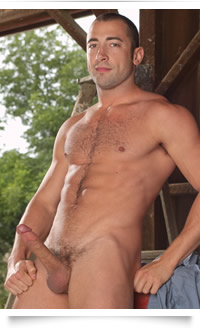 In a few short months as an Exclusive, Donnie Dean has wowed fans with his energized acts and his sexual charisma. His performances are all intense, all out and captivating, and he has the striking good looks and endowments to be worthy of the praise he has received. A primarily bottom performer, Dean has a sexy five-o'clock shadow and nicely apportioned chest hair. He's built and has an exceptional, round bubble butt that he puts to good use in his first four scenes. Dean appears in Monster Bang's recent Hole 1, Falcon's Musclebound, plus two Hard Friction titles, Throb and Magnetism. Now, he appears in his biggest project yet, Falcon Studios' Bucks County 1 & 2.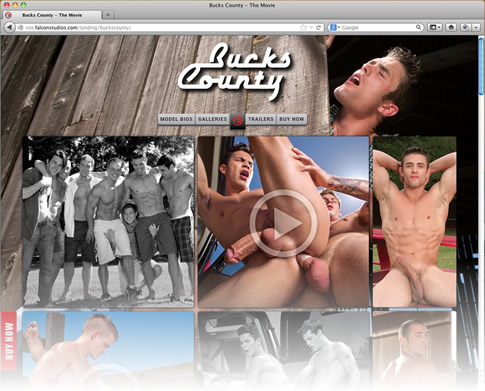 Bucks County Now Available for Pre-Order – Falcon Studios Launches Web Site for Fall Blockbuster
San Francisco-based Falcon Studios today announced the launch of BucksCountyTheMovie.com, a dedicated web site for the two-part Falcon blockbuster. With the launch of the site - which provides model bios, free digital book download, extensive photo galleries and trailers - Falcon also makes the releases available for pre-order. Directed by Award-Winners Tony Dimarco and Bruno Bond, Bucks County 1 - Into the Wild and Bucks County 2 - Road to Temptation take the viewer on a trip down the rural back roads of America, far from the big city.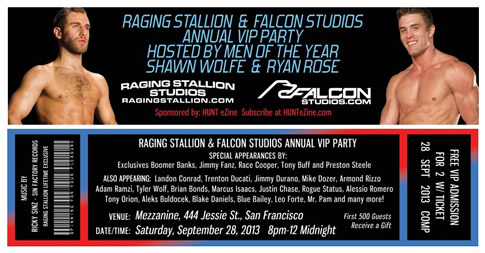 You're Invited to the Annual Falcon & Raging Stallion VIP Party
Shawn Wolfe, Raging Stallion Man of the Year; Ryan Rose, Falcon Studios Man of the Year and the entire staff of Falcon & Raging Stallion Studios cordially invite you to celebrate with us at the Annual Falcon & Raging Stallion VIP Party. Join the who's-who of the gay porn industry, current and former Falcon directors, staff members and the most stunning gentlemen who appear in releases from the Falcon and Raging Stallion family of studios. Please be our guest and attend one of the hottest gay erotica parties of the year during this year's Folsom weekend festivities.



Hot Memebership Site Scenes Available Now!






Hello HUNT Reader,
HUNTeZine.com is in full force. Thank you for visiting the new site and enjoying the Free Scene Downloads there, as well as reviewing past issues and supporting all our brands. Again, we've packed this issue with some of the hottest gay porn news around: special web site launch, an exclusive invite, an editorial from Chris Ward accompanied by a gallery of Hairy Boyz, and that's just the beginning. Read the entire issue for all the Free Galleries and Downloads.
This just in!!! Two special invitations appear in this issue's Breaking News. You're invited to be the first to check out BucksCountyTheMovie.com – the Falcon Fall Blockbuster's dedicated web site filled with hot photos, free downloads and trailers. Also, your presence is requested at this year's Annual Falcon & Raging Stallion VIP Party, Saturday September 28, 2013 from 8PM to Midnight at Mezzanine, San Francisco. Hosts Shawn Wolfe and Ryan Rose cordially invite you, and we've provided you with Free Ticked Downloads in the Breaking News item.
A special editorial about Hairy Boyz written by Raging Stallion & Falcon Studios President Chris Ward can be found in the Special Features area this week, and we've added to the furry fun by giving you a Free Scene Download from the most Recent Hairy Boyz collection: Brendan Davies, Park Wiley & Steve Cruz from Limits which can be found in Hairy Boyz 31. In connection with this article, we've created a special Hairy Boyz Sale that you can access by clicking here or on the Banner at the bottom of this issue.
One of the super stars of Bucks County, Exclusive Donnie Dean, appears in this week's Model Spotlight, and the new Guys Like Us release He's Got the Moves has been loaded up in the Free Action Gallery for your visual pleasure. More info about the new brand and it's most recent release can be found in Studio News along with items about the newest Monster Bang Release, Hole 2.
Finally, in Studio News, you'll find details about the newest way we are giving back to our fans. In order to give you more bang for your hard earned buck, we're introducing DVD+. This is a groundbreaking incentive for all our DVD customers, providing you with 3 Bonus Scenes thoughtfully selected by the movie's director on every new DVD you purchase. The first DVDs featuring DVD+ are Bucks County 1 & 2 and Raging Stallion's Timberwolves, which comes out next week.
We're holding over the super values from the Working Men Labor Day Sale just for you. Click on the link above or the Featured Offer below for DVDs starting at $9.97 ea. Plus don't miss out on the Membership Site Specials and Offers featured on banner ads throughout HUNT.
Happy HUNTing!
The Entire HUNT Staff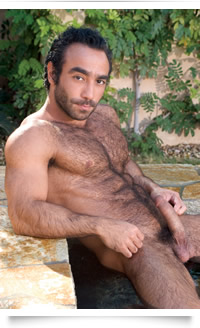 Why We LOVE Hairy Pecs - An Editorial by Chris Ward
What makes a man sexy? Different people will give different replies—for some it's a big dick, for others it could be a confident swagger. Some might say a chiseled face or a set of six (or eight) pack abs are key to making a man hot. Of course, here at Raging Stallion, all of these things are important, but what really gets most of us going is a nice, firm, defined, and especially hairy torso!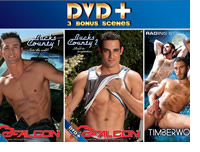 Falcon & Raging Stallion Introduce DVD+ – Top Gay Porn Producer Giving Fans 3 Bonus Scenes on Every New DVD - Falcon & Raging Stallion Studios announced today that it will introduced a new added value for its DVD customers, DVD+. This unique feature adds three bonus scenes to every new DVD product released by the studios' main lines including all releases going forward from Falcon, Raging Stallion, Monster Bang and Guys Like Us brands. Read Full Story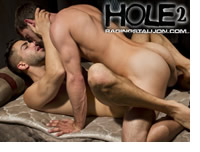 'HOLE 2' Now Available from Raging Stallion - Directed by Award Winners Tony Dimarco & Adam Killian, This Monster Bang Release Introduces Striking Cover Boy Adam Ramzi in His First Ever Gay Porn Appearance - The second part of the two-part feature from the line that focuses on "Big Dicks and the Holes they Fill" is now available in retail stores and online. Introducing hot newcomer, Adam Ramzi, Award-winning director, Tony Dimarco and star/director Adam Killian fill this release with sexy men subjected to solitary confinement and a continuous porn diet all dealt out by a dubious, "big brother" character played by Josh West. The torture he subjects these rugged men to fills them with passions in need of quenching. Read Full Story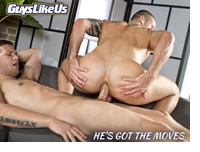 Guys Like us Releases He's Got the Moves – Andrew Rosen Directs Young Studs in DVD from Falcon/Raging Stallion's New Brand; Exclusives Ryan Rose and Ray Diaz Star - Guys Like Us, the new brand of DVDs launched by Falcon/Raging Stallion Studios, releases its new DVD, He's Got the Moves. San Francisco based Guys Like Us features sexy young men having great sex, and the newest release delivers the hottest cast yet, starring Exclusives Ryan Rose and Ray Diaz, as well as fan favorites Connor Kline, Lucas Knight, Duncan Black, Hayden Richards and Andrew Fitch. Read Full Story



Brendan Davies, Park Wiley & Steve Cruz from Limits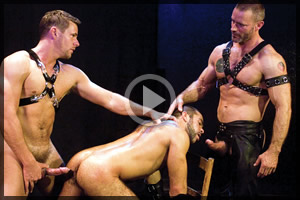 Hooded leather master Brendan Davies dominates Steve Cruz and Park Wiley. Brendan even shaves Steve's head before the insatiable threesome engage in a brutal and unforgettable fuck session...where Steve and Park learn exactly who's in charge.




©2013 Christopher Ward Enterprises, LLC. All Rights Reserved.
18 U.S.C. §2257 Compliant. Custodian of Records, 1155 Mission Street, San Francisco, CA 94103 1-800-227-3717
This issue of HUNT has been sent to %%EMAIL_ADDRESS%% because you requested email updates
from Falcon Studios, Raging Stallion, or Affiliated Companies.
To unsubscribe from this mailing list, click here or send an email to: unsubscribe-@up0.net.
Please add reply@huntezine.com to your safe sender list to ensure that HUNT is delivered to your inbox.