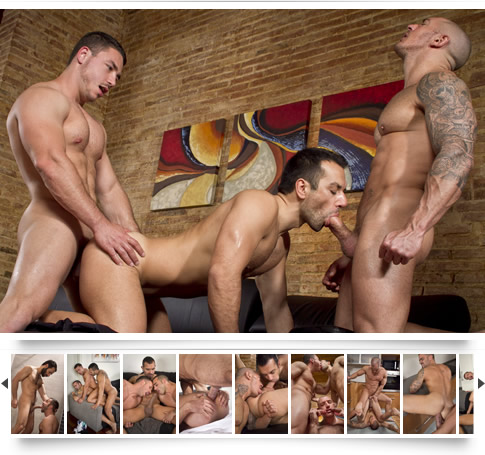 Sexo en Barcelona shows all the sexual possibilities that the hottest city in Spain has to offer. Part 1 of this two part scorcher will spice up your lust life with tons of uncut Latin cock and loads of dark skinned studs. Heralded director Tony Dimarco shows the exploration through ten sexy, muy caliente hombres, who let their huge cocks and hungry holes hang out all over this Mediterranean metropolis. Scorching threesomes bookend the sucking and fucking.





Hey HUNTers,
We know many of our readers are experiencing a summer heat wave, but we can't resist to send you some boiling hot gay porn news, galleries and a free scene that will definitely heat you up.
We'd like to start by taking a moment and thanking you all of your tremendous support.  Your feedback about the refreshed Falcon & Raging Stallion Studios Blog has been amazing.  Your response to the TV Survey was out of this world, and you'll find information about the contest winners in Studio News – keep hope, because two of the winners have 24 hours to respond or we have to pick new winners.  And, finally thanks for helping the Official Falcon Facebook Page reach 40,000 likes.  If you haven't already LIKED the Falcon page click here and do so now, so you can get in on another drawing for free movies in the Falcon Facebook 40K Giveaway.
If you didn't see the Hugest Dick in Porn in last issue, Exclusive Boomer Banks was shooting with us last week and we have exclusive Behind the Scenes photos of him on set with Ray Han in Studio News.  His 10+ inches is no joke, and we can't wait to release his first DVD.  Plus, Boomer performed live last week with James Ryder with the biggest online audience ever for a Hard Friction Live Show.
Marc Dylan is in the Model Spotlight. This superstar is back in action, appearing in the new release Sexo en Barcelona, Part 1.  Check Studio News for more information about the release and visit this issue's Free Action Gallery to see Marc and one of the most "caliente" cast of dark skinned studs ever assembled hitting it Raging Stallion style.
If you like beefy, buff and muscled studs, then we have a sale for you…but time is running out.  Get over to our online store right away to get DVDs featuring sizzling sculpted men starting at $14.97 each.  There are titles from Falcon, Raging Stallion, Centurion Muscle, Jocks and more but these deals won't last much longer.
Looking for a Free Scene Download? Well we have one in every issue of HUNT and this issue the scene comes from The Best of Rod Daily, the newest Falcon Anthology. Please enjoy Rod Daily & Tony Cappuci from Best Men, Part 2 – The Wedding Party, and stay cool.
All the best,
The Entire HUNT Staff


Hot Memebership Site Scenes Available Now!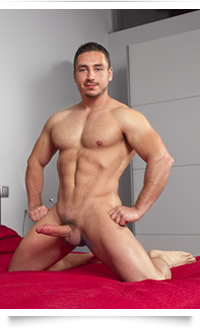 Guess who's back? After a short hiatus from shooting movies, Marc Dylan, the striking, dynamic and muscled stud is back in front of the camera, and he's better than ever. He's passionate, energized and he's returned with his A-game intact, appearing in the major Raging Stallion releases, Sexo Barcelona, Part 1 & Part 2. True story: he wasn't slated to appear in Part 1, but he was on set during Francesco D'Macho and Frederic Duris' scene. Watching them got him so turned on that he asked if he could join in. He did and it is arguably one of the best scenes of the year, filled with intense chemistry and extremely threeway action. Marc has a spectacular body and an ass and dick that won't stop. That's just the way we like it and we're sure you'll like it too when you see the amazing library of scenes he's amassed in a short period of time. Definitely check him out in this issue's Sexo in Barcelona, Part 1 and next month's release of Sexo in Barcelona, Part 2, plus keep an eye out for more from this returning superstar.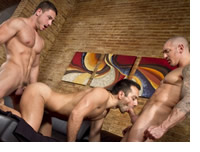 'Sexo en Barcelona, Part 1' Now Available - Raging Stallion's Tony Dimarco Explores Spain and Finds Its Hottest Encounters - The newest release from award-winning, San Francisco-based Raging Stallion Studios, Sexo en Barcelona, Part 1, is now available. Sexo en Barcelona gives the viewer a taste of all the sexual possibilities that the hottest city in Spain has to offer. Part 1 of this two-part scorcher will spice up fans' lust life with tons of uncut Latin cock and loads of dark-skinned and furry studs. Read Full Story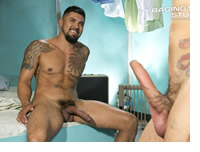 Behind the Scenes With Boomer Banks – New Super-Hung Exclusive Shooting a New Monster Bang Scene - Fresh on the heels of his Exclusive contract announcement, Boomer Banks was at the studio last week shooting a scene for the upcoming Monster Bang release. Directed by Steve Cruz, the scene will appear in Hung Americans, a two-part movie due out in October. Here are exclusive behind-the-scenes photos of him and Ray Han. Read Full Story



HUNT TV Survey Contest Winners - A huge shout out and thank you to over 2,700 fans who provided valuable feedback in the recent HUNT TV Survey. We are grateful for the amazing response, which has helped us make important decisions about putting our content on TV. There are still unconfirmed winners, so you still have a chance to win one of the prizes. We are excited to announce the winners we've confirmed so far: Read Full Story



Rod Daily and Tony Cappuci
from Best Men, Part 2 - The Wedding Party
Also available in this week's new release
FAS094 The Best of Rod Daily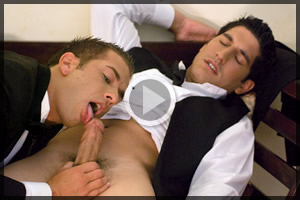 The wedding is off. The grooms have split up and poor Tony Capucci buries his grief with champagne. He pours his heart out to Rod Daily and soon learns that when one door closes, another opens. Rod gladly lets his good buddy know that there are a lot of guys who will stand up in lieu of the feckless Andrew, especially him. To his surprise and relief, Tony lets Rod demonstrate just how much he means to him, not only as a friend, but as the desired object of his silent lust. Tony quickly rebounds, running out of his blue funk and into the arms, mouth and asshole of a true soul mate.


You have received HUNT because you requested to receive email updates from Falcon Studios, Raging Stallion, or affiliated companies.
©2013 Christopher Ward Enterprises, LLC. All Rights Reserved.
18 U.S.C. §2257 Compliant.
Custodian of Records, Falcon Studios & Raging Stallion Studios, 1155 Mission Street, San Francisco, CA 94103 1-800-227-3717
To unsubscribe from this mailing list, click here or send an email to: unsubscribe-@up0.net.
Please add reply-102081@up0.net to your safe sender list to ensure that HUNT is delivered to your inbox.