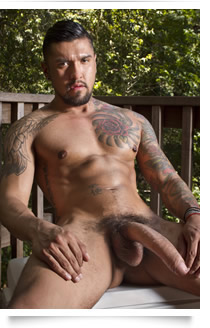 Introducing Boomer Banks: The Hugest Dick in Porn
Raging Stallion Inks Exclusive Deal with Super Hung New Star - San Francisco-based Raging Stallion Studios announced that it has signed an exclusive contract with Boomer Banks, an extraordinarily large-dicked performer who will make his porn debut with the studio. Banks, an openly gay fashion designer and New York City party performer and promoter, has signed a long-term deal to perform in releases from Raging Stallion.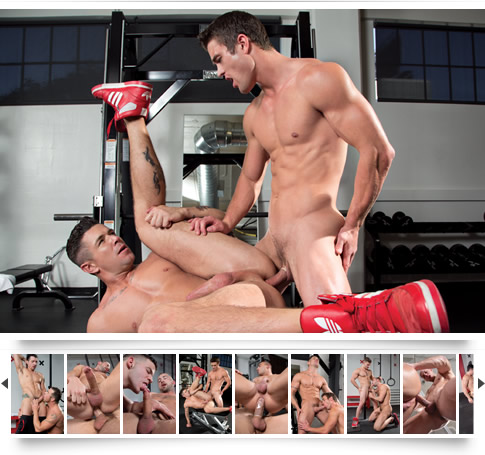 This gym is filled with Falcon Musclebound studs, and the hand-picked cast of eight ripped-and-stripped jocks pump iron — and each other in this beefy cum fest. So much jism flows in this gym, they need to put a "Caution: Wet Floor" sign on the wall. Award-winning director Steve Cruz assembled an all-star, cast with sculpted physiques and amazing assets to work each other out. The perfection of the individual parts of these guys' bodies adds up to a sublime "hole," and if that hole's not getting fucked, at least it's getting rimmed. Hustle meets muscle when strong, handsome duo Trenton Ducati and Ryan Rose play "drain the trainer." Angel Rock and Donnie Dean burn calories in an aerobic, thick-dicked fuck that has Donnie gasping for breath from the exercise his ass receives. Angelo's alabaster skin is so translucent you can almost see every fiber of his musculature as he drills equally smooth JR Bronson into sexual ecstasy with his massive cock. Mike Anders' shorts slip down and expose enough crack to grab Jimmy Durano's attention. Jimmy's gargantuan cock and balls engage Mike as they find new muscles to pump. Working out here takes on a different meaning as these studs take a break from bodybuilding to satisfy each other in Musclebound.





Hey HUNT Readers,
We hope you had an explosive 4th and that you've been enjoying the new, merged Falcon & Raging Stallion Studios Blog.  We designed it to make it easier to read and find items that interest you.  This week we've added even more new galleries, studio news and a HUGE, MASSIVE new Exclusive announcement.
Drum roll, please! You're the first to be introduced to our newest Exclusive Boomer Banks.  Check the Breaking News item above to learn more about the man with the biggest dick in porn, who just shot his first scenes a few weeks ago.  We've signed this 10+ inch stud to an exclusive contract and you'll be able to see him and his giant meat in action soon.
Thanks to everyone who completed the HUNT TV Survey.  Your input is invaluable, and we're choosing and verifying the contest winners in hopes of announcing them in the next issue of HUNT.  Meanwhile, your feedback helped us launch Falcon TV on a major cable and satellite provider, so check your provider for availability and learn more in the Studio News Item below.
Looking for another chance to win?  The Official Falcon Facebook Page reached 40,000 Likes over the 4th of July Holiday, so we'll be giving 40 followers DVD prizes.  Like the Official Facebook Fan Page and keep an eye out later this week for details on how to win.
Tick-tock: the clock is ticking down on the held over, winning deals that we offered last week in our Special Cyber Week in July promotion with DVDs as low as $9.97 each, Toys & Books starting at $4.97 and recent scenes for only $3.97 each.  We're extending these extreme values exclusively for HUNT Readers through tomorrow at midnight, so get them before they're gone.
Handsome Cuban stud, Angel Rock is in the Model Spotlight this week, and you can find him in both major new releases, Falcon's Musclebound and Raging Stallion/Monster Bang's Hole 1.  Stories on both new movies appear in Studio News, and Musclebound is featured in this issue's Free Action Gallery.
And what would an issue of HUNT be without a Free Scene Download? Since we have announced a new Super-Hung exclusive, we thought it fitting that the free scene come from the new Humongous Cocks #20. Download or stream Tom Wolfe and Tristan Jaxx scene originally from Mustang's Fit For Service with our compliments.
Enjoy!
The Entire HUNT Staff


Hot Memebership Site Scenes Available Now!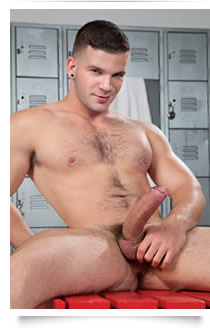 Angel Rock is a super sexy Cuban porn star who brings Latin passion and energy to every scene he's in - not to mention his hot, thick and juicy dick and meaty body. This up-and-coming star has only been in the business for a couple years and he just recently started working with Falcon and Raging Stallion, but he's definitely left an impression on more than a few hot asses. He's fun, he's powerful and he's devastatingly handsome - a porn triple threat. When he's not filming movies, he's performing at a club or bar near you, and he's got quite a social following and creates entertaining videos for his fans. This week he is in both new releases from Falcon - Musclebound - and from Raging Stallion's Monster Bang - Hole 1. He's not to be missed filling an eager hole.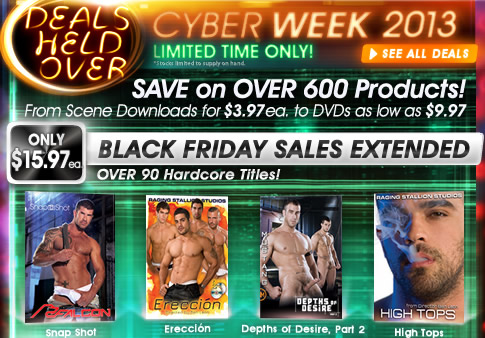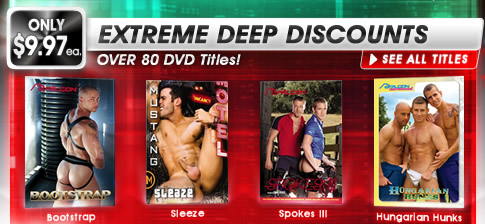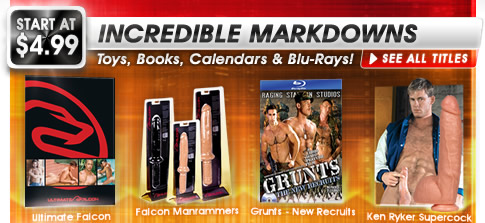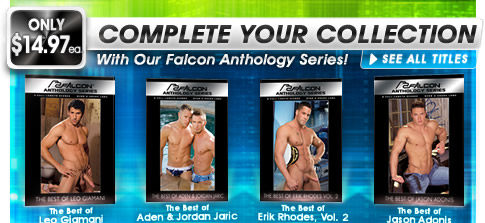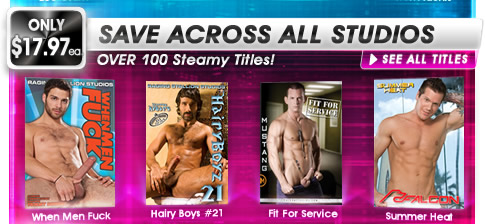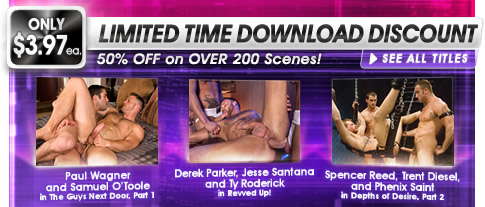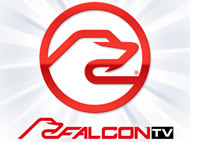 Falcon TV Now Available - Falcon & Raging Stallion Movies Now Available on Your Television: - Falcon Studios and Raging Stallion Studios content is now available from select cable and satellite providers. Fans of the studios can find the Falcon and Raging Stallion content under the brand name of FalconTV in your provider's OnDemand section. If you're not able to find it as OnDemand on your television, ask your provider about availability. Read Full Story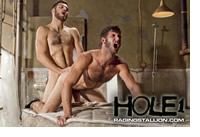 Raging Stallion Presents Hole 1 - Tony Dimarco & Adam Killian are Dynamic Directing Duo for Two-Part Monster Bang Release: - Monster Bang announces the release of the newest feature, Hole 1. The video line produced by Raging Stallion and focusing on "Big Dicks and the Holes they Fill" makes the first part of the two-part feature available in retail stores and online. Award-winning director, Tony Dimarco teams up with star/director Adam Killian to create a rough, run-down institutional world, where they fill the "Hole" with hung studs and hungry bottoms. Read Full Story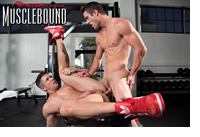 Falcon Studios Gets Musclebound: Award Winning Director Steve Cruz Assembles Ripped Cast Including Exclusives Ryan Rose and Donnie Dean: - Falcon Studios, the iconic San Francisco based studio, releases its newest full-length feature, Musclebound. Award-winning director Steve Cruz assembled an all-star cast with sculpted physiques and amazing assets to work each other out. Read Full Story



Tom Wolfe and Tristan Jaxx from Fit for Service
Also available in this week's new release
HCV020 Humongous Cocks #20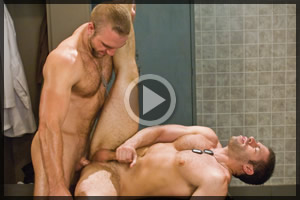 It's the end of their shift and medics Tom Wolfe and Tristan Jaxx meet up in the locker room. The conversation centers on the new recruits; Tom says that some of them have really big dicks so Tristan boasts they've got nothing on him. He drops his towel to prove he ain't kidding. Tom's so impressed with Tristan's uncut piece of meat that he gets down on his knees and gobbles it up. Then Tristan lays on his back so Tom can fuck his face hard. Being a man of honor, Tom knows that when he starts a job, he's gotta complete it with distinction so he buries his face between Tristan's butt cheeks and licks his hole. Tom's distinguished service is soon put on further display as he rams his dick up Tristan's ass to fuck him. He modulates the butt drills, hard and fast, then slowly and gentle, exciting both men until they finally climax and bust their nuts.


You have received HUNT because you requested to receive email updates from Falcon Studios, Raging Stallion, or affiliated companies.
©2013 Christopher Ward Enterprises, LLC. All Rights Reserved.
18 U.S.C. §2257 Compliant.
Custodian of Records, Falcon Studios & Raging Stallion Studios, 1155 Mission Street, San Francisco, CA 94103 1-800-227-3717
To unsubscribe from this mailing list, click here or send an email to: unsubscribe-@up0.net.
Please add reply-102081@up0.net to your safe sender list to ensure that HUNT is delivered to your inbox.