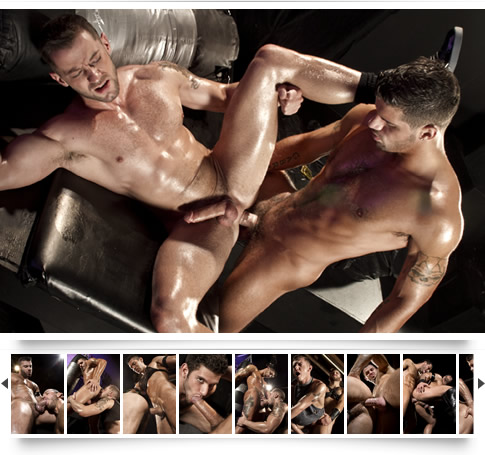 He is a Heretic. He takes what he wants. He thumbs his nose at convention. He gives the finger to anyone who would tell him how to act. There are legions who would put their mouths, cocks, holes and bodies at his service in this steamy sex club. Director Bruno Bond has created a brooding, hedonistic, underworld of rampant carnality whose inhabitants need to satisfy their rut lust. Master cocksman Jessy Ares works bodybuilder Alex Marte like sexual putty. Resistance is futile when the domineering gaze of super-endowed Tommy Defendi bends sweet James Ryder to his will. Jimmy Fanz's tight and furry frame has a hole that is more than equal to the sum of its parts. Alexander Garrett feeds him cock at both ends. A meeting of the lips leads to a meeting of the loins as the awesomely buffed Ty Roderick sets the sexual stage for Tyler Wolf's sexual surrender. Heretic means hardly a weak moment and never a soft cock.





Falcon & Raging Stallion Launch New Merged Blog - Refreshed Site Incorporates New Features and Focuses on Enhancing User Experience
Falcon & Raging Stallion Studios have merged their blogs refreshing the look, expanding content and offering banner advertising. The Official Blog of Falcon Studios & Raging Stallion Studios can be found here, and offers Free Action Galleries, Model News, Studio News and New Release information in a fresh, modern layout that is easier to navigate and read.




Hey HUNTers,
Are you ready for this? This week is full of amazing announcements, and we're not just talking about what's going on in the Supreme Court. First, check out Breaking News. We've been working hard to merge our blogs and give you a new, refreshed blog that provides an enhanced experience when checking out all our hot new content. Learn all about the new Official Blog of Falcon Studios and Raging Stallion Studios while visiting the new site by clicking here.
Next, we're giving away loads of porn in to lucky fans who complete our 2013 HUNT TV Survey. Click here, complete the 2-3 minute survey by June 30 and you'll be entered to win one of six amazing porno prizes. The grand prize is your choice of 10 Raging Stallion and Falcon DVDs.
And if that wasn't enough good stuff, we're announcing a new Raging Stallion/Falcon Studios exclusive this week: Donny Dean. You can find out more about this handsome hunk in Studio News. While you're there, you will find items about two major releases, Rub Me Right from the new video line Guys Like Us and Raging Stallion's newest, Heretic. The latter is featured in this week's Free Action Gallery. Plus, a model featured in this week's new release Buck Naked is featured in the Model Spotlight. Fan favorite Marcus Ruhl's gallery and videography can be found below.
As Gay Pride season winds down with major Pride Events this weekend in San Francisco and New York , our Annual Pride Discount Event is winding down as well. Click here or on the sale banner below to get great deals on popular DVDs, before time runs out.
ALERT: Keep your eyes peeled for the most spectacular gay porn sale of the summer anywhere in the world, hands down. It starts tomorrow and lasts an entire ten days with the hottest deals ever on hundreds of our DVDs.
Just when you thought we couldn't give you any more excitement, we're topping it off with one of the hottest tops to ever perform in a Raging Stallion or Falcon movie. This week's Free Scene Download comes from our new release, The D.O. Anthology, featuring D.O. delivering a spectacular pounding to Chris Porter from the movie, Night Maneuvers.
Happiest of Prides to You!
The Entire HUNT Staff


Hot Memebership Site Scenes Available Now!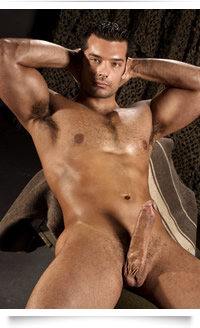 Marcus Ruhl is an impressive Latino of Cuban and Puerto Rican heritage. He's a chiseled, massive man with remarkable features and endowments in all the right places. His handsome face, massive legs and ass, as well as a statuesque torso and a sizable dick are all the right stuff for gay porn. One look at his butt and you know he was given a gift and he puts it to good use.. He's an unstoppable performer who delivers every time he steps on set. After shooting his first scene with us about a year ago, he's appeared in Raging Stallion, Monster Bang, Hard Friction, and most recently the newest Falcon release, Buck Naked.
Click here to check out Marcus's Model Spotlight Gallery!










Raging Stallion & Falcon Studios Announce New Exclusive Donnie Dean - Studio Signs Long-Term Deal with New Star - Raging Stallion and Falcon Studios, the San Francisco-based Mega Studio, announced that it has signed an exclusive, long-term contract with gay porn newcomer, Donnie Dean. When Dean arrived at the studio to shoot a scene for Hard Friction's Throb, company president Chris Ward took immediate notice. Read Full Story

Heretic from Raging Stallion Hits the Streets - Exclusives Tommy Defendi & Jimmy Fanz Star in the Bruno Bond Directed Feature - Raging Stallion Studios' newest release, Heretic, hits the streets. Directed by Bruno Bond, the new offering is set in a brooding, hedonistic underworld of rampant carnality whose inhabitants need to satisfy their rut lust. Bond's cast of Heretics features Raging Stallion exclusives Tommy Defendi and Jimmy Fanz, who are joined by six other popular studs including Jessy Ares, Alex Marte, Alexander Garrett, James Ryder, Ty Roderick and Tyler Wolf. Read Full Story

Raging Stallion/Falcon Studios Debuts, Rub Me Right - The Sophomore Release from the New Guys Like Us Video Line Delivers More Hot Young Studs - The new video line launched by San Francisco-based Falcon/Raging Stallion Studios, Guys Like Us, streets its sophomore release, Rub Me Right. The line, focused on young men having great sex, is the first new line created by Falcon or Raging Stallion in the last five years. Award-winning directors Andrew Rosen, Steve Cruz and Bruno Bond contribute their talents to the follow up of the highly praised initial release, Just For You. Read Full Story



D.O and Chris Porter from Night Maneuvers
Also available in this week's new release
RAS004 The D.O. Anthology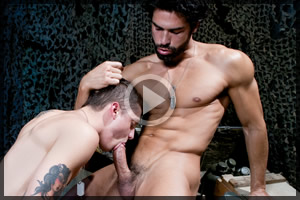 This scene features two of Raging Stallion's best - Former Man of the Year, D. O., and tattooed young stud Chris Porter. This scene is about as good as it gets. There is great fucking - no one fucks better than D.O. - and lots of great camera angles. We shoot our porn with the viewer in mind - we get the best angles and the best shots so you feel like you are right there in the same room, watching the action and smelling the cum. It's Raging Stallion at its best, featuring the hottest sex performers on earth.


You have received HUNT because you requested to receive email updates from Falcon Studios, Raging Stallion, or affiliated companies.
©2013 Christopher Ward Enterprises, LLC. All Rights Reserved.
18 U.S.C. §2257 Compliant.
Custodian of Records, Falcon Studios & Raging Stallion Studios, 1155 Mission Street, San Francisco, CA 94103 1-800-227-3717
To unsubscribe from this mailing list, click here or send an email to: unsubscribe-@up0.net.
Please add reply-102081@up0.net to your safe sender list to ensure that HUNT is delivered to your inbox.